Has the global real estate 'secondaries' market finally come of age? Christopher O'Dea and Sharon Hayes report on a burgeoning sector
Last November, the California Public Employees' Retirement System (CalPERS) entered into the biggest-ever real estate 'secondaries' transaction. The US pension fund sold US$3bn (€2.73bn) of stakes in 43 real estate funds to Strategic Partners, a specialist unit of Blackstone.
There is no doubt that secondary trading in real estate funds is taking off – 2015 was the seventh consecutive year of record transaction volume, according to Landmark Partners, itself a 'secondaries' specialist across private equity, property and real assets. Total global volume increased 71% in 2015 over that in 2014, reaching $8.2bn, according to Landmark.
While several very large deals – including the CalPERS sales – accounted for much of the increase, there were clear indications that the secondary market in property interests has reached a new level of sophistication – with the ability to absorb large portfolios illustrating the substantial liquidity.
"The real estate secondaries market has significantly matured over the past few years," says Philip Barker, senior managing director of the CBRE Capital Advisors secondaries team, launched in 2015. Early on, secondary transactions were "associated with distress", Barker says. But increasingly, investors are using the secondary market as portfolio-management tools and are thus more likely to withdraw offerings than to accept prices lower than they were seeking, he adds.
The growth in transaction value in 2015 was largely driven by portfolio sales from US public pension funds, which accounted for around 63% of transaction volume, Landmark says. "A large number of LPs had not previously proactively managed their real estate portfolios," says Landmark partner Jamie Sunday. "However, this is changing, as demonstrated by the significant growth in secondary real estate transaction volume over the past few years."
Analysis by Landmark Partners shows that the market became more active at the larger and smaller ends of the transaction scale (figure 1). The big increase took place among deals worth $200m and above, although the $3bn sale by CalPERS skewed the numbers somewhat, accounting for more than half of the $5.9bn of these transactions. The numbers contrast with those of 2014, when transaction volumes were evenly spread across the four size bands.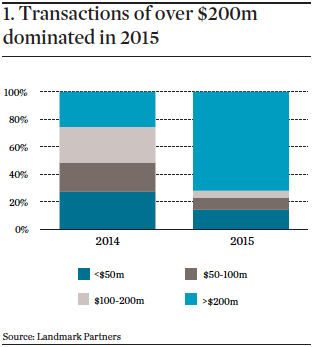 Volume rose as pension funds continued to rebalance portfolios and reduce the number of fund manager relationships, demonstrating investors' increased confidence in using the secondary market as a portfolio-management tool. "Record deal volume in 2015 further reinforced the increase in comfort and confidence by LPs with very large real estate portfolios, utilising the secondary market as a way to actively manage their portfolios," Sunday says.
Buyers and sellers in the secondary market are motivated by a variety of reasons, from portfolio and strategy shifts to tactical considerations and liquidity pressures. A robust secondary market enables pension fund managers to fine-tune their holdings in light of changing asset allocations, revised outlooks for sectors or property types, or adverse economic or property events.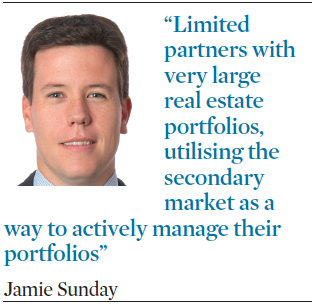 Ultimately, the goal for buyers on the secondary market is to acquire assets at a discount to their intrinsic value. Secondary purchases can mitigate the J-curve effect – where investments do not generate income returns at the start – that invariably come with investing in 'blind-pool' funds. Buyers can also value underlying assets. Investing at a later stage in a fund's lifecycle also means that development risks are likely to be reduced, as even in a higher risk fund, the underlying properties are more likely to have been stabilised and been turned into core assets.
"The playing field has gotten much more competitive than it was before," says Barker.
The increased confidence in using secondaries as an active management tool was illustrated by the more frequent application of transaction structuring, Landmark found, with several notable deals constructed with deferred payment terms. Landmark's data includes four GP-led partnership recapitaliaations in 2015, similar to the level reported in 2014. As "peak vintage" real estate funds approach their legal expirations dates, fund sponsors continue to actively explore means to provide investors with liquidity.
Late last year, for example, Partners Group completed the secondary-market purchase of a $163m tail-end portfolio of US real estate assets operated by DLJ Real Estate Capital Partners. A tail-end secondary deal provides an exit for existing investors, and time and capital to fully develop or reposition remaining assets. Such transactions are fairly unusual in the US, according to Partners, but 2015 marked a turning point. The Swiss-based manager predicts a wave of maturing real estate vehicles will create opportunities to provide similar non-traditional tailored liquidity solutions for funds raised in vintage years 2005 through 2008 that will need to extend their investment horizons.
Anecdotal evidence of increased activity – and more customised transactions – continues to mount. The $30bn New Zealand superannuation fund reportedly has appointed advisers to oversee the sale of a $500m portfolio of commitments to real estate funds as part of a strategic shift. New York-based property investment firm NorthStar doubled the amount of capital for property secondary investing to US$1.5bn, and during the summer bought a portion of a US$1bn pool of property fund interests from Harvard Management Company.
Pricing of secondary market transactions has become more precise in step with the increase in transaction volume and sophistication. Early in the financial crisis, most of the partnership interests being offered on the secondary market reflected financial stress at institutions willing to accept as much as 40% discounts to net asset value, says Barker. Since then, the discount has dropped to 10% or less for interests in well-known opportunity funds, he adds. For the overall market, Preqin says the average discount on a secondary transaction in 2015 was 8%, down slightly from a 10% average discount in 2014.
While larger players dominated secondaries activity in 2015, the market will continue to expand, Barker says. "Many participants, including limited partners, are now looking for value opportunities on the buy side as well as the sell side," he says. That two-way interest will provide "further liquidity and healthy competition for investment opportunities and portfolio management strategies".
Chasing Asia's 'tail-end'
Asia Pacific is emerging as a significant market for real estate secondaries and opportunities for what are known as 'tail-end solutions' as a crop of mid-2000s vintage funds reaches maturity over the next two to three years.
Bastian Wolff, head of Asia Pacific real estate at Partners Group, sees an immediate pipeline of opportunities in Asia valued at about $1bn.
"Looking at the global pipeline, there are approximately $5bn in tail-end solutions, with about $1bn in Asia and the bulk in Europe," he says, not including what has already come to the market.
Last year, Singapore's sovereign wealth fund GIC and New Zealand Super placed US$1.5bn worth of secondaries onto the market between them.
These are what Wolff describes as "traditional" secondaries, where large investors sell portfolios of holdings in a variety of funds because of a change in portfolio management strategy. The aim can be to reduce the number of external managers, allocation reweighting, and/or a shift to direct property.
"Asia hasn't been an easy market in the past few years," says Wolff. "And more recently, with China slowing down, there are more reasons to be bearish on Asia. This is one of the drivers for more traditional secondaries coming to market."
Given economic uncertainty, Wolff says some large investors are selling out of non-core funds to focus on core assets with predictable and stable income, or to retreat to the safety of their home markets.
As a leading global player in the secondaries market – and one with a strong presence in Asia – Partners Group has been executing a number of transactions in Asia.
Last year, the group launched a new fund specifically to invest in primary, secondary and direct real estate in Asia Pacific.
Of the $1bn that Partners Group invested in real estate secondaries globally last year, Wolff says 70% went into transactions involving tail-end secondary solutions.
The Zug-based asset manager can be expected to make more allocations to the secondary market in the medium term to capitalise on an increasing number of these opportunities.
Wolff says that a large amount of capital wasraised in the 2005-07 period to acquire real estate in Asia. These vehicles are closed-ended with a life of eight to 10 years and typically are value-added or opportunistic funds.
"That means those funds are coming to the end of their life and many of the portfolios have residual value in there with two or three assets remaining – sometimes a piece of land, or a retail property in its lease-up phase," he says.
"If you were to try to sell these assets in the current market they wouldn't be fully priced. And some of them have tremendous upside value when fully leased or developed."
Partners Group provides tail-end solutions to maximise the value of these assets over three to six years.
"We are essentially identifying those funds that have residual value, potentially to buy into them and to work on liquidation solutions for the assets with existing LPs," says Wolff.
"Such transactions require restructuring and good communication between the LPs and the GPs. In some cases, additional equity is needed. It is a binary outcome because so many things have to go right."
The approach can involve rolling over assets into a new vehicle, with Partners Group making an offer to LPs to take over the assets.
Wolff says the "reasonable" transaction size – usually between $50-200m – makes these deals worthwhile.
The concept of tail-end secondary solutions is rather novel in Asia. So much so that when Wolff spoke at a recent industry forum, he was approached by fund managers keen to explore opportunities. "If we can deliver successful solutions, it will be a win-win for both LPs and GPs, and will trigger more deal flows for Partners Group," he says.