The secondary trading of real estate funds was worth €9bn in 2015. Stephen Ryan explains why the burgeoning market is a major asset to the industry
Many managers and investors know all too well the inconvenience of illiquidity – for example, being unable to access a specific vehicle because it is oversubscribed or having to wait in a redemption queue.
Sometimes, the structure of both open-ended and closed-ended funds can make them tricky beasts to tame. Logically, therefore, the more liquidity mechanisms that investors and fund managers have at their disposal the better.
INREV's recent Secondary Trading and Liquidity Study indicates that more and more market participants are beginning to realise the benefits of trading fund units on the secondary market. It is a quiet revolution that has grown steadily in recent years.
The scale is impressive: secondary trading of units in non-listed real estate funds was worth about €9bn in 2015, of which between €2bn and €4bn is estimated to have been traded in European funds. It is anticipated that, of the €92.6bn of new capital raised for European non-listed funds from 2011 to 2016, at least €2.8bn will be traded on the secondary market between now and 2021.
But the real revelation is the potential benefits that the judicious use of secondary trading might deliver by smoothing some of the wrinkles inherent in a traditional real estate fund set-up.
The principle of secondary trading is not new. But while, as our research shows, almost one in four European funds have experienced secondary trading, it still might not yet be that well understood. At its root, however, secondary trading is engagingly simple.
Perhaps a helpful analogy is that of the cloakroom ticket bought and sold even when the cloakroom is closed. The value of the ticket is whatever the buyer and seller deem it to be, as opposed to an external view of the value of the coat. The last person holding the ticket keeps the coat.
Swapping a coat for real estate, prices are generally set exactly at net asset value (NAV), or at a premium or discount to NAV. Historically, over half (55%) of secondary trades have been concluded at NAV. Of the remainder, 22% have been traded at a premium and 23% at a discount. The average premium to NAV of 1.2% is smaller than the average discount of -2.6%.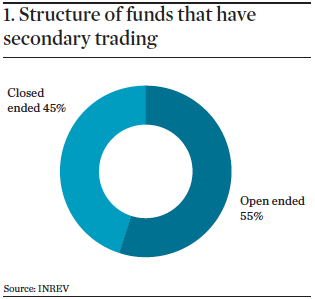 The most straightforward secondary trade involves one buyer and one seller exchanging units in a single transaction. This is not always the case, of course, but the principle seems to be proving useful even where multiple participants are involved and the structures and processes deepen in complexity.
This clearly has a lot to do with the usefulness of secondary trading as a management tool.
While trading units on the secondary market will not materially change the liquidity of a fund's underlying portfolio, it will render an investor's holdings more liquid.
It can also ease periodic liquidity pinches, thereby reducing the need for redemption queues. And no one likes to queue – especially for cash. For the more reluctant real estate investor, there is a powerful psychological boost in knowing that improved liquidity will reduce the fear of illiquidity.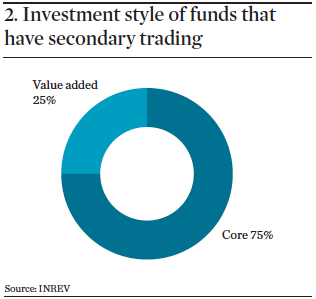 Recent geopolitical and economic shocks have again highlighted the vulnerability of some UK funds to the curse of the redemption queue. There is also the situation where investors have to wait too long to get into a fund. In both situations, having a secondary trading strategy in place may have altered the story.
One case in point was a European pension plan seeking to invest £5m (€5.8m) in a core UK open-ended fund that was told there was a 12-month wait. Rather than wait, the pension plan bought units in the fund via a secondary trading platform at a 2.5% premium to NAV, plus brokerage fees of 0.3%. The opportunity cost of waiting exceeded the combined premium to NAV and costs, and the seller was happy to receive a 2.5% premium.
At the extreme end, the use of secondary trading has also helped to release 'zombie' pension schemes from their twilight existence. Take the example of a mature defined benefit scheme about to wind up. The scheme planned to liquidate all its equity and bond holdings.
However, the scheme also had a small legacy investment in a closed-ended real estate fund that was three years from its termination date. Being unable to liquidate this holding would have forced the scheme to continue in an 'undead' state, continuing to accrue fees and expenses.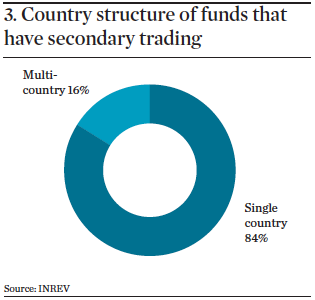 The decision to sell the closed-ended fund on the secondary market was a practical way out. The discount to NAV sale price outweighed the unnecessary and unproductive expenditure on maintaining the scheme.
Secondary trading helps with the management of institutional portfolios, too. It is a useful rebalancing tool – investors can buy more of the assets that have fallen in value, and sell some of the assets that have risen in value. It also allows investors to exit closed-ended strategies that either have drifted from their original mandate or become less desirable.
The secondary market allows institutional investors to streamline their portfolios of closed-ended funds without waiting for terminations to occur.
Secondary trading can help in fund recapitalisations. Rather than winding up one fund only to start another similar one, incoming investors can buy out the outgoing investors and the fund can be extended with new investors on board.
The results of the INREV study provide ample evidence to support the general conclusion that secondary trading in real estate funds makes eminent good sense. Little wonder then that, in all likelihood, we'll be seeing a great deal more market participants adopting this practice in the coming years.
Stephen Ryan is research manager at INREV
Secondaries: Catching the flight to safety
1

2

Currently reading

Secondaries: Prime time for secondary market

3