Political uncertainty and flight-to-safety behaviour could provide a boost to the growing real estate secondaries market. Florence Chong reports
At a glance
• An estimated $5bn (€4.7bn) is being raised for real estate secondaries strategies.
• Political uncertainty and flight-to-safety behaviour could create opportunities.
• There is unlikely to be more mega deals, such as those by CalPERS and NZ Super.
The secondary trading market in real estate funds could reach US$25bn (€23.5bn) over the next three years. In anticipation, new funds are being planned and additional capital sought to capture some of these trades when they become available.
Four managers are currently raising capital and another is planning to launch a new global fund. From available information, it can be estimated that these managers are looking to raise more than $5bn in aggregate.
Andy Nick, managing director with Greenhill Cogent, which has advised on some 40% of secondary transactions in the past year, estimates that about $8bn in dedicated capital is actually available for real estate secondaries.
Records kept by his firm show that Strategic Partners Real Estate Special Opportunities Fund I, part of the Blackstone Group, is targeting a $2.14bn raise. Strategic Partners accumulated $1.3bn for its Strategic Partners VI RE in 2016.
Greenhill Cogent's records also show that Landmark Partners means to raise $2bn for its Real Estate Fund VIII, while Portfolio Advisors is targeting for $500m for its Real Estate Fund VI.
Late last year, Aberdeen Asset Management told IPE Real Estate that it planned to launch a €500m secondary fund early in 2017. Its first fund, the Aberdeen European Secondaries Property fund, came to market in 2013. The new fund will look beyond Europe to North America and Asia Pacific.
Nick believes that, along with dedicated real estate secondary funds, most real estate funds-of-funds and many institutional investors have the ability to use a portion of their capital for investments in real estate secondaries.
Today, the largest players in the secondary market are Partners Group, Landmark Partners, Carlyle Group's Metropolitan Real Estate, StepStone and Strategic Partners.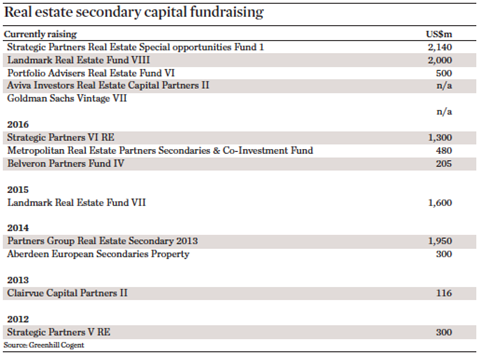 Paul Parker, managing director for real estate in Europe and Asia at Landmark Partners, says he expects trading volumes over the next three years to be between $15bn and $25bn, based on recent turnover.
But there is general consensus among those who spoke to IPE Real Estate that the volume of transactions could be significantly influenced by sudden political events and uncertainty.
"Interestingly, at the point of maximum uncertainty, the market will become most interesting to secondary buyers because some people immediately want to flee to safety," observes a seasoned secondaries manager.
Brexit provided a taste of what could happen should there be further unexpected political events. The manager says that over the three to four weeks following the UK referendum more secondaries became available and discounts to net asset value (NAV) became sharper.
In some instances, discounts reached 20%, he says, although this related to funds that were deemed to be overly vulnerable, such as those heavily weighted to the London office market. "Investors became concerned about the future of London office demand, but the market calmed in early July," he says.
Market volatility in response to political uncertainty has historically created opportunities in the secondary market, says Lankmark's Paul Parker. "The market response to the EU referendum held in the UK was highly illustrative of such perceived political uncertainty," he says.
"Investors and managers looked to protect themselves against downside risks, seen most notably in the rush for liquidity in the open-ended listed real estate funds space."
Similarly, recent political uncertainty in Europe has created opportunities. Lower bid-ask spreads and the weakness of sterling relative to the dollar is likely to create further momentum for secondary sales, Parker says. "Assets that are opportunistically positioned to deliver, such as those being sold by stressed sellers, could likely to be a point of focus in coming months."
As a secondaries specialist, Landmark works with both limited partners (investors) and general partners (fund managers), whether sharing perspectives on the market or assisting with portfolio management.
"Throughout its 26-year history, Landmark has been positioned to capitalise on inefficiencies in the secondary market," says Parker. "Various cyclical and structural factors, including market conditions, liquidity concerns and regulatory changes, tend to drive secondary activity.
"For instance, upcoming changes in the regulatory landscape because of alterations expected to Basel IV and Solvency II could create the need for financial institutions to further shed assets and sell non-core businesses."
Additionally, Parker says, changes to pension fund sectors across the globe – be it the pooling of local government pension funds' assets in the UK or the reform of the Dutch pension fund sector – are likely to encourage financial institutions to tap into the secondary market for liquidity.
An eye on the US
The biggest secondary market in the world, the US, is being monitored closely. Many believe the recent US election could spell a period of uncertainty and cause some real estate investors to reassess their positions.
One source recalls that, during his campaign, US President Donald Trump said a number of things, including a reference to 'carry' interest rates on property investment. "At the moment, the tax is on capital gains, but he has spoken about taxing incomes," he says. "If that happens, there could be some instability in some alternative investment firms, and we might see some trading going on as a result of it."
But even without extraneous influences, such as political events, European real estate funds association INREV estimates that about 3% of the €92.6bn in funds raised since 2011 will come to the secondary market over the next five years.
In its recent secondary trading and liquidity study, INREV says nearly 25% of both open and closed-ended European funds have experienced secondary trading.
The bulk of transactions today come from two different sources – investors that choose to consolidate the number of funds they invest in, and the tail-end trade to liquidate remaining assets in a fund that has come to the end of its life.
Global, if patchy, opportunity
Stefan Lempen, co-head private real estate secondaries at Partners Group, says global supply of real estate secondaries is growing steadily – at between 5% and 10% each year.
In recent years, the annual transaction volume of between $6bn and $7bn has been carved up between the largest players. Partners Group estimates that it acquires about 25-30% of all secondaries transacted in the market each year.
Lempen says some sales may go unrecorded publicly. "A lot of trading goes on. It is an opaque market," he says. "One of the attractions for us is that we understand the market."
Lempen says the most vibrant market, where most funds are raised, is the US. Europe is the next biggest, followed by Asia Pacific.
But the open market in the latter is insignificant. In a highly sought-after market such as Australia, few notable secondary transactions take place, even though the commercial real estate market is highly securitised. The reason is that the local industry works on the basis that existing investors in a fund have first right of refusal. Hence, secondaries rarely come to the open market in Australia.
Elsewhere in Asia, the market is smaller and less developed. Lempen estimates that the pipeline of deals is in the region of US$1.5bn.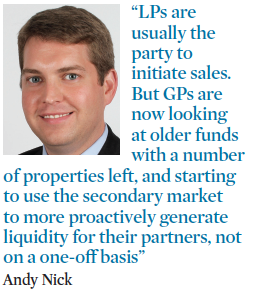 Disbursement of capital raised for secondary funds will take time. "These [secondaries] funds are usually set up for 10 years," he says. "They will invest in the first four years and divest during the remaining six years. So if, for instance, a manager raised $1bn, you can assume it will invest around $250m a year for four years."
In 2014, Partners Group closed what was then the world's largest secondary fund, raising $1.95bn for its Partners Group Real Estate Secondary 2013.
According to INREV, the market in secondary trading of units in non-listed real estate funds was worth about €9bn in 2015. Between €2bn and €4bn of this total is estimated to have been traded in European funds.
Nick says that total transactions in the first half of 2016 were closer to $2bn. "We don't know yet what the second half will ultimately hold but, overall, 2016 will be slower than 2015."
Nick says nothing has fundamentally changed to cause the slowdown in secondaries in 2016. "In 2015, there were a couple of sellers who took very large portfolios to the market," he says. "We advised on a $1.6bn transaction and another LP sold a $2bn portfolio – and those two accounted for almost half of the market."
To date, the largest deal is Strategic Partner's purchase of $3bn portfolio from the California Public Employees' Retirement System (CalPERS). In a move to consolidate the external managers, CalPERS culled the number of its investments in 2015.
Another large portfolio was a rumoured billion-dollar disposal by Singapore's GIC, reportedly handled by Landmark. Parker declined to comment.
Partners Group was the successful acquirer of a $500m real estate secondary portfolio from New Zealand Super Fund in 2016.
The next mega deal?
No similarly large transactions are on the horizon.
But Paul Parker does not believe the market for sizeable trades has dried up. "From Landmark's perspective, we see a range of transaction opportunities of a certain scale, in some cases comprising of multiple fund interests across the private equity and real estate secondary space."
Lempen says the trend to have fewer managers is strong. Once a decision has been taken, the pension fund can either wait for its investments to mature or accelerate the process by offering them to the secondary market.
He says the bigger pension funds and endowments are weighing up their options. They are looking to direct investments where they have complete control of the assets and a final say in the countries, or cities, where they want to invest.
"If it is logistics that they want, they opt to work with a specialist operator who will invest on their behalf in a location of their choosing," he says.
The tail-end business offers more opportunities. A crop of mid-2000 vintage funds have reached the tail-ends of their terms.
Lempen says some of these are multi-billion funds, which are 10 or 11 years old and still holding $500-600m in assets as the manager looks for solutions to liquidate.
Nick says that when a fund comes to the end of its life, investors often just want to get it off their books and to sell the residual interests. "LPs are usually the party to initiate sales," he says. "But GPs are now looking at older funds with a number of properties left, and starting to use the secondary market to actively generate liquidity for their partners, not on a one-off basis."
Nick says 12 to 15 years into the life of a real estate fund investors may consider that they have extracted maximum value out of the portfolio. Rather than opting to extend the term of the fund, they might prefer to have the liquidity. Other LPs might still want to stay in.
Increasingly, advisers like Greenhill Cogent have a role in working with LPs and GPs to resolve such conflicting interests and to find a solution that suits those who want to stay in and those wanting to sell out. "We are currently working with a general partner in real estate and another in the infrastructure space, seeking to find a solution," says Nick.
Nick says infrastructure secondaries currently make up less than 5% of the market, but this will grow. Real estate secondaries accounts for 10% of all secondary trades, and private equity 25%.
Lempen says: "We are talking about a relatively small and defined part of the [real estate investment] market. Properties that come into the secondary market are value-add real estate projects. These are assets which need a face-lift, extension, renovation and repositioning."
The price of a real estate secondary is asset-specific. Some trades are now priced at a premium. "Real estate tends to be priced in a tighter band than private equity or venture capital," Nick says. "We find the vast majority of real estate is priced between 80% and 100% of NAV, with an average of 90% NAV."
Prices have hardened considerably since the turn of the decade. At the time, havoc caused by the financial crisis forced some investors to relinquish holdings at discounts of up to 30% or more.
Those days are now over, with real estate coming into its own as a keenly sought asset class. Be it primary or secondary, the demand gathers strength from year to year.
Secondaries: Catching the flight to safety
1

Currently reading

Secondaries: Catching the flight to safety

2

3