The move by some of the world's biggest investment managers to create real assets groups should be seen as response to a bigger story, writes Christopher O'Dea
Get real. Real assets, that is. This is the mantra of institutional investors searching the globe for sources of long-term income. Investors want protection from market volatility and future inflation embedded in the economy through global quantitative easing programmes.
It is a tall order and real assets fit the bill. Institutional investors have given the asset class a big thumbs-up in the five years up to 2014, so much so that allocations to listed real assets have soared by 325% during that time, according to eVestment Alliance. That rapid pace includes a near-doubling of investment in commodities, a quadrupling of investment in US REITs, and surging growth in global listed infrastructure, master limited partnerships and multi-strategy real asset funds.
Real assets could boost long-term risk-adjusted returns. An analysis of the effect of a 20% real assets allocation on a 60/40 portfolio by Center Square Investment Management showed that over a 20-year period from 1995 to 2015 the portfolio with 10% in private real estate, 5% in listed real estate and 5% in listed infrastructure posted a return of 6.95% and risk of 7.01%, compared to 5.56% and 9.40%, respectively, for the 60/40 portfolio.
Major investment managers are moving fast to adapt their business models to stay ahead of client demand for expertise in all these sectors. This year kicked off with a series of announcements by leading investment managers forming real assets groups by combining their property, infrastructure, natural resources and commodities capabilities under one umbrella.
At first glance, the changes seem to be straightforward organisational adjustments that better align investment team resources with recent trends in asset inflows. But there is more going on than meets the eye. In fact, the organisational changes are a response to the convergence of several powerful trends that have been transforming the asset management industry and the practice of pension investment management.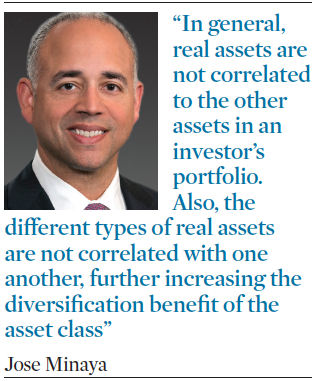 The crux of the transformation is the application of a risk-bucket approach to asset allocation, says Jodie Gunzberg, global head of commodities and real assets at S&P Dow Jones Indices. This enabled investors to recast asset allocations in terms of portfolio-level goals – such as growth, income, inflation and liquidity – instead of focusing on securities returns, Gunzberg says. This has led to increased allocations to sub-sectors that have those characteristics – in other words, real assets.
The shift into real assets is spawning innovations in asset allocation, new thinking in index construction, and expansion of executive roles to lead new real assets groups. Then there is the technology required to implement new approaches with the transparency and customisation clients require today.
The creation of a new index (see Defining the universe) to track the sector holistically provides a benchmark for the new broader view of real assets, and may well lead to the next generation of real assets investing – by defining the universe, the index will establish a beta for real assets, a necessary precondition for managers to devise smart beta and enhanced indexing strategies.
Early this year, TIAA Global Asset Management, BlackRock and Morgan Stanley created new business units to focus on real assets investing. While the combinations of expertise varied, the goal was the same: to meet increasing client demand by better leveraging their respective capabilities. TIAA, for instance, counts property, agriculture, timber, infrastructure and energy, as well as subsidiaries investing in those sectors, as its real assets capability. Morgan Stanley has housed private property, private infrastructure and listed real assets units under its new roof. As part of a significant organisational shake-up, BlackRock has combined its infrastructure and real estate teams to reflect the fact clients see these areas "as a distinct and more integrated asset class."
Joseph Azelby, head of the $90bn (€79.3bn) real assets group at JP Morgan Asset Management, says: "The US pension business is starting to organise itself in the way the Canadians have." Originally a property fund manager in 1970, the platform expanded to include core-plus infrastructure, an opportunistic Asia-focused strategy, infrastructure debt and shipping finance. Azelby has been at the forefront of the shift. He made the business case for the holistic approach to real assets in The Realization, a 2012 paper that has become something of a manifesto for the real assets sector.

Investors are at various stages of Azelby's Realization, a structural shift towards higher real asset allocations brought about by secular changes in the investment environment – low bond yields, outsized market volatility and modest equity returns.
Real assets have emerged as the general solution to the prevailing investment problem, Azelby contends. Real estate, infrastructure, transport and natural resource assets can provide higher income than bonds and superior risk-adjusted returns to equities. Those characteristics are transforming real assets from an alternative to a mainstream asset class, a change that could see portfolio allocations rise from roughly 5% to 10% of assets today to as much as 25% of assets in the next decade.
Azelby's group created a framework to guide investors in deciding the appropriate role for real assets in a portfolio, the objectives for allocation, and how real assets could be mixed and matched each other as well as other portfolio allocations. In short, real assets addressed the secular changes investors face: adding diversification to help mitigate correlation to volatile assets; providing excess return over equities; and generating income derived from core assets and lower-risk strategies. The group develops solutions that are "highly customised" to client needs, and tend to concentrate on core assets because most sub-sectors of property and infrastructure "aren't highly scalable," for Azelby says.
Jose Minaya, president of the new $100bn real assets division of TIAA Global Asset Management, says: "In general, real assets are not correlated to the other assets in an investor's portfolio. Adding agriculture or timber, for instance, improves a portfolio's efficiency frontier and Sharpe ratio – that is, returns in excess of the risk-free rate. Also, the different types of real assets are not correlated with one another, further increasing the diversification benefit of the asset class."
AXA in September 2015 rechristened AXA Real Estate as AXA Investment Managers – Real Assets. It was more than a name change. Over the past several years, the group has added commercial real estate debt, infrastructure debt and equity and other alternatives. Now the largest real estate manager in Europe with real assets under management of €65bn, AXA's real assets group has set its sights on further growth, and aims to add private equity capabilities.
Being able to invest at a large scale will increasingly become a critical capability, because real assets managers are going to be putting significant amounts of capital to work on behalf of clients. At Brookfield Asset Management, Canada's largest alternatives manager, fundraising in real estate and infrastructure far outpaced private equity in the past 12 months, with more than 300 institutional investors and sovereign fund partners committing capital to its three flagship funds in those three asset classes.
Against a $3.5bn close for a private equity fund, Brookfield closed a $9bn global opportunistic property fund, and raised $11.8bn for an infrastructure fund, the largest single fundraising close to date, the company said. Brookfield managed $240bn as of the first quarter of 2016, up 16% from a year earlier. "Our capital is raised throughout the world, and we continued to see strong support from U.S. and Canadian corporate and state pension plans," CEO Bruce Flatt said in a letter to shareholders.
Investors the driving force
Contrary to recent speculation that sovereign wealth funds are withdrawing capital from real assets as they shrink, Flatt said they actually grew during the quarter to about $6.5trn – and although the pace of the increase may be slower in recent years, the scale of the funds means compounding that capital at 5% will add over $300bn annually to their total assets. According to Preqin, SWFs added $927bn in assets between 2013 and 2015, and property and infrastructure – mainstays of the new holistic real assets groups – are the alternative asset classes most favored by SWFs. "While there are some exceptions," Flatt said in the letter, "we do not see sovereign funds slowing their investments in real assets any time soon." Furthermore, he added, that outlook "excludes the many trillions of capital for real assets in pension funds and insurance plans, and these plans are also looking for returns in real assets to supplement bonds' anaemic returns."
In its 2016 investment manager briefing, pension fund consultancy NEPC said 60% of the manager searches it conducted in 2015 were aimed at hiring managers for non-traditional strategies. Of that, nearly 30% were for property, real assets or commodities strategies. The data likely understate real asset demand because several sub-sectors are classified in other categories, with MLPs being counted under all-cap equity, for example. Interest in specific real asset strategies was nearly double that for traditional strategies – NEPC conducted 53 real estate searches and 63 real assets searches, compared with just 37 fixed income searches and 33 searches for large-cap equity managers.
More searches are likely in the year ahead. Consultants endorse the holistic approach to real assets, subject to two caveats. "We think it makes sense from a portfolio construction perspective to view real assets more holistically," says Karen Dolenec, global head of real assets at Willis Towers Watson. "The feedback we always give is that it makes sense, but you want to be sure the investment teams still operate and are supported in the same way." The other concern is that the new organisations will turn out to be platforms for launching new products that might not add incremental value.
But there is no turning back. For the most part, Dolenec says, the holistic approach dovetails with most investors' efforts to diversify away from reliance on the equity risk premium and fixed income returns, and build more inflation protection and cash-flow yield into their portfolios. "There are some investors that are starting to organise themselves this way," she adds. "It's a conversation we're looking to start with clients soon."
Clients appear ready. Nearly half of the assets committed to Brookfield's latest real estate fund came from new clients, the company says. And nearly 80% of institutions are targeting real asset allocations up to 15%, according to S&P Dow Jones' Gunzberg, with two-thirds still feeling they are underinvested in the asset class.
The $66.2bn Virginia Retirement System (VRS) is one institution that has been getting real. It has steadily increased its allocation to real assets over the past several years, funding the increase with reduced allocations to traditional strategies. A portion of the VRS portfolio "is invested in real assets to help diversify the total fund by providing exposure to asset classes and sectors that offer low historical correlations with the public markets and with the additional objectives of generating competitive risk-adjusted returns, significant operating cash flows and inflation linkages," according to its 2015 annual report.
Between the middle of 2013 and the middle of 2015, the real assets allocation has increased annually from 9.4% to 10.5% to 11.3%, due primarily to new funding. At the end of 2015, the real asset allocation stood at 12.8%. The target allocation is 15% of assets, comprised of 10% real estate and 5% other real assets including infrastructure, natural resources, farmland and timber. In comparison, the only real assets allocation in the VRS portfolio in 2012 was a 7% allocation to real estate.
The attraction is clear. The VRS real assets portfolio notched an 11.8% return in 2015, outperforming its custom benchmark by 220bps.
Defining the universe
The new S&P Real Assets index might help the industry move from offering a collection of related capabilities to a more holistic approach. Although the index is only a few months old, interest in it has been strong, says Jodie Gunzberg, global head of commodities and real assets at S&P Dow Jones Indices.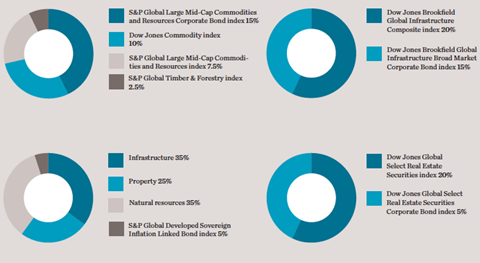 The index breaks new ground by combining equities, bonds and commodities – inflation protection – in a single benchmark. A second innovation is to have a single index cover both the debt and equity portions of the capital structure of real assets companies. Developed in consultation with Brookfield, the flagship index of the series includes global infrastructure (35%), property (25%), natural resources (35%), and inflation-linked bonds (5%), using stocks (50%), bonds (40%), and commodities futures (10%).
But its most important function may well be its simplest – the index defines a holistic real assets class for the first time. "You can't get to smart beta until you define beta," says Gunzberg.
If widely adopted, the new index could facilitate additional allocations to real assets by making performance evaluation more transparent and enabling managers to create products based on a well-defined universe with an independent benchmark.
Gunzberg expects enhanced indexing strategies that alter the benchmark weightings will be the first innovation based on the new series.
"There's no ETF yet," says Gunzberg, "but we're working on it."
Real Assets: The bigger picture
1

Currently reading

Real Assets: The bigger picture

2

3

4

5

6