The big are getting bigger and the small are specialising. What does this mean for the mid-sized manager? Richard Lowe investigates
Size matters. It is a cliché that rings true for the real estate investment management industry today, which is heading in two directions: to the creation of large, cross-border, multi-strategy investment houses, and to small – or 'boutique' – specialist managers. The middle ground is looking increasingly shaky.
"That middle ground is a dangerous place to be without access to capital," says Will Rowson. Rowson, formerly European CIO of CBRE Global Investors, one of the big three investment managers, now advises both managers and investors at Hodes Weill.
"I don't think that middle ground as it is now will necessarily exist in the long term," he says. "Even though it's taking time to erode, without specific risk or sector expertise and access to capital, it's definitely a dangerous place to be."
Ever since the merger of ING Real Estate and CBRE Investors in 2011, the industry has been subject to a series of mergers and acquisitions – not least the tie-up between TIAA-CREF and Henderson Global Investors' real estate business, culminating in the creation of TH Real Estate.
This M&A activity can be viewed as a post-crisis opportunity for the strong to get stronger and grab a bigger share of the market. But the biggest catalyst of consolidation today is, arguably, the desire to escape the 'squeezed middle'.
A case in point is this year's acquisition of SEB Asset Management by Savills Investment Management. Savills IM (which rebranded itself from Cordea Savills this year) has more than doubled its assets under management (AUM) as a result of the transaction. SEB adds about €10bn to its existing €7bn.
In reality, it is not such a straightforward exercise in adding assets. Around €6bn of SEB's assets are held in German open-ended funds that are being gradually liquidated.
One industry commentator said the transaction was more about opening up the German capital markets rather than simply boosting AUM.
Justin O'Connor, CEO of Savills IM, says the inevitable AUM erosion from the German fund liquidations should be sufficiently compensated by new capital raised through its enlarged institutional business. "As we are selling down on those liquidating funds, we are hopefully raising other funds to replace that," he says.
O'Connor describes the deal as "a continuation of our strategy" to grow "organically and by acquisition". Organic growth alone – even if it is at a rate of 20% per annum, for example – will not propel Savills IM (figure 1) fast enough. "It is insufficient to be where we think we need to be in terms of the scale of operations, the scale of funds under management," he says.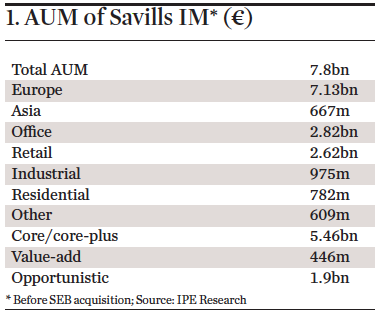 But it is not just about building AUM, he says. The SEB acquisition boosts the company's expertise in the office sector – especially large office assets – while an Asian platform run from Singapore complements an existing office in Japan. A co-operation agreement with SEB bank means Savills IM now has better access to Nordic capital markets. Lastly, and perhaps most importantly, SEB's German regulated platform will boost Savills IM standing with German investors.
O'Connor cites three main reasons for the need to build scale. The first is cost. "We are under incredible cost pressures. Because we have to do far more for compliance, we've got to do more on IT, we have to do more with client servicing," he says. "We've got an increasing cost base, so we have to do something about that. Every investor wants a profitable manager, because they know then they are making proper uses of their resources."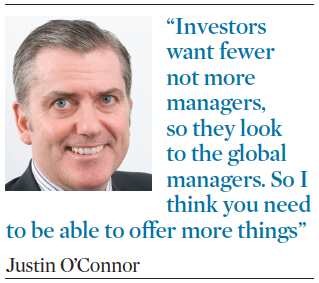 The second is the need to offer more to investors who are looking to streamline their manager relationships. "Investors want fewer, not more, managers, so they look to the global managers," O'Connor says. "So I think you need to be able to offer more things."
The third he describes as "access to investments". He explains: "Vendors know that coming to a player with a lot of capital they are more likely to be able to do something with them."
Europe's new €59bn manager
Swiss Life Asset Managers, the asset manager for Swiss Life insurance company, is another company that has recently boosted its real estate AUM through acquisitions. It acquired German-headquartered Corpus Sireo in 2014, and this year consolidated the business (along with its Swiss subsidiary Livit) to create a €59bn real estate manager.
Approximately two thirds of this volume is managed on behalf of Swiss Life companies. For Corpus Sireo, which manages €14.3bn, this means better access to Cornerstone and co-investment capital to expand the business.
"Swiss Life has been nothing but supportive and wishing to develop our footprint across a number of areas," says Douglas Edwards, managing director at Corpus Sireo. "You will see a greater number of new fund creations, some of which will be seeded by Swiss Life."
Corpus Sireo's co-investment activities had declined under its previous ownership. Its first post-takeover co-investment took place this autumn as part of a deal to manage a €350m German office portfolio for Standard Life Investments.
Edwards says: "We have recently, under the Swiss Life umbrella, closed our first co-investment, which means we are now fully back in the market for co-investment to grow our business."
Corpus Sireo is active in nine European countries. "You will see enlargement and greater depth in our pan-European coverage and also our investment processes. In our immediate future we will look to consolidate and grow our European franchise," Edwards adds.
Success at the poles
Hodes Weill describes itself as a real estate advisory boutique. One of its most high-profile activities this year was advising the €33bn Clarion Partners on its $3.2bn acquisition and recapitalisation of multi-family business Gables Residential. It reflects a market that favours large global platforms and market-specific specialists.
Rowson was hired from CBRE Global Investors last year to head its European activities. "A lot of what we do in Europe is either focused on value-add or opportunistic, in-and-out-quickly or income-driven, long-term, defensive strategies," he says. "But, almost without exception, we are working for either small – or very low-end medium-sized companies – or the biggest ones out there."
He adds: "Not everybody can raise money, but those that can demonstrate that they can invest either quickly, adding value or in a long-term defensive way can raise money at the moment. But anyone in the middle is more likely to struggle. So, even though the market is hot, from a market operator point of view it's polarised".
According to Rowson, the fund management market is not just polarised by size, but also by strategy. Investors are looking for either fast-moving, responsive investors that can take advantage of the market cycle, or stable platforms that can offer secure, long-term income.
This explains why Tristan Capital was able to raise €1.5bn in four months for its latest value-add/opportunistic fund and why CBRE Global Investors was able to raise €800m for its core European open-ended fund in 2014. The two offerings are very different but perfectly illustrate the two poles.
But both groups need a track record. "In every case now, investors will look very, very closely at the track record of who they are going to invest with," Rowson says. "The days of you being able to trade off your name only, with no track record, are long gone."
But some believe the criteria that prospective managers must reach are starting to be relaxed by investors (see box, right).
The accidental expansionists
Not all real estate fund managers have undergone rapid expansion by design. Some have been caught up in mergers by their parent organisations. A prime example is Aberdeen Asset Management's (figure 2) acquisition of Scottish Widows Investment Partnership (SWIP) in 2013. The decision behind the deal had little to do with real estate, but it did have significant implications for Aberdeen's property arm.
It has allowed Aberdeen Property to consolidate its position in Europe, not least through bringing on board the £3.5bn (€4.7bn) SWIP Property Trust in the UK. "The SWIP acquisition is strengthening our home – especially the UK," says Pertti Vanhanen, global head of property Aberdeen.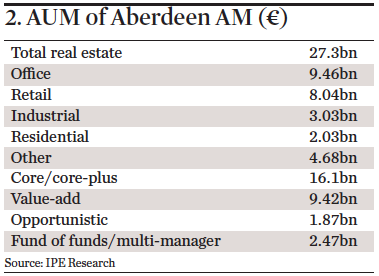 The next steps are to begin building a more global platform. Aberdeen has hired William Shaw to spearhead the creation of the direct Asian property business. Shaw joins Aberdeen's existing research team in Asia (Aberdeen's real estate multi-manager business is already active in the region).
Then later it will be a case of establishing a presence in the US. "The SWIP acquisition is playing an important role in the strategy, because you need to be stronger at home before you go abroad," says Vanhanen.
BMO Real Estate Partners (figure 3), formerly F&C REIT Asset Management, falls into the same category. The €9.67bn real estate manager changed its name this year after parent company F&C was bought by Canadian bank BMO in 2014. The company, which has been investing in the UK and Germany, has opened an office in Paris and launched its first pan-European fund.
Nick Criticos, CEO at BMO Real Estate Partners, said the real estate business "was excited from day one". BMO does not have any existing real estate investment management business, but it does have a more global distribution network than F&C, including North America.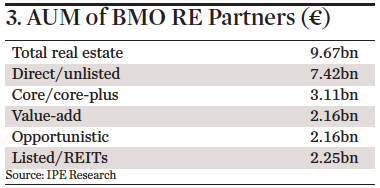 Criticos says BMO is "under-represented in alternatives" and so the potential for investment appetite is strong. BMO is in a position to offer cornerstone capital for new real estate funds, although this was not required for its first pan-European strategy.
"BMO made a commitment to support us [BMO Real Estate Partners] in new products from a cornerstone point of view," says Criticos. "For this first product, they won't be investing, but they are extremely supportive of our growth aspirations."
Criticos believes BMO Real Estate Partners now enjoys "the best of both worlds". The company is nimble and "entrepreneurial", and the BMO brand helps support a perception of stability.
"We think we've got the culture of a very niche boutique business within the framework of a big, global asset management platform," he says.
The real estate business has a history of raising German capital (four German investors backed its latest fund) and Criticos says "they like the institutional name". He explains: "They like the security that comes with that. But they also want business that is fleet of foot, that has quick decision-making processes. Real estate investors like to know that they are investing with people who are entrepreneurial, innovative and make quick decisions."
The best of both worlds
It is a view shared by David Kirkby, the CEO of Valad Europe. The €4.1bn European real estate manager changed hands this year, as management and Blackstone sold it to Australian REIT Cromwell (figure 4).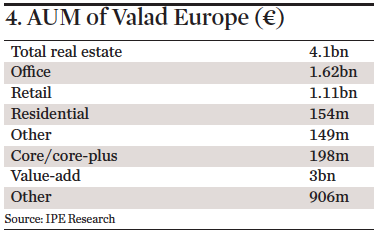 "The big players, the big institutional houses, they serve a purpose," he says. "And there's more entrepreneurial, smaller groups. We sit in the middle. We actually sit in both camps."
Kirkby says Valad Europe takes all the processes, governance and systems that are to be expected from a modern-day institutional real estate investment house and "apply it to the boutique, entrepreneurial, people-on-the-ground" model associated with smaller, asset management-heavy specialists.
"Investors want the best of both worlds," he says. "They want that local team that they can connect to. They want to make sure that nothing is going to fall over from a governance perspective."
Valad Europe is small compared with some of Europe's larger platforms, but it does have 22 offices in 13 countries, giving it a truly pan-European coverage. "One thing I say to investors is that we're as good as anybody else on everything you would expect from a highly professional funds management house. But our key differentiator is our local expertise, local knowledge, boots on the ground," Kirkby says.
Cording Real Estate was launched in 2008 and today manages more than €2bn in real estate assets. It has offices in the UK, Germany, the Netherlands and Denmark.
Tunbridge: investing in the middle manager
Tunbridge Partners, a new firm backed by private equity consortium, has been created to invest in mid-sized real estate investment management companies. Funded with $500m (€438m) from Quantum Strategic Partners, advised by Soros Fund Management, and Pine Brook, the company will take minority stakes in real estate managers and provide strategic and operational support.
Tunbridge is being advised by consultancy firm Hodes Weill, whose management will be investment partners. The new company will invest in managers with around $3bn-10bn of assets under management.
The model of taking minority stakes comes from the hedge fund industry. The managers will benefit from capital growth, which could be used for geographic expansion, seeding their next fund or replacing previous partners.
"In 2008, just post-crash we saw the investor market was shifting towards managers who understood the assets they were actually buying," says co-CEO and co-founder Peter Dove. "And so we set about creating Cording as a vertically integrated firm."
He describes the group's unique selling point: "We do our own property asset and investment management, and a large majority of our staff are in touch with assets on a daily basis. The whole purpose of that was to resonate with the investment world that we saw coming. We wanted to be engaged directly with the real estate rather than with people just selling products."
Rodney Bysh, who joined Cording this year as co-CEO, says the large real estate managers are playing their role, but investors – including large ones – are "looking for managers that are able to offer them strategies where they buy portfolios of smaller buildings, where there is a lot of asset management to do, where you can get better returns if you are able to manage the smaller assets."
Cording manages investments in Benelux markets on behalf of the €78bn TH Real Estate. It is also collaborating with BNP Paribas REIM in Germany and has a joint venture in Finland with private equity firm HIG Capital.
"I do think this service will be demanded by the pension fund industry," Bysh says. Investors will make "core investments with the big brand manager co-investing, and then you'll have the fleet-of-foot, well-organised, vertically integrated model, which I think will grow in size so that it gets critical mass."
Ric Lewis: The 'best-of-the-rest' syndrome
Ric Lewis, founder of Tristan Capital, believes that the time investors only backed managers with the very best track records could be coming to an end.
He says such is the institutional demand for real estate that some investors have been forced to turn to the next tier of managers, where expertise and track records can vary greatly. He terms it 'the best-of-the-rest' syndrome'
"I always thought that as the industry matured there was going to be what I called, death in the middle," he says. "The smaller boutiques that were specialists that were really focused on doing a couple of things and built a track record of doing them exceptionally well would thrive and those pan-global offerings were going to thrive, too.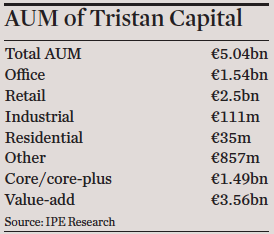 "That is how it should work. It should work that good performance gets rewarded and bad performance gets rooted out. But I always believe there is very little institutional memory and there is almost no institutional justice."
As market-leading managers have raised capital and are no longer open to investment, investors have been forced to turn to the best of the rest. "You're starting to see it now," he says. "Now some of the choices in the best of the rest are good and deserve money. Unfortunately, there are cats and dogs in the best of the rest too, and they are going to get money too, because they do it every cycle. And that's what we have to watch for.
"What I always worry about in [the real estate] business is self-harm. Are we going to let exuberance and capital flows move us into a place where we start to lose our perspective and discipline about risk?"
Lewis sympathises with investors. "It's hard. You're under-invested. There's no yield in the world and real estate offers yield. You've got allocations coming from the top of your organisation saying I want to overweight real estate. That causes the momentum."
Is the recent increase in capital raising volumes a reason for investors to pause? "I would say not yet," says Lewis.
"It's still a fraction of what's happened in past cycles. But it's time to start watching now. It's time to start watching the absolute volume of flows into the space and to whom those flows are going and keep your scorecard because we are absolutely starting to make just the very first of the mistakes of the cycle."
Investment Management: The squeezed middle
1

Currently reading

Investment Management: The squeezed middle

2

3

4