Emerging managers pose challenges but can offer benefits for investors looking for diversification and specialists skills. Raymond Jacobs explains
One strategy that institutional real estate investors are becoming increasingly interested in is investing with 'emerging' private real estate managers. These types of manager are typically focused on smaller real estate deals in their local markets.
The definition of an emerging manager varies, but it could include managers at an early stage of their life cycle, managers raising a first or second institutional fund, managers raising relatively smaller funds with more targeted strategies, or managers whose businesses are minority- or female-owned.
Adding investment opportunities sourced from emerging real estate managers to a portfolio has the potential to complement investments in core direct assets and large, established managers by providing diversification benefits and access to niche investment strategies. In fact, academic research, and our own analysis, has shown that, as a group, emerging managers have historically outperformed their larger peers.
Investing with emerging real estate managers may provide diversification to an investor's overall real estate allocation and act as an effective satellite strategy to core holdings. In addition, the competitive performance of emerging managers relative to larger, more established managers has been attracting the attention of institutional investors.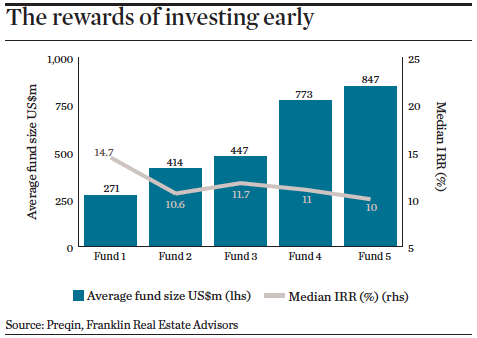 Identifying emerging real estate managers from around the world before they become widely recognised may have significant benefits. While locating and sourcing emerging managers can be difficult, gaining access before they are widely discovered appears to be a critical element for making best use of them.
Emerging real estate managers have the potential to gain an advantage through their local expertise. Having a local presence can give them a unique understanding of the local market, potentially allowing them to capitalise on local market inefficiencies, which might be a determining factor in strong risk-adjusted performance. They are also strongly aligned with the interests of their investors as they seek to consolidate their performance track records.
Seeking to raise capital from institutional investors, emerging managers have shown a willingness to offer favourable terms and the potential for exclusivity to secure their commitment. Larger investors may also receive a significant portion of the available investment allocation for current and subsequent co-investment opportunities, while potentially enjoying attractive fee arrangements compared with what larger, more established managers charge.
Historically, some emerging manager firms in the US have been minority- or female-owned, offering investors the chance to promote manager diversity when determining their investment allocations.
The potential performance advantages of investing early in a manager's life cycle have been documented through academic research. In his 2010 paper Performance of Private Equity Real Estate Funds, Ilkka Tomperi, now investment director for real estate for Varma, found an inverse correlation between fund size and performance, as represented by the median internal rate of return (IRR).
Here we have used a similar methodology with updated data from the same Preqin database of private real estate fund returns to demonstrate that the results continue to hold for a more recent period of time. As fund sequence number increases, so does the average fund size. Meanwhile performance, as represented by the median IRR, trends downward (see figure left).
Three types of emerging manager
Successful private real estate investment requires local expertise. To gain access to opportunities in local markets it is important to work with partners who have on-the-ground knowledge. These operating partners potentially have the ability to identify local inefficiencies and can execute niche strategies that seek to exploit potentially mispriced assets. Over the years, many of these local partners have sought to develop distinct, hard-to-replicate competitive advantages while remaining under the radar of many institutional investors.
Some operating partners are emerging managers in the broadest sense, as characterised by local, small, integrated teams with relevant track records, and seeking to launch an initial fund, often focused on specific market opportunities.
Other operating partners are seasoned, cohesive, local teams of professionals who have worked together in the past and are launching a first-time fund under a new structure. They may have experience as a local operating partner for larger fund managers prior to establishing a new firm. In fact, many large funds tend to make investments through a series of local operating partner agreements.
The second type of emerging manager is characterised those that have worked together successfully at one firm and then established their own firm. Examples include teams who were previously part of large, fast-growing global real estate investment franchises, often with long-standing relationships in the industry.
These teams may now operate as new, independently owned start-ups. Investors who partner with these entities could benefit from the expertise of cohesive senior-management teams that had previously managed multi-billion dollar funds.
As with the local operating partners, this type of emerging manager may be highly motivated to establish a new track record and to allay any fears investors may have of selecting them. This type of manager could be willing to negotiate to address potential investor concerns by providing flexible structuring, improved governance and by adjusting fees.
Sometimes, the ability of a new or emerging manager to access institutional capital will depend their being able to break through the institutional glass ceiling. The jump from non-institutional capital to institutional capital can be challenging and at times overwhelming to an emerging manager.
This third type of emerging manager – the 'under the radar' manager – can have significant direct experience in a specific geography and property type, although they may have been limited to investing capital on behalf of high-net-worth individuals as well as their own money. These managers may possess a strong track record and extensive relationships, as well as a stable and cohesive team with substantial deal-sourcing capabilities. They may be poised to attract institutional capital but lack the requisite standardised ownership and governance structures to do so.
Identifying emerging managers
While each of the three emerging manager types has distinct characteristics, investors trying to source them face similar challenges, particularly if attempting to invest directly.
Identifying and building relationships with institutional-quality emerging managers requires substantial resources to perform the extensive due diligence required to evaluate smaller investments. For many institutional investors, due diligence on transactions that might represent a smaller investment size than usual can be prohibitively expensive in both time and money. However, we believe the advantages are substantial if these obstacles can be overcome.
Another hurdle investors must overcome is gaining visibility to the universe of emerging managers. Unless a firm has a long-term presence in a particular region or market, scanning the landscape for potential partners can be difficult. Should an investor successfully identify an attractive emerging manager, building a relationship and establishing trust takes time. And once prospective emerging managers are identified, investors are confronted with the challenge of addressing non-standard structures and potential deficiencies in governance.
Emerging managers can offer multiple points of entry to niche investment strategies. These strategies may complement existing real estate holdings and potentially provide additional risk and return diversification in the construction of a global portfolio.
By focusing on specific geographies, real estate markets and sectors, emerging managers can offer institutional investors and their advisers the potential to select just those investment exposures that are desired for the overall portfolio, and which provide a more active and deliberate approach to real estate portfolio construction.
The optimal portfolio for generating an the desired risk-adjusted return may include emerging manager-sponsored primary funds, co-investment opportunities, and joint ventures where capital can be allocated systematically to a series of similar investment transactions sourced from the same emerging manager.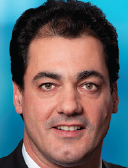 Private real estate investments sourced from emerging managers can provide additional benefits due to historical outperformance against their larger peers. However, in a highly fragmented and inefficient market, efforts to identify, source and structure these investments can pose investors significant challenges.
Raymond Jacobs is managing director at Franklin Real Asset Advisors
Investment Management: The squeezed middle
1

2

3

4

Currently reading

Investment Management: The case for emerging managers