Brookfield, Blackstone and CBRE Global Investors once again top the investment management ranking. Christopher O'Dea looks at the 'big three'
Brookfield Asset Management retains its top spot in this year's ranking, and has created some distance between second-placed Blackstone and third-placed CBRE Global Investors. Brookfield's assets under management (AUM) has increased from €92.1bn to €135bn over the 12 months to June 2015. Blackstone has jumped from €58.9bn to €83bn over the same period, overtaking CBRE Global Investors, which rose from €67.8bn to €79.4bn.
The three organisations continue to lead the pack, but they are all following distinct paths. The Toronto-headquartered Brookfield is a global giant in property, infrastructure and private equity, and has been investing in big projects. Blackstone, the archetypal large, US private equity firm, has been elevating its real estate arm to unprecedented heights with the creation of a series of 'megafunds'. CBRE Global Investors, has been on a steady trajectory since it was created in 2011 – through the merger of CBRE Investors and ING Real Estate Investment Management – in part fuelled by a growing global separate-accounts business.
1. Brookfield AM
A diversified alternatives manager with more than $200bn (€135bn) in assets under management, Brookfield owns about two thirds of Brookfield Property Partners. The listed unit enables the company to tap public equity capital in addition to private funds. It is a key element in Brookfield's approach to real estate, concentrating on mobilising large amounts of capital for big, complex opportunities with few competitors.
During 2014, Brookfield AM spun off Brookfield Property Partners and subsequently merged Brookfield Office Properties into the new listed company. The combined entity anchors Brookfield's property group – the alternative manager's most significant investment platform – which consists of portfolios in the office, retail, multifamily, industrial, hotel and triple-net leased sectors encompassing over 350m sqft of commercial space globally.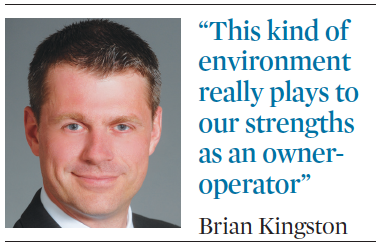 Strong capital flows into property have pushed cap rates on major assets in primary markets to record lows. This might be expected to be a headwind for investors seeking to buy high-quality assets at value prices.
For Brookfield Property Partners, Brookfield's $62bn flagship listed property company, the current market is a plus. "This kind of environment really plays to our strengths as an owner-operator," says Brian Kingston, president and CIO of Brookfield Property Partners. "If you are talking about buying a very high-quality Manhattan office building with a good-quality tenant on a long-term basis, there is a lot of capital chasing those types of transactions," he says. "Purely financial investors are looking for a yield substitute, and as a result returns have become compressed for assets which are effectively bond-like."
Brookfield brings capital and "a very large operating presence, from leasing to redevelopment," Kingston says. "We can buy high-quality assets that require some elbow grease [work]," such as bringing in new tenants or capital improvements. Brookfield Place, for example, in Manhattan's Downtown district, opened this year after a $300m renovation, with 95% occupancy in an 8m sqft office complex and retail rent increased to from $2m to $35m. "We've continued to see opportunities to buy high-quality assets that require some extra effort, that pure financial investors who are just looking for a yield substitute aren't really able to take on."
Financial buyers are welcome once the work is done. "We've been very active in recycling capital," Kingston says, "selling down our interests in those more bond-like assets and redeploying that capital into places where we think we can get a better return." Opportunities include hotels, multifamily assets and modern logistics facilities. "What doesn't come through in the supply-and-demand numbers for logistics," says Kingston, "is the radical change in the location and type of space that logistics property users are demanding."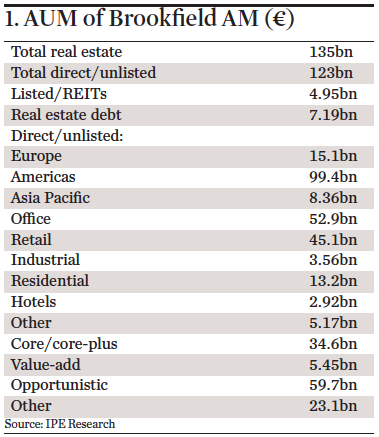 The heart of the operation is office property, which accounts for €52.9bn of its AUM. Brookfield has long focused on large, complex deals that few investment firms can finance or efficiently evaluate through due diligence. Key transactions completed this year typically involve significant numbers for square footage and capital invested, such as the acquisition of Canary Wharf Group with Qatar Investment Authority, which brought 6.4m sqft of office and retail space into the Brookfield portfolio. Brookfield deployed £2.6bn in capital for a 50% stake in the project, which envisages 11m sqft of future residential and office development that will transform the financial office area into an urban neighbourhood.
On a similarly large scale, Brookfield began construction on One Manhattan West, a $4.5bn project that includes a 2m sqft office tower anchored by law firm Skadden Arps and an 844-unit residential tower. Located one block west of Pennsylvania Station, the towers are rising on a platform Brookfield built over the railyard to create new buildable surface area.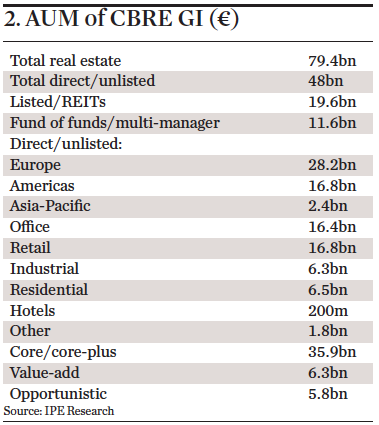 Manhattan West responds to a shortfall in office space. "What we are seeing now in office markets – I'll focus on the US, but it applies to other international markets as well – is generational-low new supply being created, and we're seeing very strong tenant demand," Kingston says. As the US economy strengthens, tight conditions are "starting to permeate from the gateway cities, to Middle America," he adds. "Supply is not keeping up, because replacement costs are generally pretty high."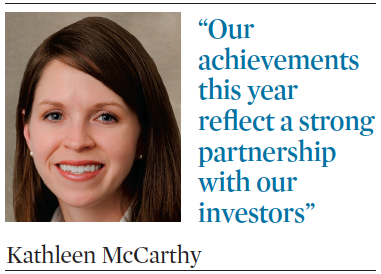 Although cap rates might rise from the current lows once interest rates start to rise, "we're actually quite bullish on the office sector in the US right now," Kingston says. "We think we're going to see very strong rental growth, and that's going to have a positive impact on values, notwithstanding that cap rates might be a little higher."
2. Blackstone
With €83bn AUM, Blackstone's approach to expanding its real estate business in recent years can be best described as 'strategic opportunism' – the ability to remain focused on long-term objectives while staying flexible enough to seize new opportunities. Wherever big deals are happening, Blackstone is there, either getting the first call from a seller or tapping its network of investors to raise yet another fund often larger than some real estate companies.
"Our achievements this year reflect a strong partnership with our investors, as well as our ability to attract great talent globally," says Kathleen McCarthy, senior managing director and global COO of the Blackstone Real Estate group. The unique scale of Blackstone's property team and capital resources enabled the firm to make some striking investments, the best example being the $23bn acquisition of GE Capital's global real estate debt and equity platform. GE approached Blackstone exclusively because of the firm's reputation for completing due diligence quickly and providing certainty of execution, she says.
Blackstone said it had raised $15.8bn for Blackstone Real Estate Partners VIII (BREP VIII) in the third quarter, its flagship opportunistic real estate fund. The capital allows the firm to continue taking advantage of large, complicated investments globally for which competition is limited, McCarthy says. Those investments may increasingly be found outside the US, and Blackstone opened offices in Shanghai, Sao Paulo, Mexico City and Toronto to better identify opportunities and risks.
Increasing volatility typically creates opportunities, Blackstone says, and the firm is monitoring both public and private markets for situations that fit the firm's risk-reward parameters in opportunistic, core-plus and debt strategies.
In October, Blackstone global real estate head Jon Gray told a conference sponsored by the Pension Real Estate Association that declines in the price of public property stocks created an opportunity. Just days later, Blackstone said it would buy health-care property REIT BioMed Realty for $8bn, which was the largest private-equity buyout of a US public company at that time.
With plenty of fresh, dry powder in its new fund, Blackstone is looking forward to 2016. "We remain optimistic about the opportunities we can generate for our limited partners in the current market environment," McCarthy says.
3. CBRE Global Investors
With a presence in 21 countries, CBRE Global Investors, which has €79.4bn AUM, is able to make smart investments, says CEO Matt Khourie. Investment teams were able to source a significant number of off-market transactions due to their relationships with property owners and brokers around the world. "We didn't have to compete as frequently as our competitors," Khourie says. Obtaining better pricing helped CBRE Global Investors post one its best years for overall investment performance, he adds. Two other positive factors were strong asset-level performance, including very active leasing to improve occupancy, rental rates and NOI growth, and robust overall buyer demand for property. "We were able to sell stabilised assets into a very strong capital market," Khourie says.
Research also paid off. "Some smart research we made in late-2014 allowed us to buy US office and EU retail property at favourable pricing levels early this year," Khourie says. "Both of those sectors are performing very well. We still want to increase those two product types in our portfolios, and we have a few new ideas on our screen for 2016."
CBRE Global Investors raised $3.5bn in the first half of this year, up from $3.2bn during the same period in 2014. Increasingly, the portfolios CBRE Global Investors manages are separate accounts tailored to client requirements. About 60% of the capital being raised in 2015 will be in separate accounts, Khourie says, with particularly high demand for customised mandates from new clients based in Europe and Asia. And that capital is not staying at home. "Clients in those two regions are deploying capital to all regions of the globe," he says.
Khourie predicts that a global outlook will become an essential part of institutional property investment in 2016. "There's a continued evolution of what I'd call a global investable universe for real estate," he says. "More large capital sources are looking outside their home regions."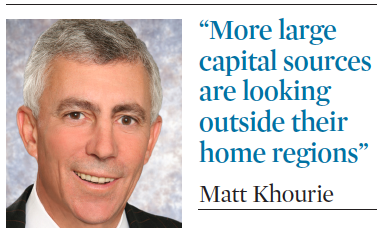 One thing CBRE Global Investors is watching for in the New Year is the potential impact of a denominator effect on property allocations from the decline in equity values. While there has yet to be an impact, some investors are starting to discuss what adjustments they might need to make – if any – to property allocations that have become a bigger percentage of portfolios as stock prices fell.
Khourie says it is reasonable to expect property markets to experience a downturn in the next five or six years. Going into 2016, "we're looking at client portfolios with a hold-through mentality," he says. "We're being sensitive to position portfolios to be able to weather a downturn, lengthening loan maturities, extending key leases and moving towards more conservative LTV ratios."
While the slowdown in China has affected local property markets, and a low oil price is leading to weakness in energy-related markets and potentially lower capital flows from the Middle East, Khourie says persistent low interest rates will create continued demand for property from institutional investors. "Even though cap rates are at low levels, they're still compelling compared to the level of risk-free rates," he says.
Investment Management: The squeezed middle
1

2

Currently reading

Investment Management: Blazing three separate trails

3

4