How do interest rates affect global listed infrastructure? It is important to look beyond the short term, writes Giuseppe Corona
The impact of interest rates on global listed infrastructure is often misunderstood. Investors need to differentiate between the short-term impact on equity prices and the long-term effect on underlying cash flows and valuations. It is a timely topic, given the recent increase in global sovereign yields, which has, once again, become a significant focus for investors.
Sovereign yields began their upward trend shortly after the Brexit referendum in June 2016, as higher inflation expectations started to be discounted in breakeven rates, particularly in the UK, but also to a lesser extent in the US, Europe and Asia. Leaving aside foreign-exchange factors (the weakness of sterling), the recovery in commodity prices after the 2015 rout was the key reason for improved inflation expectations.
However, the election of US President Donald Trump was the catalyst for the recent surge of US sovereign yields, as market participants began to focus on the implications of his pro-growth policies aimed at boosting the US economy and their likely impact on growth and inflation. The increase in US nominal rates spurred a similar increase in sovereign yields globally (figure 1).
This rise in global sovereign yields has been meaningful, particularly in the US, with the 10-year yield moving from about 1.4% to 2.6%. This sizeable increase in interest rates created a market environment that resulted in global listed infrastructure recording negative performance, both on an absolute basis (-4%) and relative to global equities (-12%) – as shown in figure 2. November 2016 was the asset class's second worst monthly relative performance to global equities since 2002.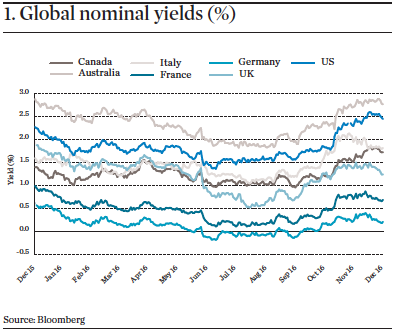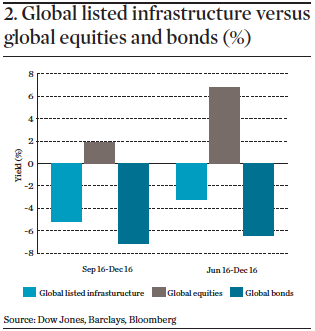 As shown in figure 3, this is not the first time sovereign yields have increased in the past few years. Since the end of the global financial crisis, which marks the beginning of the current business cycle, we have witnessed four distinct periods of sizeable and protracted increases (at least 75bps lasting for more than 100 days) of long-term interest rates:
• October 2010 to February 2011: Announcement of quantitative easing 2, when the financial markets started to price real yields and inflation expectations higher in response to aggressive monetary easing from the Federal Reserve;
• May 2013 to December 2013: Taper tantrum, when the chairman of the US Federal Reserve, Ben Bernanke, announced the central bank was looking at tapering the asset purchase programme at some point in the future, causing real yields to move higher;
• January 2015 to June 2015: Bund tantrum, due to a more technical sell-off as heavy sovereign bond supply hit a relatively crowded positioning following the first few months of the ECB asset-purchase programme;
• July 2016 to December 2016: Global reflation, which started as a technical sell-off in a very crowded market with low bond volatility and gained steam following rapid improvement in global economic data and Trump's election.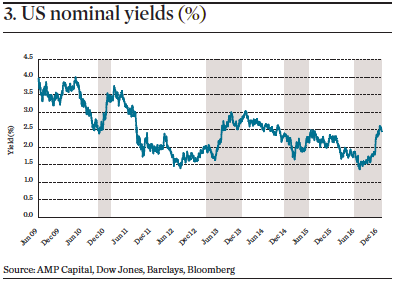 Each of these periods exhibited similar dynamics, with increasing nominal and real sovereign yields (albeit to varying degrees), strong performance of global equities, and relative underperformance of global listed infrastructure. However, it is important to emphasise that global listed infrastructure has recovered all the relative underperformance to global equities in the 12 months following these periods of increase in nominal yields.
We believe that one of the key reasons behind this absolute and relative recovery in performance – besides a normalisation of interest rates – is the recognition of the asset class's long-term stability of cash flows. Indeed, it is important to differentiate between the short-term volatility of equity prices and the long-term stability of cash flow, which explains the strong correlation between the long-term performance of the asset class and its cash-flow growth; this supports our view that global listed infrastructure's investors should always focus on the underlying assets and their ability to generate visible and growing cash flows.
Global listed infrastructure is a diversified asset class with exposure to a wide range of sectors. The drivers of cash flows of a communication tower company in Italy are very different from an electric utility company in the US or an airport in Australia. Regulatory frameworks and contracts' structures vary greatly from sector to sector and from region to region, as they are based on and exposed to macro variables in different ways. We believe that such diversification is one of the most attractive characteristics of the asset class, as it represents a mitigating factor, over the long term, for particular risks arising from micro and macro variables, including changes in interest rates.
Interest rate, represented primarily by the sovereign long-term yield (the risk-free rate), is one of most important macro variables investors in infrastructure are exposed to, whether in listed or unlisted. This makes it incredibly important to understand its impact on the asset class. The biggest driver of infrastructure's sensitivity to changes in interest rates, both on cash flow and valuation, is from the duration of the assets themselves, with factors such as regulation, financial leverage and growth, both economic and stock/sector specific.
Utilities are perhaps the companies with the highest sensitivity to changes in interest rates, given their long duration, above-average financial leverage, highly regulated activities with limited (if any) exposure to economic growth.
Communication infrastructure companies also have a relatively long duration and above-average financial leverage, which makes them highly sensitive to changes in interest rates.
Transportation companies generally have the lowest sensitivity to changes in interest rates, given their exposure to economic growth. Having said that, interest rates tend to impact the sector in different magnitudes because of the assets' diverse regulatory frameworks, length of concession and financial leverage.
The oil & gas storage and transportation sector's sensitivity to changes in interest rates is also relatively low. The long duration of asset lives and above-average financial leverage are somewhat offset by higher exposure to economic growth and, more importantly, region and/or sector-specific growth dynamics, which tend be more sensitive to changes in commodity prices. Given these drivers, the sector has a relatively low correlation with the broader asset class.
Given the different duration, regulatory frameworks and exposure to growth, it is not surprising that there has been meaningful divergence between the performance of different sectors of global listed infrastructure during the aforementioned periods of rising sovereign yields (figure 4).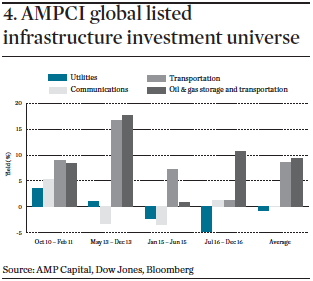 Recognising the differences in characteristics such as duration, regulatory frameworks and contracts' structures across the various sectors of the asset class is important in understanding the implications/impacts of not only the changes in interest rates but also the changes in the different components of interest rates (real rates and inflation expectations). Bond yields are made up of two components – real yield and inflation expectations – and thus lower bond yields do not necessarily mean lower real yields.
With unconventional monetary policy having pushed the boundaries of what can be considered normal, sovereign bond yields have shifted from low to zero to negative in the largest developed economies. As we move to a different economic and financial environment, and given the recent volatility in global bond markets, we believe it is relevant to address the impact of different nominal and real interest rates scenarios on global listed infrastructure and its sub-sectors to provide a framework for portfolio construction and asset allocation.
Inflation expectations can become relatively unstable, and are particularly vulnerable to factors such as shocks to commodity markets or lack of policy flexibility, in this environment of lower sovereign yields. As a result, the historical relationship between nominal bond yields and other asset classes needs to be reassessed and may no longer be valid. This is particularly true for a long-duration asset class such as global listed infrastructure, given the relevance of inflation expectations and real yields for both cash flows and valuation.
Giuseppe Corona is head of global listed infrastructure at AMP Capital
Theoretical components of infrastructure's sensitivity to rates
• The nature of the evolution and duration of the underlying cash flows (upfront capital expenditures, followed by a long-term steady stream of revenue). This characteristic makes net present value and equity internal rate of return the most appropriate valuation tool for the asset class; such valuation tools are relatively sensitive to changes in the interest rate assumptions used for discounting future cash-flow streams;
• The regulatory frameworks, and sometimes contracts, which are based on the rates of return that these assets are allowed to earn. Sovereign risk-free rates are often the foundation of the building-block approach to determine allowed rates of return;
• The higher visibility of cash flow as infrastructure assets can usually maintain a higher level of financial leverage. As a result, changes in interest rates can have an impact on financing cost, and ultimately on the cash-flow streams themselves. While the impact of these factors on underlying cash flows of infrastructure assets are the same, whether in a listed or unlisted structure, the short-term performance of listed infrastructure tends to be more greatly affected by the evolution of interest rates. Indeed, volatility and/or increases in the sovereign bond markets (and yields) have an immediate effect on listed markets, although our analysis suggests equity markets usually overreact to these periods of higher volatility.
Interest rates US: The race is on
1

2

3

Currently reading

Interest Rates Infrastructure: Not just a bond proxy