If interest rates rise, the implications for Europe look complicated. So, asks Maha Khan Phillips, should investors go up or down the risk curve?
It is a cliché to say that when the US sneezes, the world catches a cold. But clichés exist for a reason. In March, the US Federal Reserve raised interest rates for the second time in three months, and all eyes turned to Europe. Market participants are anticipating rises in both interest rates and inflation over the next three years, with the expectation that the UK and continental Europe will react differently to both. All this has implications for real estate investors – for future investments and existing holdings.
Until 2008, commercial real estate price rises had, for decades, mostly been driven by rent increases on the back of steady inflation. But inflation has barely been a factor since the crisis, as central banks maintained low interest rates and embarked on quantitative easing.
As La Française Global REIM pointed out in February, with government bond yields narrowing since the sovereign debt crisis of 2010, returns on all asset classes have been dragged down, with real estate yields touching "previously unseen lows, especially in France and Germany".
The French investment manager is predicting a return to inflation, on the back of rising energy prices, which will push rental income higher. It says a gradual rise in long-dated bond yields will trigger an upturn in real estate yields in 2018. But in 2017, yields are likely to continue contracting.
Kiran Raichura, European property economist at Capital Economics, says: "In the UK, we expect inflation to rise to 2.5% to 3% over the next couple of years because of the weak pound and a pick-up in oil and energy prices. In terms of the euro-zone, inflation has picked up this year because of the energy price rise, but then we expect it to fall a bit and we don't expect it to go above 2% overall."
While market participants agree that interest rates will rise – some believe up to 3.5% in different parts of Europe over the next three years – they are divided on where the biggest opportunities lie. For example, some believe that offices in Europe look attractive, while others believe that investing in office space will not generate returns.
La Française Global REIM plans to focus on more liquid assets such as high-quality office and retail properties in established areas. It will also look at larger properties with multiple tenants, and diversify by investing in homes for the elderly, student housing and hotels.
And some opportunities in the future will come from the different rates of growth and inflation in the UK and continental Europe. "Next year you may have a split between what's happening with the Bank of England and the European Central Bank," says James Roberts, chief economist at Knight Frank. "There's a lot of pressure on the ECB from Germany to start going down the US road, because their economy is very strong. But the ECB is caught between Germany and somewhere like Spain, which has high double-digit unemployment rates. When you have that many people unemployed in such a large country, it is very difficult to argue that you should push ahead and raise interest rates."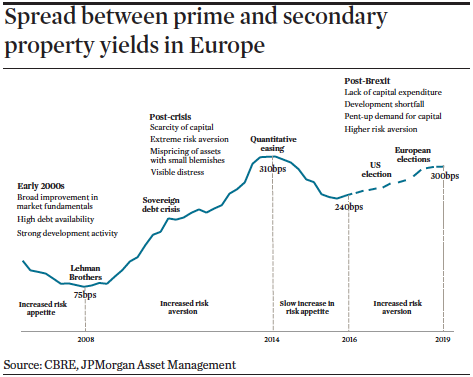 In its February 2017 European Commercial Property Focus, Capital Economics points out that the exceptionally loose monetary policy environment in Europe over the past eight years has changed the dynamics of the relationship between prime office yields, risk-free rates, and economic activity. In the absence of any major tightening by the ECB, the firm's forecasts for Bund yields and unemployment means that by 2021 office yields will be roughly at the same level as they are at present.
Up or down the risk curve?
Some believe investors should be taking on some risk. "The economic landscape prevailing in Europe has, once again, enhanced the opportunity for real estate investors to take advantage of increased volatility and heightened risk aversion in the region," says Joe Valente, head of research and strategy for the European Real Estate Group at JP Morgan Asset Management.
Valente believes that economic conditions, combined with a shortfall of investment in new developments, as well as building improvements over the past few years, have created significant capital shortfall in the value-added and opportunistic segments of the European real estate market.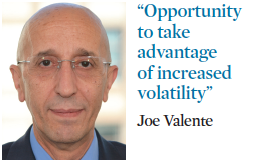 He says the total capital requirement in the region is estimated to exceed €150bn, while equity held by value-added and opportunistic investors amounts to just €29bn. The imbalance means that value-add and opportunistic investors will continue to be overcompensated for taking asset-based risk in core institutional markets.
"I would guess that probably 80% to 90% of the capital in the market is active for core investments – low-volatility, low-risk assets that allow you to sleep soundly at night because they don't generate any significant problems," Valente says.
"The issue is, what's the best way of getting into the market? Because if those investors want or need income yields of 4% or 5%, then investing in trophy buildings in central London, Paris, or Munich doesn't generate that sort of return. So you have to look for alternative locations, possibly in markets like Cologne, Manchester, or Lyon, where markets haven't re-priced to the same extent and there is still a surplus or premium for investing in those markets."
But Paul Jayasingha, global head of real estate manager research at Willis Towers Watson, believes institutional investors do not have the risk appetite for opportunistic strategies at the moment. "Many of our clients have some appetite to take risk," he says. "They may look at some value-added strategies, but it is getting harder and harder to get clients to look at opportunistic strategies. Many of our clients are pension schemes that are looking for a return that might be 2% or 3% over government bonds. What they don't need is 20%-type returns with a lot of risk around that."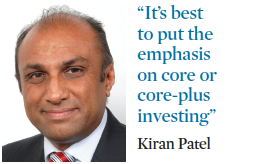 And moving up the risk curve does not work if there is uncertainty about the future. "Traditionally, if we are moving to a period of rising inflation, stronger economic growth, and rising interest rates, you would look to add value-added strategies," says Roberts. "The problem is that in order for people to pursue the strategies they have to be confident in the economic outlook. The truth is that nobody knows where we will be this time next year."
Jayasingha believes investors should be looking at strategies that offset the impact of rising rates. "The simplest strategy which our clients have been using is long-lease property strategies with 20-plus-year leases and strong tenants with inflation linkages," he says. "That's an example of a core strategy that is well able to withstand the impacts of inflation."
Kiran Patel, CIO at Savills Investment Management, says he is advising investors not to go up the risk curve. "That's not to do with interest or inflation, but where we are in the cycle," he says. "We are coming down to a demand slowdown. We believe it's best to put the emphasis on core or core-plus investing, as opposed to trying to chase that growth. You can't fight the cyclicality of the market."
Patel says Savills is weighting its portfolios towards indexation. "You've got to look at inflation and economic growth," he says. "So index-linked leases, any long duration contracts with inflation, could be attractive."
Robert Gilchrist, chief executive of Rockspring Property Investment Managers, thinks investors should avoid some inflation hedging products. "Inflation hedges sound good, but I've always been wary of investing in assets where ultimately the underlying rent, by virtue of indexation or inflation, rises to levels beyond the underlying market," he says.
"So, effectively, you become over-rented. Investors are pretty wise to what that means, and they look at equivalent yield, rather than initial yield. I'm only interested in markets across Europe where I believe there is a prospect of today's rents growing, or being sustainable over the medium term."
Gilchrist says sectors where there are cyclical or structural changes, such as in some retail markets, or markets like the City of London, where there is uncertainty around Brexit, look vulnerable.
But he believes rising interest rates are not necessarily a bad thing for the real estate sector. "One of the reasons we are a little more confident now, compared to 2007, is that there does seem to be life in the global economy, and also life in terms of the real estate markets in most sectors and in many locations. There is reasonable supply-demand balance, and there is the likelihood of rental growth, rather than rental decline. As long as the economic growth pattern continues, then rising interest rates with rental growth and continued demand is nothing to be particularly fearful of."
Valente believes that, geographically, markets such as the UK, France, and Germany are the most attractive. "At the core side, you don't need to invest in central and eastern Europe or in Greece and Norway to get the benefits of diversification. You can just invest in the UK, France, and Germany and get virtually the same thing. On the opportunistic side, 75% of the €150bn of opportunities is in these three markets, so you don't have to take the macro risks elsewhere."
Agate Friemane, senior investment director at real estate fintech company BrickVest, points to the arbitrage opportunities offered in these markets. "Typically the US and UK and European markets have been fairly closely correlated, but my personal view is that the UK will play out differently," he says. "We see strong inflation numbers in light of Brexit, but there is no sign that this will be followed by an interest-rate hike. There will be a period of arbitrage, with high inflation numbers and low interest rates, given how much instability Brexit has created, so there's a window where some investors can look to exploit that arbitrage."
One such arbitrage opportunity is that if higher inflation occurs in some parts of Europe, it will be passed to real estate in the form of prices and rents. "So if we are able to get higher rents on the back of inflation numbers, but still borrow at low interest rates, then there are arbitrage opportunities out there."
Rogier Quirijns, portfolios manager of European real estate securities at Cohen & Steers, says the UK office market is less attractive now, although there are still some opportunities in the value-added space in France. "In the UK, you would sell the assets that are least protected by inflation, and more at risk of a cyclical downturn," he says. "That means I would sell offices at extremely low yields to investors who are trying to benefit from the low pound, or who are looking for a global safe haven for their capital. I sold offices in London last year because I think the cycle was peaking. Demand has certainly weakened. There is still some demand for specific assets that are well designed, but bread and butter offices are more at risk."
Interest rates US: The race is on
1

2

Currently reading

Interest Rates Europe: Time to raise the stakes?

3