Listed real assets are poised to thrive as the market reaches a turning point, says Vince Childers
Many investors have come to rely on asset allocation modelled on the old economic order: decades of globalisation, falling inflation, slowing economic growth and declining interest rates. We believe the old order is changing and investors are clearly beginning to favour real assets.
Real assets have generated attractive returns historically, with listed real assets averaging 7.7% annually since 1991, compared with 6.7% for global stocks1. But the years following the financial crisis have been challenging for real assets amid a bear market in commodities and a surprising lack of inflation, resulting in an average annual return of 1% between 2010 and 2015 versus 7.1% for stocks.
However, economic growth, employment and inflation readings are rising across the world and could accelerate if tax reforms, deregulation and fiscal stimulus are enacted. After a long period of low inflation, during which certain real assets have significantly underperformed, the move to a market of higher inflation risk represents a potential multi-year tailwind for real assets.
Considering commodities' strong historical relationship with unexpected inflation, we believe this area of the market could be one of the primary beneficiaries of the current environment.
After a five-year bear market, commodity prices generally turned a corner in 2016. The prolonged weakness in commodities has left a majority of the market still trading below production costs. Over time, this has forced many producers to cut capital spending, cancel projects and reduce output, gradually stabilising the supply-demand imbalance across the commodity complex.
As global growth has accelerated, demand has begun to improve, hastening the move towards a balanced market. We estimate that most commodities have already troughed and are moving into the rebalancing phase of the fundamental cycle. If the current cycle follows the typical path, expect to see higher prices for years to come as the market moves from oversupply to equilibrium and eventually to an undersupplied market.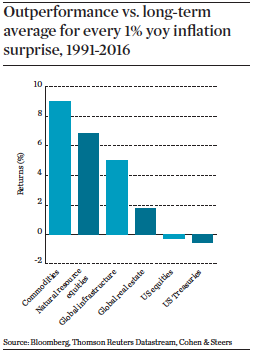 The turnaround in commodity prices is providing a meaningful boost to many companies in natural resource industries. After a few challenging years, these companies have become leaner and more disciplined capital allocators. Some mining and energy companies are cash-flow positive, while others are working to reduce the rate of cash burn. A continued recovery in commodity prices should bring improved profitability and higher returns to the natural resource category.
Stronger global growth is already benefiting the more economically sensitive infrastructure sub-sectors.
For example, rail freight is seeing positive volume trends for the first time in over a year. Also, many infrastructure sub-sectors have contracted cash flows that are directly tied to inflation, such as annual rate escalators linked to published inflation measures. And higher oil and gas prices should benefit mid-stream energy companies, as increased energy production in North America would likely drive expectations of higher pipeline volumes.
Rising interest rates could pose a near-term risk to infrastructure performance. However, history shows that after a negative reaction to significant increases in Treasury yields, infrastructure has outperformed global equities over the ensuing 12 months as the benefits of stronger economic growth are felt. Over the long run, infrastructure companies will continue to benefit from the massive need for private finance to help cash-strapped governments fund critical infrastructure improvements after decades of underinvestment.
REITs strong as rates rise
We expect increased business and consumer confidence, along with increases in spending and job growth, to increase demand for real estate. At the same time, higher input costs – in labour, materials and financing – and rising return requirements could reduce the economic incentives for construction, slowing the pace of new supply. Dividend yields and cash-flow growth prospects remain attractive, although property sectors and geographies will respond very differently to an evolving market landscape. Changes in interest rates can be a source of short-term volatility for real estate investment tursts (REITs). However, REITs have historically performed well when rates are rising as a result of a stronger economy.
As commodities and real estate have the lowest historical correlations among the four categories, a portfolio more heavily weighted towards these asset groups has potentially better diversification benefits.
In addition, portfolio diversifiers – such as gold, Treasury Inflation-Protected Securities (TIPS), short-duration and floating-rate bonds and global linkers – can provide potential stability to a portfolio in a way that is consistent with a 'real return' philosophy.
How much should investors allocate to this space? Allocations to real assets among European investors is clearly growing, mainly driven by the search for yield; however, there is considerable potential for further growth as investors look to diversify sources of returns and hedge inflation risk. With under 7%2 of continental European investor assets allocated to real assets today, there is clearly scope for progress to be made. For example, the top three US university endowments have allocated an average of 22% to real assets.
Investors need to remember that while an environment of increased inflation risk strongly benefits real assets, these periods have generally been negative for bonds and stocks. There is no guarantee that any historical trend illustrated above will be repeated, and there is no way to predict precisely when such a trend will begin.
After a 35-year run of strong returns, we foresee an uphill climb for bonds, most of which pay little income to offset the impact of rising rates in an accelerating economy. To put this in context, 10-year Treasuries produced a 5% annualised return after inflation from 1981 to 2016, when yields fell from 14% to 2%3. But in the previous bull market from 1945 to 1981 – when yields rose from 2% to 14% – returns averaged -2% after inflation. Even without a return to double-digit interest rates, we believe a long-term rising-rate trend could make it difficult for high-quality, low-yielding bonds to generate returns in excess of inflation. In addition, the diversification potential of bonds could be further diminished if stock/bond correlations turn positive, reverting to the long-term trend following a prolonged and unusual period of negative correlations.
The outlook for stocks is more complicated. Companies will most likely see improved revenue growth in a strengthening economy, while lower corporate tax rates could boost earnings. On the other hand, tighter labour markets and protectionist trade policies could put upward pressure on input costs, squeezing profit margins that are currently near all-time highs. This risk may not be fully appreciated in the marketplace, considering investors are pricing in high hopes for earnings growth. Based on trailing 10-year inflation-adjusted price-to-earnings (P/E), US stocks are currently trading at valuations seen only twice in history – just before the Great Depression and during the 'new economy' market of the late 1990s. Although there is no evidence of the types of bubbles that existed at those times, high P/E ratios generally indicate low return prospects, since valuation multiples tend to revert back to historical averages.
As the market moves from low growth and low inflation, we believe investors should consider increasing allocations to real assets – strengthening a portfolio's ability to defend against inflation risk while providing the potential for attractive, low-correlated returns. Due in part to inflation-linked cash flows and asset values, real assets have historically excelled in periods of surprise inflation, whereas stocks and bonds have underperformed.
Footnotes:
1 31 May 1991 to 31 December 2016; source: Bloomberg
2 Source; Greenwich Associates 2016
3 At 31 December 2016; source: Federal Reserve Bank of St. Louis, Damodaran.com, Cohen & Steers
Vince Childers, senior vice-president and real assets portfolio manager, Cohen & Steers