The rise of fintech and blockchain will shine a light on real estate manager competence, writes Jos Short
Technology is disrupting almost every aspect of our work and personal lives. Even some of the last bastions of technophobic pre-millennial professionals are finally being forced to submit to the inevitable onset of internet-based, efficiency-enhancing, robo-operated systems and devices. The internet of things has truly arrived.
The property industry is one of the final frontiers on this journey. A community where significant value has always been placed on the quality of relationships and experience built up over a lifetime of networking and deal making is finally being brought into the new millennium.
We saw it first in the residential sector with the arrival of Zoopla and Rightmove. Online platforms that relegated the role of estate agents to organisers of property tours on behalf of vendors who are too busy working to be there themselves.
Of the emerging technologies, blockchain is being hailed as the next game changer. Developed by Satoshi Nakamoto in 2008, blockchain technology – also referred to as distributed ledger technology (DLT) – is making big strides into the financial services industry and promising seemingly limitless benefits. Among them are increased liquidity, greater trust between counterparties in a transaction, increased speed of doing business, and the ability to bypass costly intermediaries.
Blockchain technology has already been trialled by several large international institutions. Among them are the post-trade bank Euroclear, which has used the technology in over-the-counter gold bullion transactions; and DTCC, the US-based post-trade services group, which has announced plans to move one of its databases onto the platform.
In an era of increased complexity, low interest rates and tougher regulation, the finance industry is closely watching the results of these initial deployments, eagerly rubbing its hands at the prospect of finding applications in their own particular niches.
For pension funds, the potential of blockchain to re-open the repo market must be hard to overlook. Repo, a trillion-dollar market in government securities, had once given pension funds easy access to a low-cost hedge for their interest and inflation risk – until the implementation of Basel III.
Banks that act as intermediaries on repo transactions have been forced to increase margins on typical trades from 3-4bps to 40bps in little more than a year. Some banks, such as JP Morgan which has participated in the market for the best part of a century, have decided to pull out altogether.
By implementing a buyside DLT platform to list, negotiate, transact and record repo trades, bond holders and treasurers will, in theory, be able to trade with much lower transaction costs. The contracts, data and titles behind the trades will be recorded permanently, although only made available to the counterparties with a legitimate interest.
What does this mean for real estate?
Well, if pension funds see blockchain as integral to the future of how they operate, you can be sure the property industry will sit up and take note.
One question comes to mind: will blockchain technology lead to the further erosion of fees in a sector where limited partners have already run the rule over their investment managers in the aftermath of the financial crisis?
"We believe that the increased efficiency and transparency brought about by the deployment of fintech and blockchain, in particular, will expose the importance of competence and specialist real estate expertise"
Not necessarily. We believe that the increased efficiency and transparency brought about by the deployment of fintech and blockchain, in particular, will expose the importance of competence and specialist real estate expertise, providing the conditions for managers to charge fees commensurate with their expertise and size and depth of their platforms.
If this sounds too good to be true, there is a rationale. To understand it, one must realise how investment managers have adapted to market conditions since the financial crisis. In conducting our research, one of the metrics we looked at was the ratio of critical staff to assets under management by investment manager. Conclusion: there is no trend.
The impact of pressure on margins and profitability has not manifested itself uniformly across the industry. Some managers have cut staff to maintain profitability and continued to manage sizeable portfolios.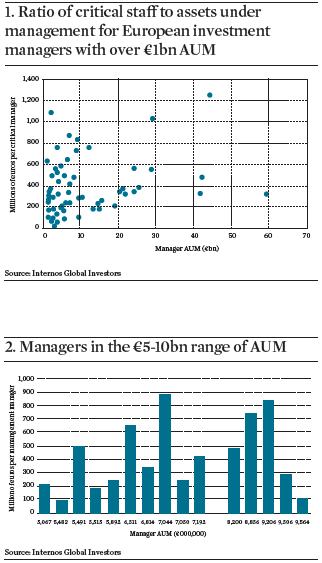 Others have maintained established platforms and specialist experience with an obvious impact on margins.
Figure 1 illustrates this, showing millions of assets under management per critical manager (fund and/or asset) by European fund manager firm. This lack of common ground among fund managers applies across the board.
Figure 2 shows managers in the range of €5bn and €10bn of assets under management.
Somewhat paradoxically, though, we know that finding value for investors in today's mature market, where squeezed yields are prevalent, requires asset managers with experience and a presence in multiple jurisdictions – especially in Europe.
Add to this equation the increased pressure on institutional investors to move up the risk curve, away from the relative safety of large, easy-to-manage core buildings in major cities.
We believe that as the industry moves into a technology-enabled age, where much of the 'noise' and cost associated with transactions has been removed, the spotlight will shine on the skills that rely on specialist real estate expertise, local knowledge, and established and efficient platforms. All qualities that are built up through the sweat and blood of a lifetime making deals.
Hail the arrival of a new age where quality and experience will become a more valuable commodity than ever before.
Jos Short is chairman of Internos Global Investors
Technology: The power of crowdfunding
1

2

Currently reading

Fund Management: Under the glare