Recent currency swings have had an effect on cross-border real estate investors. But they are responding in different ways, writes Maha Khan Phillips
After a dramatic year of geopolitical and macroeconomic uncertainty, currency risk is back in the limelight. Many real estate investors say currency fluctuations are the biggest obstacle to making cross-border investments, particularly because there is less dispersion now in performance figures across markets to make it worth the cost of hedging their risk.
"Currency seems to have come back as a concern," says Paul Guest, global head of research and strategy at UBS Real Estate and Private Markets. "Some of that uncertainty could be caused by the US and European elections, but it also occurs when markets narrow.
"Currency, and the cost of hedging it, can make or break the difference between relative market performances. If the UK was returning 12% and the rest of Europe was returning 4%, you wouldn't worry about currency as much. But if everyone is making 6.5% or 7%, then currency really makes a difference."
Cross-border investors with currency exposure are responding in different ways to the problem, according to Guest. Some deal with currency at a separate, portfolio-level, while others see themselves as core long-term investors who choose their exit points to mitigate the risk. Others still manage their currency exposure directly at the real estate level, while a final group, according to Guest, seek to enhance their returns by making bets on currency. "Most large cross-border real estate investors either deal with currency at a group level, or do not treat it at all," he says.
A 2017 survey by the European Association for Investors in Non-listed Real Estate Vehicles (INREV) reveals that 71% of member investors used currency hedging. Those investors have experienced a reduction in risk of between 25% and 36%, compared to unhedged funds, according to INREV. Notably, 32% of investors hedged against all foreign currencies and 68% hedged against at least three currencies, with those hedges being dependent on the real estate portfolio location. Several investors indicated that they hedged only against the mature country currencies, but not emerging markets.
According to INREV, 75% of investors managed the currency hedging themselves.
For some investors, it is important to hedge at the overall portfolio level. Maurice Wilbrink, spokesperson for the €206bn Dutch pension fund investor PGGM, says the firm does not hedge currency risk for individual asset classes. "But we hedge the overall currency risk a client faces," he says. "The level of the hedge is based on asset liability studies."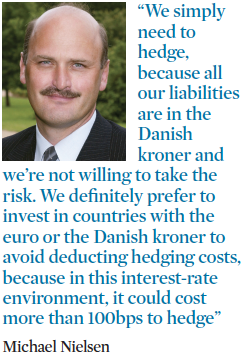 Germany's biggest pension fund, the €80bn Bayerische Versorgungskammer (BVK), told IPE it has been hedging everything, but is also considering employing a currency overlay, because hedging the dollar has become expensive.
Elsewhere Michael Nielsen, chief executive of the €94bn Danish statutory pension scheme ATP, says he has no choice but to hedge. "ATP's overall policy is that we hedge all our investments which are not in Danish kroner or the euro. We simply need to hedge, because all our liabilities are in the Danish kroner and we're not willing to take the risk."
But Nielsen would prefer to stay close to home when making allocation decisions as a result. "Within real estate investments, we definitely prefer to invest in countries with the euro or the Danish kroner to avoid deducting hedging costs, because in this interest-rate environment, it could cost more than 100bps to hedge.
"For example, if there was an investment in the UK where we could get a 4% return, and we had to take out another 100bps, that would bring us down to a 3% return. [In that scenario] we can find better investments in Denmark and other euro countries."
Any hedging that needs to be done by ATP is done at the overall portfolio level.
Andrew MacDonald, head of real estate finance at Schroders, believes this is the best approach. "We generally say to investors that if they want to hedge the currency exposure, they can probably do it more efficiently across their entire investment portfolio than we can, looking at a specific currency risk," he says. "It's more efficient for them to do it on global basis."
Paul Jayasingha, global head of real assets at Willis Towers Watson, agrees. "If you invest in an overseas strategy, you could either ask the manager of that strategy to hedge away the currency within the vehicle, or you could ignore currency and employ an overlay manager at an aggregate level.
"As a general policy, we think it's more efficient for our clients to have an overlay manager that's responsible for currency hedging at an aggregate level. You can net off the positions. If one position is overweight the euro and one is underweight, you'll take the net position for the two to make the [final] net position. If each of those managers were hedging, then you'd still have a net difference between them."
He also points out that overlay managers are experts at trading currencies, so they can get better execution.
But Stephen Ryan, research manager at INREV, believes overlay managers don't always know the nuts and bolts of the business. "The real estate guys are very close to valuations, whereas an overlay manager will hedge the current value of the properties but doesn't really understand which way they might go. The real estate guys do have the ability to forecast the income to the properties, and if there was a cost to currency hedging, they can actually forecast that cost."
But hedging real estate is not easy, particularly for managers. For one thing, there is a liquidity issue. Then there are regulatory challenges, points out MacDonald. "Regulatory changes potentially mean you have to cash collateralise the mark-to-market on various derivatives, including foreign exchange. For a real estate fund to have to cash collateralise on a daily basis becomes extremely difficult."
Counterparty risk requirements are also more demanding, says Gordon Black, senior managing director at Heitman. "If we managed a euro-denominated fund, and we had a small allocation to the UK in Great British pounds, we would probably elect to leave it unhedged. Part of this decision is based on the current market pricing for euro-to-pound hedging instruments.
"Prior to the global financial crisis, counterparty risk was looked at very differently. Now you're either buying a put or selling a call on the different currency, and if you don't liquidate that, the market is looking for substance to stand behind the trade. That can often mean posting credit support or leaving cash as collateral. You have to show that you are a strong and importantly, liquid counterparty, and you are also expected to pay more in compensation for the risk protection."
Of course, currency volatility is also about perspective. Black says: "We've had discussions with several of our North American-based investors who quite frankly are looking at the current foreign exchange situation and are thinking that the timing in the UK is quite positive now – not only because the related impact to foreign exchange from Brexit, but also because of the defensive nature of our investment strategy, which is focusing on multi-family or rent residential.
"But opinions range from institution to institution. There are a number of European investors in the same situation who like the UK but feel the timing and uncertainty together are impacting their investment decisions."