The practice comes with opportunities and risks, but also binds investors and managers closer together, writes Christopher O'Dea
A wave of collaboration is sweeping across the institutional real estate industry.
Investors and managers are finding it can be mutually beneficial to work together to finance certain transactions, usually single properties or large assets.
This has boosted the granting of co-investment rights to limited partners in pooled funds – and investors are increasingly exercising those rights. While the co-investment process brings costs, staffing and governance challenges to managers and investors alike, it seems to be an idea whose time has come.
"Co-investment – and direct deals as well – is something that's been gaining momentum in the last couple of years," says Douglas Crawshaw, senior investment consultant and head of UK and European real estate at Willis Towers Watson. "It's a natural evolution," he adds.
General partners (GPs) of property funds grant fund investors – the limited partners (LPs) – the right to invest in certain assets that are not going to wind up in the fund. Sometimes an attractive asset is too large relative to other properties in the fund, or buying the asset in the fund would result in over-concentration in a sector or region. Co-investment rights allow LPs in a fund the opportunity to commit additional capital to a transaction.
A recent report by Preqin illustrates how prevalent co-investment has become. Preqin found that 63% of the fund managers it surveyed offer co-investment rights to their investors, and another 25% are considering doing so in the future. Only 12% of managers said they do not expect to offer co-investments. GPs are offering co-investment rights to an increasing proportion of their investors – the number offering co-investment to more than 80% of their investors rose by over 40% in 2015, while the number offering rights to less than 40% of investors from more than 40% in 2014 to less than 30% limiting rights in 2015.
Once they start, there is no turning back – Preqin found that "no respondents had previously offered co-investments in the past that do not offer them any longer". It turns out that co-investments help managers build stronger relationships with their investors, a invaluable quality in a market where fundraising has become hyper-competitive, with large established players garnering the lion's share of the new capital committed to property funds each year. This has left many managers short of capital needed to complete transactions, according to a recent white paper on property co-investment by Franklin Real Asset Advisors.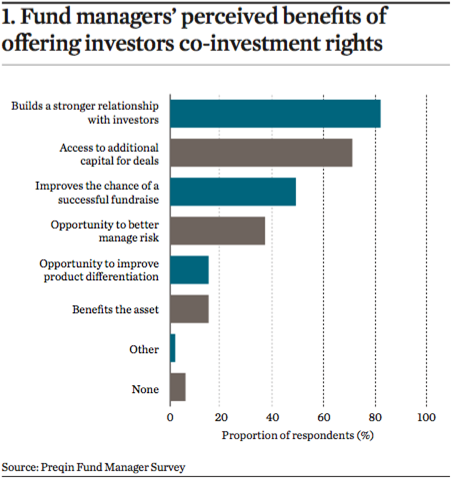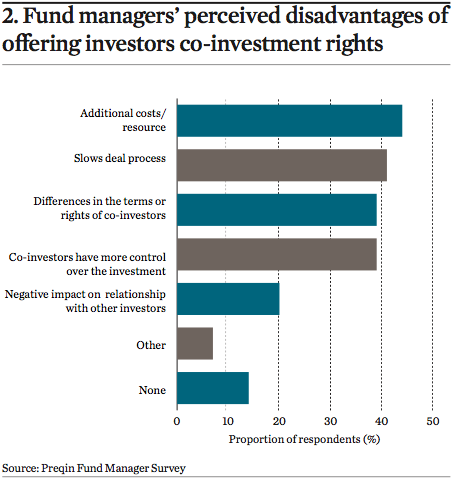 Raising capital for real estate funds has become more difficult, Franklin says. "The financial crisis has made institutional investors more selective and they are increasingly looking for durable long-term track records." At the same time, "investors are often opting to invest more money with fewer larger managers." Franklin says this "led to a winner-take-all environment in the private real estate market," in which smaller managers "have often found themselves capital-starved". Co-investment opportunities "are on the rise as players… unable in some cases to raise enough capital in their funds to fully invest in certain transactions, seek additional capital in order to complete desired transactions."
Franklin expects the capital drought for managers outside the bulge bracket to continue. The proportion of total capital raised for funds sponsored by 'emerging' managers, raising smaller, first or second-time funds, has dropped by 15% points since peaking in 2011, when such managers raised 37% of the capital allocated that year – and smaller managers' share of the pie has not topped 23% at any time during the past four years.
While bringing LPs in as co-investors can help managers execute deals, it can also help LPs achieve their goals. After nearly a decade of strong performance, large investors want more control over property assets that now comprise 10% or more of the assets in some pension plans, up from zero or single-digit allocations five or 10 years ago. Investors want to be able to control the sale of assets, so they can benefit from positive cash flows for longer periods, rather than allow managers to sell key assets according to the timetable of a fund vehicle.
Investors are also looking for new ways to deploy their capital in the most effective manner. According to an October 2015 analysis by Townsend Group, The New Mexico State Investment Council, for example, is expecting approximately 34% of its value-added investments and 29% of opportunistic investments to be distributed over the next two years, totalling an estimated $175m to $275m.
"Investors want to be able to control the sale of assets, so they can benefit from positive cash flows for longer periods, rather than allow managers to sell key assets according to the timetable of a fund vehicle"
A fund's existing investors will be at an advantage when it comes to co-investing, says Crawshaw. Preqin's survey shows that the most common type of co-investment transaction – 58% of deals – is one that is syndicated among a fund's shareholders, whereby a fund manager sells down a portion of equity to LPs after completing a deal.
By their nature, says Crawshaw, co-investments are more likely to involve a GP and LPs with an existing relationship. The main reason is that single-asset transactions require significant new due diligence by LPs, and most investors are not equipped – or willing – to take on that responsibility while also dealing with a new fund manager. "There are issues," he says. "The due diligence is more difficult than evaluating a manager, so from the governance perspective the investor needs to be able to consider the opportunity in the first place."
The difference with co-investments, Crawshaw says, is that an investor is making a decision as to whether a specific asset is appropriate for its strategy rather than delegating this decision to a discretionary investment manager. On behalf of its clients, Willis Towers Watson reviews opportunities presented by GPs managing funds, as well as placement agents marketing specific opportunities on behalf of GPs. "We'll take more time with respect to potential risks like concentration, and to make sure a co-investment is appropriate for a client's portfolio," he says. That said, "we're not there to second-guess the manager."
Some pension fund investors have used co-investments to fine-tune specific portfolio parameters. Cbus Super, the AUD32bn Australian superannuation fund for the construction industry, made a US$140m co-investment in the Indiana Toll Road, a major US highway that provides a critical link between Chicago's intermodal freight terminals handling goods from Asia and the road gateway to the Northeast starting in Ohio.
Cbus' investment is alongside its position in the IFM Investors Global Infrastructure Fund, which acquired the toll road's concessionaire and operator, ITR Concession Company, for US$5.7bn in May 2015.
"The investment in the ITR really helps to optimise the return and the risk profile of our portfolio," says Grant Harrison, investment manager, private markets at Cbus. The ITR co-investment is the second-largest infrastructure exposure for Cbus after its investment NSW Ports in Australia. "The ITR co-investment balances the fund's exposure to domestic and international infrastructure assets and increases our exposure to toll roads," he says.
"When we chose to assess the co-investment, we already had a good slab of the ITR through the fund." Cbus wanted to take a very active exposure to the asset to capture the sustainable long-term cash flows, which result from its strategic position in the US transportation network. First and foremost, Harrison adds, a co-investment "has to be a suitable investment" for the fund. "If it is, an opportunity must also not just optimise the return but also meet our risk-return hurdles."
In the end, returns matter – and strong returns are a definite attraction of co-investments, according to Franklin: "In our own experience managing private real estate portfolios since 1997, including co-investments generates superior absolute returns for a portfolio of real estate funds." Franklin says this has long been demonstrated in the private equity industry at large, citing Preqin data showing that nearly two-thirds of co-investments significantly outperformed broader private equity fund returns, with 46% posting outperformance of 5.1% or more.
It remains to be seen whether this phenomenon will emerge in property co-investment. But as with any new investment approach, co-investment poses challenges alongside opportunity – for managers and limited partners alike. The cost of simply doing something new ranks as a top challenge for both sides. Preqin found that 44% of managers said the additional costs associated with reporting or setting up special purpose vehicles was a downside of offering co-investment. The potential for a deal to be delayed, the problems associated with the timing or rights of co-investors and the loss of control of an investment were also named as important considerations for managers undertaking co-investment deals.
The rapid expansion of co-investment rights illustrates that managers will come to terms with the costs of offering them. Once such an option is in place, "it's difficult to 'un-invest'", says Crawshaw. In effect, co-investments bind investors and managers more closely together. And because the method serves key interests of both groups, he adds, "I don't foresee this going away any time soon."