For all its appeal, infrastructure is difficult to benchmark, which causes headaches for investors. Rachel Fixsen looks at some emerging solutions
As institutional demand for infrastructure investments has grown, so have calls for effective benchmarks that can measure the performance of the underlying assets – rather than the performance of listed companies operating in the sector.
But with index provider MSCI now in the space and another — EDHEC — set to launch its benchmark product later this year, institutional investors will soon have two very different offerings to work with.
At the 2016 IPE Real Estate Conference & Awards in Amsterdam in May, Olivier Rousseau, executive director of France's Fonds de réserve pour les retraites (FRR) described the dearth of available data on illiquid asset performance as "a minefield". Having been given permission at the end of last year to invest €2bn in French illiquid assets – including infrastructure and real estate – he said the fund's investment team faced a very serious conceptual issue going into illiquids because of the lack of data.
Isabelle Scemama, head of the funds group at AXA Investment Managers-Real Assets, told the same audience that, in the end, it is the low transparency of the real assets markets that results in asymmetric information. Since they are not traded on stock exchanges, their values are determined by appraisals, which will always be approximate, she said.
"The quality of benchmarking on infrastructure as an asset class globally is very poor," says Toby Buscombe, partner and global head of infrastructure at Mercer. For this reason, Mercer is broadly supportive of the development of new indices, he says, even though the consultancy sees room for further development in the area. "Having good quality data is also important for setting strategy," he says.
The heterogeneous nature of infrastructure alone has made it difficult to create a single standard benchmark, according to Craig Feldman and Faiz Marhami of MSCI. "Additionally, considerations such as variations in risk-return expectations and a lack of consistent, transparent data have led investors to adopt, typically, an absolute return or hybrid approach to benchmarking," Marhami says.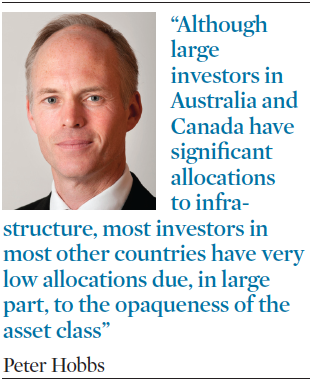 But with both institutional and retail interest in infrastructure increasing, they say that, over the past year in particular, investors have begun to reconsider their infrastructure benchmarks. "In doing so they are exploring innovative new ways to not only benchmark but also to analyse and understand these assets," Marhami says.
MSCI says its suite of infrastructure indices reflects the investment performance of both broad and core infrastructure assets, covering listed, unlisted and unlisted fund exposure. As well as a range of standard infrastructure indices, MSCI says it devises custom infrastructure indices.
In reality, Buscombe says, any index is going to have problems. For example, the IPD infrastructure index offered by MSCI — currently one of the few available infrastructure indices that is based on the underlying assets — appeared to be somewhat Australia-centric in its coverage originally, he remarks while noting that there might be moves to globalise it further. The index's weighting to Australia dropped from 41% in December 2014 to 38.3% a year later.
"That is partly reflective of the fact that Australian investment managers now have a high hurdle in terms of their reporting, and they're obliged to get the infrastructure assets independently valued at least once a year, which sets them apart from many of their northern hemisphere counterparts," he says.
In EDHEC's soon-to-be-published Global Infrastructure Hub Survey, 94% of respondents said useful benchmarks currently do not exist, and most said risk measures are particularly lacking, says Frédéric Blanc-Brude, director of EDHEC Infrastructure Institute. "Without such measures, investors cannot know what returns they should be expecting and whether – as is often said now – assets are overpriced," he says.
Peter Hobbs, managing director of private finance at consultancy bfinance, says the establishment of robust infrastructure benchmarks is of central importance for the growth of the asset class. "Although large investors in Australia and Canada have significant allocations to infrastructure, most investors in most other countries have very low allocations due, in large part, to the opaqueness of the asset class," he says.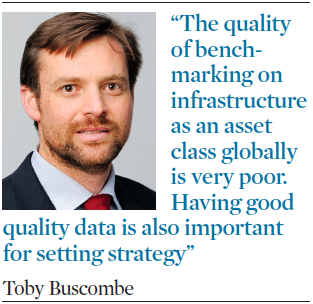 Hobbs, who was previously managing director for real estate research and key global accounts at MSCI, where he was responsible for benchmarking and portfolio analysis, risk services and method development, says robust benchmarks and indices can help in several ways. They can explain the investment behaviour, the risk and return, of the asset class, and explain how infrastructure investments compare with other asset classes and how they should be considered in a multi-asset-class context.
As well as this, he says, they can help with evaluations of the strengths and weaknesses of different investment strategies and managers, and also bring transparency to the asset class, increasing greater understanding from investors, managers and regulators.
Hobbs says MSCI's global unlisted infrastructure index does help understanding of the asset class, but needs to significantly grow in scale and robustness in order to be really useful as a benchmark. MSCI says the index is "expected to grow meaningfully in terms of constituents and investments."
EDHEC plans to launch its new infrastructure benchmarks later this year. EDHECinfra will track the performance of reference portfolios of infrastructure investments of different kinds, Blanc-Brude says. "These will be informative for investors wishing to better understand their own portfolio and also asking what kind of deal they should be doing next," he says.
The EDHEC infrastructure benchmark is seen as complementary rather than competitive to the MSCI index. "There is a real benefit in having more than one set of indices, as we see in equity, fixed income and direct real estate," says Hobbs.
Even though the EDHEC benchmark is not investible, such measures or indices could be useful if developed in the future, for example, to help investors implement factor investing in the asset class.
As infrastructure investment becomes a broader sphere and investors build up experience, some are now developing the way they manage their exposure to the asset class. The Canada Pension Plan Investment Board recently said it was planning to employ factor investing when sourcing new infrastructure assets. Rossitsa Stoyanova, director of total portfolio management, cited data as the challenge to getting more of its asset classes into the factor space.
"This is another benefit of the existence of good benchmarks — to be able to create various forms of synthetic products off the back of them, as we are starting to see in real estate," says Hobbs.
Blanc-Brude says the end goal of EDHECinfra benchmarks is to estimate factor loadings for a series of remunerated risk factors.
"This is where risk management has been heading for 20 years and all the more sophisticated investors I talk to are aiming to understand infrastructure has an investable bundle of factor exposures," he says. "This perspective is also essential because infrastructure is so illiquid it cannot be rebalanced on an annual basis let alone quarterly."
For this reason, it is important to understand what cross-asset class factor exposures an infrastructure portfolio creates — interest rate risk, for example — since other more liquid asset classes can now be rebalanced while taking into account the contribution of more illiquid assets, says Blanc-Brude.
"Investors are beginning to think about factors and infrastructure indexes both in terms of benchmarking and gaining exposure to the desired characteristics of infrastructure investing," Feldman says.
The provider's minimum volatility methodology, could, for example, be applied to a listed index such as MSCI Core Infrastructure in order to better reflect the risk and return characteristics of direct infrastructure exposure. "Customising a factor-based core infrastructure index provides investors a potential solution for developing an appropriate benchmark," Feldman says.
Feldman and Marhami say there are two important developments happening in infrastructure benchmarking. Firstly, regardless of their exposure, investors are starting to use both listed and unlisted indices throughout their investment process. Secondly, many investors are turning to infrastructure indexes that provide a consistent framework, so they can assess risk and return across the portfolio and be able to customise the infrastructure benchmark.
"MSCI's Core Infrastructure Index, based on the MSCI GIMI and ACWI frameworks, allows investors to use a single index construction methodology and classification framework across the portfolio and can be customised to better align the benchmark with infrastructure assets in the portfolio," Feldman says.
Challenges lie ahead for the index providers already in and now entering the infrastructure asset class, but also for those firms developing different benchmarks in the space. The biggest problems are the lumpiness and heterogeneity of infrastructure assets, which mean it is hard to generalise across even a large number of assets in any sample, and subjective appraisals that reduce the value of appraisal-based indexes, Hobbs says.
Added to this list is the willingness of investors and managers to contribute information to the creation of indices, and the shortage of industry bodies promoting the need for indices as a priority, he says.
Buscombe is in no doubt that the challenges are many, given that infrastructure is ultimately an illiquid asset class. "But this general topic has started to get some real traction in the market which is only positive, and hopefully it will also help improve reporting and transparency," he says. However, he says, there is still some work to do.
Real Assets: The bigger picture
1

2

3

Currently reading

Benchmarking: Missing measurements

4

5

6