Richard Lowe speaks to Jeroen Reijnoudt about expanding the core real estate universe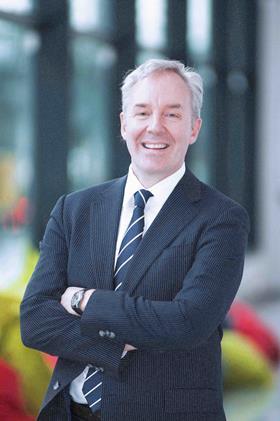 The Dutch pension funds advised by MN are major investors in pan-European core real estate funds. Collectively, MN's clients PMT and PME have exposure to 10 vehicles and were cornerstone investors in several of them, including the Barings European Core Property Fund.
MN's clients have helped fuel the growth of the pan-European core fund sector – to the tune of about €2.4bn – and this has served their own interests. "What you wish for is a universe that makes it possible to choose your strategy," says Jeroen Reijnoudt, Principal fund manager for international real estate and infrastructure at MN. "Unfortunately, that was not always the case and we advised our clients to add to that fund universe by investing as a cornerstone investor."
And appetite for core real estate funds from the investors continues to be strong – MN has €1bn of fresh investment in core European funds under due diligence and anticipates investing €375m to €625m in direct and non-listed core real estate annually between now and 2025.
This will come as good news for the capital-raising teams at fund management groups, but there is more to the story. In 2020, MN advised on the revision of the real estate strategy.
"We have updated it completely," says Reijnoudt. "[It] remains focused on core real estate but we sharpened the definitions of what was core real estate in various ways and we also put more emphasis on the sector allocations towards residential and logistics."
This has important implications for existing funds and new ones. Unsurprisingly, MN wants to minimise the pension funds' exposure to retail – although the convenience segment of the market is still of interest. "We prefer to invest in those funds that have a low to zero focus on retail," Reijnoudt says.
But MN is also been trying to be underweight the office sector. "It is a huge part of benchmark," says Reijnoudt. "We are not focusing on sector-specific funds for offices and we are hesitant to do investments in funds that have an exposure that's too high to what we consider tier-two offices."
As with many investors, MN's clients are looking to boost exposure to industrial and residential sectors. "That was not only because we thought they would be more resilient sectors in this pandemic, but also because it's in line with long-term trends," Reijnoudt says. The definition of core real estate was also "sharpened", using a tiering system relating to countries, sectors, leverage and development exposure.
The "good news", Reijnoudt says, is that, while some of the existing core funds do not match MN's updated requirements, "most of them adopted business plans last year".
He adds: "There are some weaknesses in these funds. We know them. We discuss them with the managers. We have the confidence that they are moving in the right direction."
But to reach the targets that MN has for industrial and residential exposure, it is expected to entail more than just waiting for balanced funds to reweight the portfolios. MN is increasingly turning to sector-specific core funds to meet client needs.
"Residential has traditionally been a huge part of the portfolio in the Netherlands – allocations of 50% or higher," he says. The aim is to have a similar weighting for Europe as a whole, but this "has been very difficult because there were not a lot of funds focused on it".
This led to PMT agreeing to be a cornerstone investor in Aberdeen Standard Investments' European Residential Property Fund in 2018, and to look to support more pan-European, residential-focused core funds.
Reijnoudt says the Aberdeen Standard fund has been "a success" with more than €1bn of investor commitments already. "We are confident that we are seeing more of these vehicles arising in the market, and there will be a lot of interest from investors in the pan-European residential market," he says.
But MN is still finding that the current roster of offerings insufficient to really satisfy requirements. For this reason, the company is studying the potential for separate managed accounts [SMAs] – of €200m or more – to select fund managers in line with specific strategies. Crucially, these would be structured as funds to enable other investors to join further down the line.
"Because of limitations within the fund market and the need to steer investment strategies in a more specific way, we are exploring these possibilities at the moment," says Reijnoudt. "These will offer the possibility to invest more sector and region-specific and also to have a more specific… niche strategy."
He adds: "We already started creating some of these funds through cornerstone investments. We are exploring the idea of fund-style SMAs, also investible for other investors. From the beginning we try to create that possibility, because it is not our aim to be the only investor in a vehicle – we want to be in a vehicle capable of renewing itself… you could see it almost as a phase one – a harvesting phase – of [forming] new multi-country, sector-specific core funds."