Despite rising geopolitical tensions, Warburg Pincus remains committed to China and Asia's 'new economy' real estate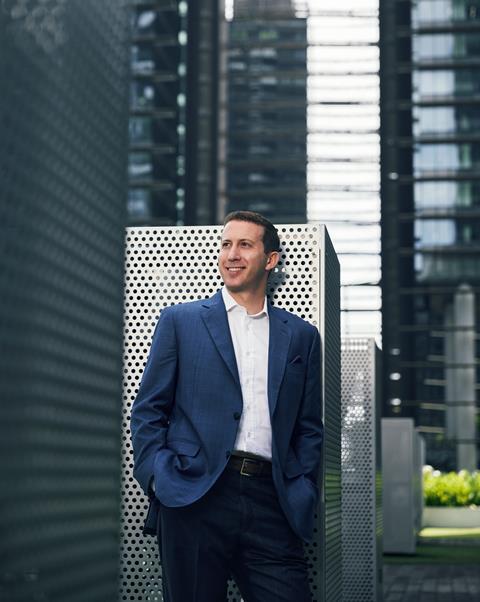 Warburg Pincus was born in the 1960s era of venture capital, well before the prominent private-equity firms of the 1980s and leveraged buyouts. It took on a private-equity approach to real estate by building platforms, nurturing a string of companies, particularly in China and across the Asia-Pacific.
Best-known among these is the ESR, which manages 14 public real estate investment trusts (REITs) and a range of private funds and partnerships, and which has about US$140bn (€139bn) of assets under management.
Other ESRs could be in the making. Warburg Pincus is helping drive the growth of businesses such as Singapore-based Princeton Digital Group (PDG), which is developing and operating 20 data centres in 14 cities in five Asia-Pacific countries.

It is in China where Warburg Pincus has shown its deepest commitments, not least in the residential for-rent sector. Encouraged by conducive Beijing policies to develop affordable housing, the New York firm has strung together a number of companies to capture a slice of what is a potentially huge market.
When the firm first started to look at real estate it focused on China. "If you look at the listed real estate universe of Mainland China and Hong Kong over a dozen years ago, more than 95% was comprised of home builders – for-sale residential developers," says Jeffrey Perlman, managing director and head of real estate Asia-Pacific and Southeast Asia.
"If you compare that with the US, those developers only represent about 6-7% of the total real estate universe. So there was a huge disparity and distortion in the market with so much capital being allocated to for-sale residential."
He adds: "Real estate is typically defined by all the other slices of the pie – logistics and industrial, multifamily, office, data centres, self-storage, life-sciences office and so on." Yet the capital markets in China had overlooked these sectors.
Warburg Pincus stepped into this void, aspiring to become a market leader in major areas of real estate. In logistics, it has achieved this goal – not just in China but across Asia-Pacific.
Today, Perlman harbours no illusions; the world is becoming a tougher place in which to invest. "In the first half of the year, investors have had to grapple with rising rates, sustained inflation, geopolitical tensions – including the war between Russia and Ukraine and the continuing US-China dynamics – along with China's zero-COVID policy," he says. "Taken in totality, there is a longer list of issues to contend with this year than in most other years."
With regard to rising political temperatures across the Taiwan Straits, Perlman says: "We all have to be mindful of the broader geopolitical dynamics; the US-China situation is just one part of those dynamics. As the world moves towards deglobalisation and away from a more interconnected world that delivered peace and prosperity over several decades, geopolitical issues will likely loom large."
Asked if Warburg Pincus can mitigate risks in this environment, Perlman says: "Obviously, you can never time the top of the market or the bottom of the market, but we really felt that we should take advantage of the robust markets we had witnessed over the previous 18 months.
"Over that time, we had been preparing for this type of environment. In fact, we raised over US$20bn of equity and debt across our entire real estate portfolio during this period. This really puts us in a very strong position as we now enter a more uncertain period. Our platforms have liquidity and capacity to be on the offensive as opposed to being worried about where funding will come from if the market dries up from a liquidity perspective."
Perlman says Warburg Pincus can take advantage of having a range of different investment platforms active across Asia-Pacific, which can invest across cycles. "Our platforms are well-positioned to take advantage of market dislocation, which we are starting to witness," he says. "We are seeing select markets where rates have gone up, and that is compounded by inflation in building materials. Smaller developers who might normally be able to finance these projects independently are now turning to some of our platforms, looking to exit those assets that they can't fund. We are seeing a good set of deal flows across our platforms."
Perlman says the situation in China is different. There, interest rates have fallen, but many investors also have to contend with Beijing's zero-COVID policy, and to deal with a slowdown in overall growth. "As a result," says Perlman, "a lot of investors remain on the sidelines. Because of that, we are seeing an environment of dislocation in the valuation of certain assets and companies. We are certainly looking at that very closely."
Perlman says China is "an important market" for Warburg Pincus. "Given the size and growth of its economy, not to mention its intelligent and highly talented workforce, China is a market that can't be ignored," he says. "It continues to present real opportunity over the long term."
Targeting the 'new economy'
Perlman says the firm identified, more than a decade ago, a sector that would emerge from technological change to real estate. "This has led us to focus on what we define as new economy real estate," he says.
By new economy, Perlman is talking about anything that is enabled or driven by technology – whether e-commerce-focused logistics or data centres on the back of the digital transformation, or life sciences propelled by the growth of biotech. Deglobalisation and localisation of manufacturing and supply chains are also boosting the growth of high-tech industries in Asia-Pacific.
Warburg Pincus will continue to "invest deeper into all the new economy areas", Perlman says. "We think the need for digital infrastructure is very much under-supplied across Asia, so we have multiple platforms that are focused on how to help deliver this critical digital infrastructure."
He adds: "Real estate is increasingly blurring the lines between sectors. For example, data centres are about understanding technology and where it is headed."
The same is true of life-sciences real estate, Perlman says, and Warburg Pincus has "been investing in biotech and biopharma companies in the region", giving it a better understanding of the space needs of the industry. When you see that kind of growth in this industry – in China, for example – you can see a huge need for laboratories and corresponding campus-style office space to support […] the research and higher education clusters for that industry," says Perlman.
Warburg Pincus also has its feet planted in traditional real estate – housing. "The one area of real estate that hasn't changed – and likely won't ever change – is multifamily rental apartments," he says.
In 2012, Warburg Pincus established Mofang, which is now the largest for-rent operator in China. It also founded NOVA, a rental accommodation company that targets affluent people. Today, the company is looking for further acquisitions.
Last year, Warburg Pincus formed a joint venture with the Shanghai-based Golden Union Group to pursue urban renewal projects in Shanghai and Beijing. They plan to convert under-used assets into serviced apartments, creative offices and mixed-use projects.
Then there is the aforementioned ESR which, since 2016, has evolved from the merger of Shanghai-based E-Shang and Singapore-based Redwood Group into Asia's largest logistics developer and operator. Last year, ESR acquired the larger, more diversified real estate fund manager ARA Asset Management, creating an Asia-Pacific giant. By August 2021, when it made its offer to take over ARA for US$5.2bn, Warburg Pincus had built up a substantial 48.7% stake in the diversified real estate manager.
More than gaining greater market share and gathering assets, Perlman sees the ARA acquisition as enabling Warburg Pincus to offer one integrated solution to its investors.
"Some investors need more diversified exposure beyond just the new economy," he says. "Others are short on new economy and overweight on the diversified side, and so we are giving them an opportunity to help sell down some of that exposure into our private funds and into our REITs, and then we can deliver the new-economy solution for them.
"And all that capital stays in a closed-loop solution ecosystem that we have now created. That is incredibly unique. There is no other player in the world that has developed a truly integrated, closed-loop solutions ecosystem for capital partners."
Perlman says: "When I first went into the investing business, I was told to always listen to your investors. That has held true. When you listen to your investors – whether it is from ARA or ESR – investors tell us, we don't have the time, the bandwidth or the teams to be able to manage many managers."
With rising inflation and interest clouding the economic climate around the world, Perlman remains sanguine. While rates are potentially going to be higher, Perlman believes real rates might still be lower over the longer term.
"But I think time will tell. When we think about the prospect of higher interest rates, potentially higher sustained inflation for a period, we actually think that Asia's new economy real estate realities are pretty well positioned. We have growth in Asia. Growth is an important element when you are dealing with that type of backdrop."