Swiss Life AM is on the path to net zero for its €80bn property portfolio and has its sights on the energy-as-a-service sector, Stefan Mächler tells Richard Lowe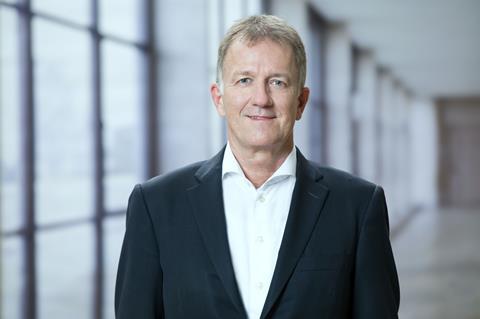 Swiss Life Asset Managers manages more than €80bn of real estate investments across Europe, half of which are owned by the Swiss Life insurance group. If you add in its third-party property and facilities management business, the company has close to €112bn of real estate assets under management (AUM) and administration.
It therefore has the ability to participate substantially in the decarbonisation of the built environment across Europe. Last year, the company announced plans to reduce the CO₂ intensity of its directly held real estate portfolio by 20% by 2030, based on 2019 levels.
But Swiss Life AM claims that it is already ahead of the curve. Its starting point for 2019 – 26kg CO₂ equivalents per sqm floor area – is already well below the global net-zero target for the real estate sector. It is aiming for a carbon intensity of 20kg per sqm by 2030 and will invest around CHF2bn (€2.05bn) between now and then to achieve this goal.
Group CIO Stefan Mächler joined in 2014 and has been instrumental in helping build up Swiss Life's real estate – and wider asset management – into the business it is today. He now has the challenge of continuing to expand the business while also addressing increasingly urgent net-zero objectives.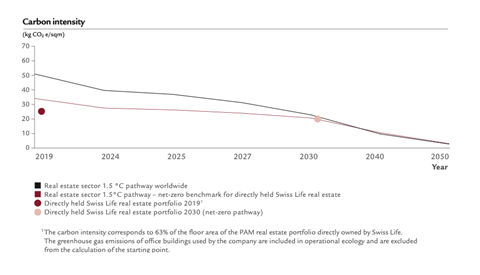 "We have committed ourselves with our directly held real estate portfolio that we will reduce the CO₂ footprint by 20% by 2030," he says. "Now you will say that sounds like a small figure, [but] since we have already invested a lot in our real estate portfolio, the starting point is far lower." As shown by the figure, the energy intensity of Swiss Life's directly owned real estate portfolio is much lower than the 1.5°C pathways for the global real estate sector and the benchmark based on its specific real estate allocation.
The move is part of Swiss Life AM's wider three-year sustainability strategy, launched late last year. The real estate portfolio, which makes up nearly half of Swiss Life AM's €266bn total as, was identified as an area to focus for making a significant impact.
"Everyone is now doing ESG and [claims to be] the best," says Mächler. "But the difference is we made a decision, saying, looking at our real estate business – which is very sizable with roughly more than €100bn of assets under management and advisory – the biggest impact we can [have] is actually investing in our real estate… in reducing the CO₂ footprint.
"It's much more effective than going after the securities business," Mächler says. There you can have an impact, he says, but in real estate you can "have a direct impact".
The large real estate business of Swiss Life has effectively grown tenfold over the past decade or so. Swiss Life is thought to be the largest property owner in Switzerland, but since 2009 Swiss Life AM has expanded the real estate business beyond its domestic market largely through corporate acquisitions.
In 2011, it bought Viveris REIM in France. "That has grown dramatically. We are one of the largest fund managers in France," says Mächler. "In 2014, when I was joining Swiss Life, we made the strategic acquisition of Corpus Sireo in Germany, where we at once got [a share of the] market of roughly 4%." The purchase also increased the number of staff at Swiss Life Asset Managers by more than 40%.
"Then it was a geographic decision to go to the largest, most liquid real estate market," he says. "We found that we were one of the largest [real estate fund managers] in Europe, but we had not been present in the UK."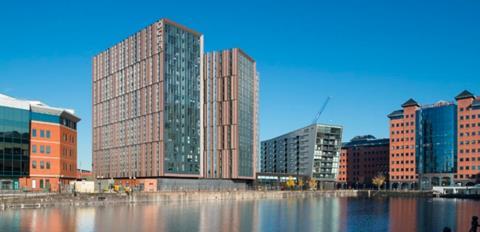 In 2016, Swiss Life AM acquired UK real estate fund manager Mayfair Capital. Two years later, another German industrial real estate specialist BEOS, was brought on board. In 2020, the acquisition of the real estate business of Ness, Risan & Partners provided a presence in the Nordics.
Swiss Life AM had long been wanting to expand into the Nordics. "It just took time to actually [find] the right target in the Nordics," Mächler says. "The inorganic growth should expedite our organic growth."
Now Swiss Life AM has the task of ensuring its real estate portfolio – managed by organisations subsumed at different times over the past decade – can deal head on with the challenge of net zero. But Mächler also sees opportunity for growth from that very challenge.
Swiss Life AM, which has a large real estate business and fast-growing €7bn infrastructure arm, is planning to move into the emerging 'energy-as-a-service' (EaaS) sector, which involves the end-to-end management of energy on behalf of customers, such as corporate occupiers of buildings.
This will enable Swiss Life to better manage net-zero targets in its real estate portfolio. "Between infrastructure and real estate, the large, combining part is energy. We will go into that business," says Mächler.
"Others will follow as well." For example, Partners Group recently acquired EaaS provider Budderfly, but Mächler says it is still "a large untapped market at this point in time".
Mächler expects there will be a race to acquire the capabilities and expertise. "It's not the traditional real estate business," he says.
As well enabling Swiss Life to better manage its own net-zero targets, EaaS also represents an investment in its own right. "We see a business opportunity which we would like to cover ourselves as a service – not just for our own purpose, but also for the purpose to offer to other market participants," he says.
"We have decided to go for a mixture of that," Mächler says, and "offer it in the future to third-party clients. I think there is a significant potential."
It will also be important for Swiss Life's real estate development business which, among other projects, is building an energy-efficient city district in Griesheim, Frankfurt, and a 120,000sqm development in Klybeck district of Basel.
"Real estate project development is a significant part of our business," Mächler says. "There you need the energy part as well, because you're building complete new city districts. So what are you doing with the waste? What are you doing with the water, with energy overall, and things like that," he says. "We are looking to buy up the know-how in-house."
These are all examples where the lines between real estate and infrastructure are blurring. For large investors like Swiss Life, it can be advantageous to be in both asset classes and in some cases combine disciplines. In 2019, Swiss Life acquired renewable-energy fund manager Fontavis, merging it with its existing infrastructure team.
"I honestly believe that this is actually going to merge," Mächler says.
To read the latest edition of the latest IPE Real Assets magazine click here.