After 12 months in the role, the global head of real estate at Schroders Capital explains the thinking behind its recent expansion. Interview by Richard Lowe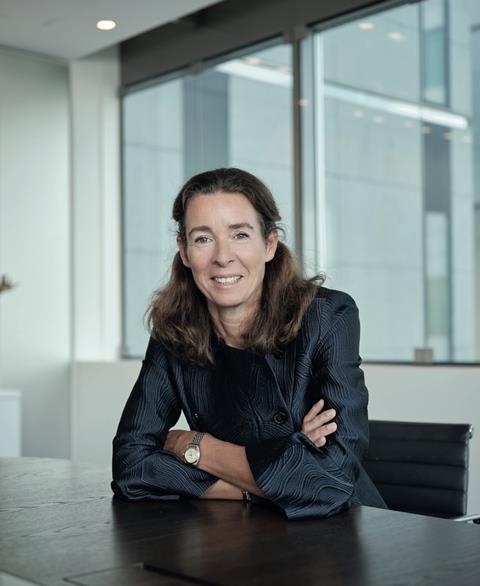 In February this year, Schroders Capital completed its purchase of Dutch real estate specialist Cairn Capital. It was the latest in a series of corporate real estate acquisitions by the company, following the purchase of Asia-Pacific real estate fund manager Pamfleet in 2020, German outfit Blue Asset Management in 2019 and pan-European hotel specialist Algonquin in 2018.
The onboarding of Cairn also concluded a busy 12 months for Sophie van Oosterom, who took over the running of Schroders Capital's €23bn real estate business, replacing Duncan Owen who had been at the company for nine years.
The flurry of activity included senior appointments, such as Kieran Farrelly, a former StepStone partner who now heads Schroders Capital's 'global solutions' real estate activities, Natalie Howard as head of real estate debt and James MacNamara as head of operational real estate strategies.
As van Oosterom explains, this has not been simply about expansion for the sake of expansion but "to position the business [for] the trends of the future". Those trends pertain to real estate markets and mega-trends – for instance, demographics and the rise of working from home – but they also relate to the capital markets.
A phenomenon that IPE Real Assets has been reporting in recent years is the preference among institutional investors to work with fewer managers that can do more. Unless they are truly one of the best in a specific specialist area, investment managers are increasingly under pressure to be a 'one-stop shop', offering a breadth of strategies and solutions under one roof.

But there are other trends shaping the way investors use fund managers. "At the same time, the LPs [limited partners] have professionalised themselves as well – significantly. So, whereas maybe 20 years ago it was good enough to give a portfolio to a certain manager and say, diversify my income for me and that's it, a lot more of the LPs have now specialised their own real estate departments," she says. "They're still looking to work with managers that give them access to something they don't have themselves."
That could be access to certain geographies where they lack a presence, "but also operational excellence and expertise on the ground that they don't necessarily have themselves".
For van Oosterom, it is about more than offering an on-the-ground presence in different markets. It is also about "providing an additional operational excellence that can drive that sustainable income in the longer term", she says. "It's not just signing a lease contract and sitting back and waiting."
How you manage buildings as businesses themselves – the costs, energy, waste, and services to tenants – "those are really localised and operational expertise elements that we think are crucial to drive long-term sustainable income, that LPs will be looking for a manager to bring".
It is interesting to note that the first in the series of corporate acquisitions made since 2018 was a company specialising in hotels – a sector often associated with having a heavy 'operational' element. Algonquin was co-founded in 1998 by Frederic De Brem who is today head of hotels at Schroder Capital.
"The teams that [we] have invested in are very entrepreneurial, with value-add skills and very specialised skill sets as well," says van Oosterom. "One of the examples of that is the hotel team [which has] very operational skills that are applicable not just to the hotel and hospitality sector but applicable more widely in the way we look at the real estate market [and] how you drive value in real estate." The operational approach of hospitality can be used beyond hotels, she says, and "is very valuable across the group".
"The teams that [we] have invested in are very entrepreneurial, with value-add skills and very specialised skill sets as well"

SOPHIE VAN OOSTEROM
It has become a common refrain: real estate is becoming more operational. Office landlords, for instance, need to be more like service providers to be competitive. But van Oosterom emphasises that she always sees "all real estate as being operational". She explains: "You're dependent on the success of the tenant in your business asset to ensure income that is sustainable over a longer period… if the tenant business operates well within your asset and the asset contributes to the tenant's business success, your asset is going to do well. And that is not applicable just to hotels or data centres, that is actually applicable to offices, that's applicable to retail, to logistics as well.
"So, if you think about all real estate as being effectively operational, then the relationship between the tenants and the landlord or manager [is] incredibly important for the long-term income and the sustainable operations within the building… that's the trend that we're leaning into… we have invested in people with that operational excellence to be able to apply that across the board."
She adds: "And so yes, the trend on operational real estate [is] definitely there. That's where we've invested our resources, but it's not just applicable to what other people call 'operational real estate'."
Van Oosterom has more than 20 years of experience in real estate investment management. She worked for CBRE Investment Management for more than seven years before joining Schroders. What is the main lesson she has taken away that she is applying to Schroders Capital today? "As a manager, you constantly need to be ahead of the game of what you're offering to your client base," van Oosterom offers.
"Real estate investing is not a short-term game. It is not about what the performance is for this year, and having a one-off acquisition success, but it's looking through the longer-term trends – how can we make sure that we're ahead of those? How can we make sure that we're constantly delivering that income and performance over a longer period? And that requires teamwork that is seamlessly organised, a team that is fully focused on client performance for the longer run.
"It's being on your toes, not ever being complacent and saying we're doing a good job, and that's good enough. It's constantly trying to look ahead, being agile and seeing the changes happening."
She cites the disruption wrought by the COVID pandemic over the past couple of years. "COVID didn't unearth anything new – those trends affecting the use of real estate were already ongoing – but it's being able to really act on that quickly, being in contact with the tenants and understanding their changing demand. If you hadn't been [doing this] before COVID, then you would have had a very difficult time during COVID. If you're constantly in dialogue with your tenants, then you know what's driving their business performance, and you can make different deals with them around how to survive COVID and be a longer-term partner to them."
The other factor that is having a significant impact on real estate and investment management is climate change and the pressure to decarbonise portfolios. Van Oosterom spoke at last year's IPE Real Estate Global Conference & Awards in Copenhagen, leading a session on net zero, showing how it would be possible to achieve an 80% reduction in portfolio carbon emissions and how the necessary retrofit costs could be offset by carbon pricing. Existing measures of real estate sustainability can only take the industry so far, she said, and energy-efficiency building certifications only showed the theoretical sustainability of building – not taking into account how tenants actually use them.
Schroders Capital is seeking to implement the cost of carbon as an operating cost today. "That helps us inform where the market is going and… it's informing the timing of the investments to get to net zero," she says.
"What we were discussing at the conference before is [that] we would definitely benefit as an industry [by] thinking ahead and getting ourselves on a more consistent path towards net zero pro-actively. And having the various regulations between the different countries still not looking at actual emissions versus theoretical emissions, and not really taking that discussion forward is a missed opportunity, I think. And it's not so much for the regulations to really impose this on our industry, but for our industry to really set ourselves the right guidance and start to move towards that.
"We talked about the role of the valuers in this case as well. I think the capital markets are adjusting already, but we're not seeing significant changes in valuation for secondary assets just yet. The valuers are not really taking a stand yet, although they're trying to put all the pieces together… the industry should be agreeing to a certain standard of what we think is acceptable and therefore make the adjustments to allow for the capex investments to be made to get to those standards.
"We want to make sure that we're ready for that change and… we have our net-zero plan for all the assets and [we're] putting ourselves to a higher standard in how we measure and implement and already take into account the cost of carbon emissions ourselves and in our operations… and at the same time, we're engaging with the industry and with various industry bodies as well to say, how can we do this more consistently so that we get to a better outcome quicker as a total industry? Because we have the opportunity as an industry to contribute."

Editor