Brexit is not the biggest challenge for UK real estate managers today, according to AREF's managing director
With the end of Brexit transition looming large, it is the UK's real estate investment-management industry that looks set to face the greatest period of uncertainty and change. London hosts an ecosystem of homegrown players that have long served the UK institutional market, as well as the European headquarters of global, often, North American property fund managers.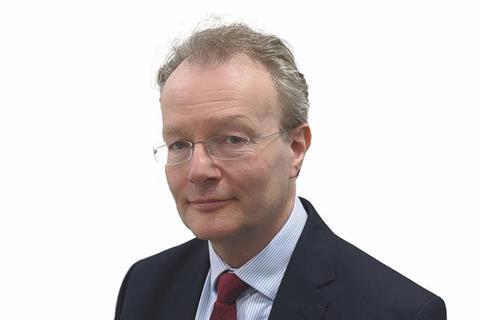 Nearly all the management teams of pan-European real estate funds are based in London. Whether this will be allowed to continue will depend on how UK-EU negotiations proceed. Many fund managers have prepared for the worse-case scenario, establishing 'substance' in the EU by creating a presence in Dublin or Luxembourg.
"The best situation would be if those London teams could continue under the current regime of delegation," says Paul Richards, managing director of the UK's Association of Real Estate Funds (AREF), whose members manage some £72bn (€80bn) in real estate assets.
Richards says Brexit poses two main threats for AREF's members: one, the aforementioned regulatory disruption; and two, the potential to divert global real estate capital away from the UK. The former is dependent on negotiations, but the latter so far seems unfounded.
"Will this make the UK less attractive as an investment destination? Because a lot of investment in property is from overseas. To be honest, from talking to members, that doesn't appear to be happening, even with the current uncertainty. They haven't seen any significant drop-off in overseas investment," he says.
But, in fact, for Richards, who took over the helm of AREF at the start of the year, Brexit is not top of his agenda. And that is because there are two more important items: structural shifts in the UK's pensions landscape and fundamental changes in how real estate is used. These are likely, he says, to be more influential in the long term, and they need to be addressed in the near future. And as a former real estate specialist at pensions consultancy Mercer, Richards is well placed to appreciate both.
"Our members are between the pensions world and the community and tenants. They take pension money, invest it, provide space that businesses need and make nice places for people to live and work, and pay income back to the pension system," he says. And both worlds are changing.
For pensions, it is the move from defined benefit (DB), the traditional, final-salary arrangement, to defined contribution (DC), modern-day pay-as-you go schemes. DB pension funds are able to invest in illiquid assets more easily, and have a long history of allocation to property. DC schemes are invariably run through platforms that require daily liquidity, making it harder.
Most DC pension funds have provided real estate exposure through the UK's open-ended funds. These funds have experienced a number of liquidity suspensions in recent years – including this year – and the UK's Financial Conduct Authority is consulting on a potential reform of the vehicles, which would involve the creation of 90 or 180-day notice period for making redemptions.
"There has got to be change in the platforms through which DC schemes invest"
"It all comes down to this liquidity mismatch that is quite apposite to the FCA consultation," says Richards. "So you've got the move from DB to DC, and we're concerned, long term, that the way that the platforms are set up at the moment [will mean] the amount of pension investment will fall off because these DC platforms will just be unable to invest in illiquid assets, including property. It is one of our long-term concerns that we have to address in the short term."
But "on the other side", COVID-19 and its effect on real estate has made the situation even more pressing, Richards argues, because the UK is going to need more institutional capital to regenerate and rebuild its urban and living environments in a post-pandemic era. "There were changes in the way people were using real estate already, which COVID has accelerated – and the two biggest ones are online retail and working from home. That will change how property is used. It was going to change it over the years; it will now happen much more quickly.
"Particularly in town centres, you are probably going to see high streets shrink… the question is: what are you going to do with those shops that no longer function as shops? I think a lot of it will be conversions to other uses – maybe local business space or residential," he says.
"Then, on offices, I think the way they are going to be used is going to change. I'm not sure people need less space – I think it'll be reconfigured so each individual will probably need more – but it will be used in different ways and there will be working remotely as well."
Richards continues: "It just makes sense for pension savings, which are long term, to be invested in long-term assets, like regenerating town centres and infrastructure and so on, which is part of the levelling-up agenda.
"In order to unlock that, there has got to be change in the platforms through which DC schemes invest. It may mean that the model of DC changes as well – more to the Australian superfund model where you have large pools that can invest in illiquid assets and they provide daily liquidity to individuals," he says.
"In five years' time, what a lot of people are working towards is this ability to have DC savings and possibly private, retail savings going into long-term assets and able to handle that liquidity profile… that would unlock a lot for the financing of the real estate industry."
All this leads to the issue of liquidity. "We've been engaged with the FCA for some time on that issue," he says. "But you've got platforms, you've got wealth managers, you've got transfer agents whose operating practices – and sometimes their software – only deals with daily liquidity. So all of those things in the ecosystem need to changed as well. So it's not simply a change in the notice period, because that might break the system."
When asked, what is top of his agenda, Richards says: "I feel I should say Brexit, but all of these things seem more prominent than Brexit."