He joins JP Morgan Asset Management at a point of unprecedented uncertainty, but the former ADIA strategist has learnt a thing or two about market cycles INTERVIEW BY RICHARD LOWE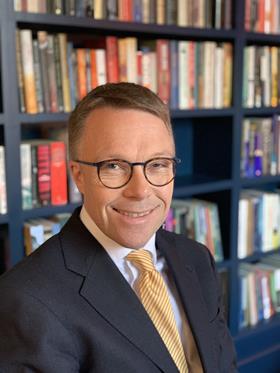 Paul Kennedy has an uncanny ability to start a new position just when things are about to get challenging. In the summer of 2008, a month before Lehman Brothers filed for bankruptcy, he joined sovereign wealth fund Abu Dhabi Investment Authority (ADIA) as head of private markets strategy. His previous role was as co-head of global research at Invesco Real Estate, which he began some six months before the 9/11 Twin Towers attack in September 2001.
After more than a decade at ADIA, Kennedy joined JP Morgan Asset Management at the beginning of the year as head of strategy and portfolio manager for real estate in Europe, a role previously held by Joe Valente who sadly passed away in 2018. He now has the task of overseeing the European real estate strategy amid the unprecedented COVID-19 crisis.
"There are more moving parts now than there has probably been at most other points in my career," he says. "We are expecting capital raising to slow down and deal volumes to slow. This is a supply-chain impact rather than a demand-side impact, so therefore it's harder for monetary or fiscal policy to respond. The tools that government have to address are perhaps less clear than some of the challenges that they've been faced with over the last decade."
He says: "At the very least we are going to go through a period – at least a few months – where very little happens… if you've got a choice between making a decision and delaying a decision you are going to delay."
That is not to say that JP Morgan is inactive. "We are actively pursuing investments in the UK and across the continent," he says. As recently as 12 March, the company announced the acquisition of a 48,000sqm German office portfolio from Aspen Real Estate Investments. "One of my colleagues has a really good expression," Kennedy says. "He always reminds us that the hardest time to invest is always now and always has been."

The wide-reaching effects and persistence of the coronavirus pandemic means an economic – and real estate – downturn is now inevitable. Fortunately, there is some "built-in conservatism", where investors have become accustomed to lower returns for real estate in a world of low interest rates. "You've got lower expected returns on bonds," he says.
"That in itself provides some sort of offset against the negative factors. I don't want to sound positive, because we've got a lot of moving parts that we don't know how are going to pan out, but… investors have got used to the fact that projected returns on their bonds and their equities are going to be quite low, and they are reflecting that in their target returns for real estate."
He adds: "To a certain extent, there is a degree of built-in protection, even though we are at prices that are quite high. We've still got real estate yields that are at a reasonable spread over government bonds. And if you can't see government bonds going up materially, which I don't think you can, that's going to limit downside."
And as real estate markets reach the end of an unusually long market cycle, Kennedy's experience of previous downturns is still strong in the memory. "The lesson that I've learnt over last decade in the run up to the [2008 global financial crisis] and post-GFC – and I think it's being reinforced now – is that alignment is tremendously important," he says.
"What did large numbers of investors get wrong in the run up to the GFC? They had allocations that were linked to core real estate or value-add real estate, and at the tail end of the cycle they pushed for higher returns, and they used the opacity of real estate – particularly the ability to effectively hide volatility in valuations – to disguise the risk they were taking. When you had a correction that left them more exposed."
While there might not be the same high levels of debt being used today as there were in the pre-Lehman Brothers days, the same behaviour is manifesting itself in other ways. "We are still seeing return-seeking behaviour," he says. "We are not seeing the same build-up of financial leverage. But maybe we're seeing similar build-up of operational leverage."
The move by institutional investors into emerging, operational-heavy sectors such as healthcare and UK private-rented housing are a case in point. That is not to say that they are not necessarily good investments – Kennedy thinks UK residential is a "tremendously interesting" theme – but the added risks they entail need to be recognised by investors and asset allocators.
"It is very difficult to measure the risk you are taking in real estate," he says. "We have valuation smoothing. That means that the actual volatility you are exposed to can be different to the volatility that you measure, particularly when you are going into emerging forms of the asset class or smaller markets."
There is always a risk at the end of a cycle, of a "pressure to deliver returns". For core real estate investors this could mean "you drift into smaller assets or into emerging forms of core, you perhaps introduce investment stories that are additive to risk but potentially also additive to returns", he says.
"If you did that in listed markets, you'd typically be charged in tracking-error terms. In real estate you can often get away with not being charged like that. We saw that behaviour pre-GFC, and that then led to higher-volatility exposures that didn't have any impact while the cycle was still in positive territory, but as soon as the market corrected you ended up with greater drawdown that you might otherwise have experienced or greater illiquidity. We are seeing the same thing now."
Kennedy says: "We are seeing a pressure for returns leading to exposure to smaller markets, leading to emerging forms of real estate and so far that has performed quite well. Investors have gained exposure to markets where yields have perhaps fallen faster than they have in prime sectors.
"The lesson I've learnt is that you need to align your exposure with what your client is asking for. You need to be very wary of drifting. That doesn't mean that going into value-add investments or that going into emerging forms of core is necessarily wrong. It's not. It's an additional form of risk that has to be sought by the client and has to be appropriately funded. And if it is provided in a way that is not appropriately funded, you are going to have a level of drawdown post a correction that is effectively going to have a greater level of risk than the client has sought."
"I think UK residential is tremendously interesting at the moment, but it is not yet core" - PAUL KENNEDY
Kennedy says there is a lot of talk about whether popular but newer sectors such as UK residential and healthcare are now 'core'. "In some cases they may well be, in some cases they may not be at the moment but may well at some point in the future. But at the tail-end of the cycle there needs to be alignment between what an investor has funded and the exposures they are actually receiving."
Does he think UK residential, specifically, is core? "I think UK residential is tremendously interesting at the moment, but it is not yet core," he says. "There is a danger you characterise something as being different from what it actually is in order then to persuade yourself that it's a core strategy and therefore fits within your mandate.
"A core strategy needs to have proven liquidity over multiple cycles – a proven depth of the market. It needs to have particularly proven institutional liquidity over multiple cycles. It needs to have a very clear and established business model."
For this reason many continental European residential markets, which are more established as institutional markets, do fit the description of core. "In terms of UK residential, that's still a fragmented market dominated by local investors. It is still a market where the underlying drivers of return are changing. Therefore you're going in not just for stabilised returns but on the basis that you think the gradual institutionalisation of the market will lead to yield compression, a gradual stabilisation of gross to net ratios, and therefore will lead to it becoming core.
"My personal view is that it will be core. It's a great investment at the moment, but it's not yet a core investment. And I know lots of people who would disagree with me."
Kennedy adds: "The key lesson of the GFC is not do not take risk. The key lesson of the GFC is take appropriate risk, take risk that you understand, take risk that you have funded that you know is in line with your asset allocation."