The former Crown Estate CIO is preparing to lead AustralianSuper further into European real estate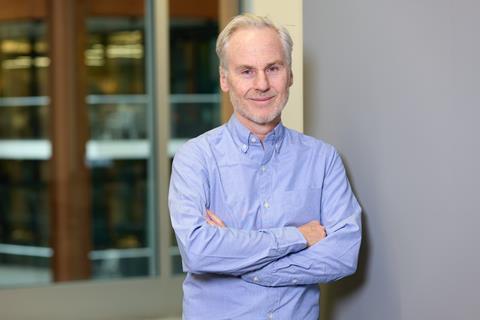 Paul Clark spent more than a decade as CIO of the UK's Crown Estate before moving to AustralianSuper just over a year ago. The new job did not require a long-haul relocation from London to Melbourne, but rather a 30-minute walk from the heart of the West End to King's Cross.
The Crown Estate, whose origins date back to 1760 and with its profits going directly to the UK Treasury, is a very different beast to Australian-Super, the largest superannuation fund in Australia, which invests on behalf of 2.5m members.
But they share parallels with regard to London; both have a stake in the very fabric of the city. The Crown Estate owns a large swathe of the West End, centred mostly in and around Regent Street. AustralianSuper is the biggest investor in the 67-acre King's Cross redevelopment, which has transformed the area around one of the city biggest train terminals.
Clark's 13 years at the Crown Estate, during which the central London portfolio has undergone significant investment and modernisation, means he has been immersed in the world of mixed-use property and placemaking – two concepts that have become key to urbanisation and regeneration strategies. The transformation of the King's Cross area, led by developer Argent and real estate fund manager Hermes Investment Management, is probably one of the clearest examples of those concepts being put into practice.
AustralianSuper joined the endeavour in 2016, taking a 25% stake in the King's Cross Central Limited Partnership. Today, it owns close to 70% and the investment represents a large, yet singular, exposure to the UK real estate market.
AustralianSuper
● Total assets of A$254bn
● Direct real estate and infrastructure asset allocations (balanced option): 5.1% and 12%, respectively
● Investment in King's Cross, London, is the largest single asset by value in the property portfolio
It is no secret that AustralianSuper has deep pockets – it has more than A$250bn (€158bn) of assets and these are likely to increase – and so the burning question for the London and UK real estate industry is what does it do next?
In the same year that AustralianSuper made its initial investment in King's Cross, it also opened a London office – not specifically to manage real estate but for private markets more broadly. While the London office has increased from about 30 people when Clark joined, to 50 today, the real estate team represents only about a tenth of the London staff.
"If we'd been having this conversation a year ago," Clark says, "you would have had the privilege of addressing the entire European real estate investment team at AustralianSuper. The real estate team in London is currently five, but it will get larger over the next few months and year or so."
The organisation is clearly limbering up for a greater incursion into the market. But what form will that take – further large-scale investments in the vein of King's Cross, or a more diversified expansion? All signs point to the former.
"The approach we've got within the real estate portfolio is to focus more thematically on how we see the markets developing," Clark explains. "Consequently, at the top end of the strategy there are three themes that we're looking to take advantage of." Those themes are demographics, digitalisation, and placemaking – or, to use AustralianSuper's Antipodean nomenclature, "precincts".
Clark continues: "From that starting point, we then look at the markets we want to be in and how we want to access them. And for the team in London, that high-level strategy is really being distilled down into two principal areas of activity. The first is city-centre, mixed-use investment and development, which enables us to build on the King's Cross experience.
"We have identified a small number of cities where we would want to concentrate our efforts, where we believe the markets are deep, liquid and transparent enough to invest and operate at our scale, and also where we like the medium-to-long-term occupational supply-and-demand dynamics."
London is "number one on that list", and so it seems further investment in the capital city is the safest bet for predicting the fund's next move.
Clark does not elaborate on the other European cities on AustralianSuper's agenda, but when pushed he says: "We also like Berlin. Now, Berlin is more expensive than London if you're buying standing assets, but what we like about Berlin [is] as the seat of government, and as one of the major cities in Europe, it attracts a breadth of users.
He adds: "You can see that people want to live there, they want to work there, they want to go out there. And it's still a city that's playing catch-up with where it should and could be. So that's a city, for example, where we would like to spend some time thinking about the opportunities that it offers."
Mixed-use city-centre regeneration projects allow "you to be flexible in terms of what sectors you want to focus on", although, by and large, they are going to be led by either office or residential, Clark says. And, crucially, he is positive about the future of the office – or, at least, "grade-A, prime, well-located offices".
He says: "We do see the likelihood that there'll be bifurcation and there are some real challenges for the office sector. But, for example, where we're sitting at King's Cross, we have, to all intents and purposes, zero voids currently, and [estimated rental values] have held up well over the last 18 months or so. And we see that occupiers continue to be attracted to good locations with high levels of amenity and within buildings that can offer the flexibility and characteristics that work for their staff."
But what about the disruption brought about by COVID-19 and the increase in working from home? Does this not place big question marks over the future of office and urbanisation generally?
"The approach we've got within the real estate portfolio is to focus more thematically" - Paul Clark
"My personal view, at least, is that I don't see the events of the last two years unpicking 3,000 years of human history," Clark says. "Successful cities are centrifugal forces, and they're also incredibly efficient. The larger a city gets, the less carbon each person in them uses up, and the fewer facilities per person you need, because you do genuinely get economies of scale."
He adds: "We have to accept it could change the pattern of urbanisation, but I don't think it will change the fact of it. And I also have never been convinced by the satellite-office suburbanisation argument that, for example, occupiers might prefer to have more satellite offices, located around towns and cities.
"The reasons pretty much everybody will give you for going back to the office are cultural and they're around innovation and collaboration. And you can't do that if, for example, in London you've got all the middle-aged guys like me sitting in a satellite office in West London, because we all live there, and the 30s and under all in a satellite office in East London. You do need everybody to get together."
Although much focus has been on the effects of COVID-19 and working from home on the office sector, "the biggest long-term issue that needs to be addressed is zero carbon", Clark says. "We will adapt to COVID over time and I've no doubt it will change patterns of movement and working practices [but] what probably isn't sufficiently priced in at the moment – certainly for more secondary office buildings – is going to be the cost of complying with the zero-carbon agenda, which is going to come at us quickly now."
During the week of COP26, the King's Cross Estate announced that it had become carbon neutral. This was achieved in part by switching to 100% renewable-energy sources and green tariffs. But it also required retrospective action, offsetting 100% of its past embodied and operational emissions by purchasing 338 hectares of pastureland on which more than 600,000 trees will be planted. The new forests will be capable of removing about 153,000 tonnes of CO₂ equivalent from the atmosphere over the next 60 years.
Asked how he thinks the net-zero agenda will really play out in the office sector, Clark says: "By and large, you shouldn't invest in an asset unless you can see a route to zero carbon."
There is one other potential area of growth for AustralianSuper in Europe – logistics. Clark is quick to point out that he has "some concerns about entry pricing, particularly for standing assets". The sector certainly has seen a huge influx of capital and compression of yields in recent years. "So, quite possibly, we will think more about development in that space if we access it," he says.
"I have no doubt that the tectonic plates, which have been moving over the last few years, will continue to drift in favour of that market, from the perspective of the strength of the occupational demand in that sector. But that, at the moment, feels very fully priced in by current yields. Consequently, it's hard to see how you can get sufficiently attractive risk-adjusted returns from quite a lot of standing assets in the mature markets in western Europe."
This would entail building on Australian-Super's domestic logistics exposure. In October, it invested alongside a Logos-led consortium to buy industrial land adjoining Sydney Airport from airline company Qantas.
"If we do something in UK logistics, it's probably going to look a bit like that, in terms of scale and what we aspire to do," says Clark. "[But] in the shorter term, you should expect our focus to be on that mixed-use city-centre piece, focused initially on London."