Canadian investor Oxford Properties is forging ahead with global expansion plans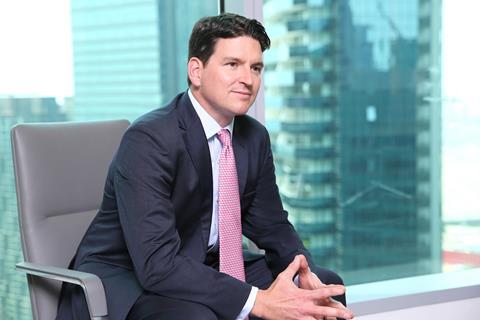 In September 2018, Oxford Properties, the real estate arm of OMERS, one of Canada's largest pension funds, was virtually unknown in Australia. But then it made a knockout bid for the country's multi-billion-dollar Investa Office Fund (IOF), blindsiding Blackstone in the process.
Blackstone had been in a commanding position to take over the listed vehicle which owned assets valued at A$4.5bn (€2.8bn).
The purchase of IOF remains the single-largest transaction yet for Oxford globally. It has also enabled the company to establish a presence in Australia and to look more broadly at the Asia-Pacific region.
"India is a high priority for us in 2020," says David Matheson, Oxford Properties' managing director for Asia-Pacific. "Firstly, we are strong believers in the long-term growth of India, which is probably our highest conviction emerging market globally." India as an economy is a big focus for OMERS, which is already active in the country's infrastructure market.
"The second point, from a real estate perspective, is that India today is probably the only market where we see an imbalance between supply and capital," Matheson says. "There is probably more opportunity than there is capital. In every other market we monitor in the world, we see more capital than opportunity. Clearly that leads to compression in return, and a challenge for us to be able to deploy capital. It is the other way around in India."
Oxford's Singapore-based team is doing due diligence on several assets in India, and expects to close its first transaction there in the coming months. Matheson says Oxford will invest in Indian cities where there is a high-growth technology sector, such as Bangalore, Pune, Hyderabad, and in India's commercial capital, Mumbai.
Currently, only 7% of Oxford's C$60bn (€41.3bn) of assets are located in Asia-Pacific. "Our long-term ambition is to grow that Asia-Pacific allocation to between 15% and 20% over the next five to 10 years," Matheson says. That means allocating some C$6bn to Asia-Pacific. With a typical gearing ratio of 50%, Oxford's Asia-Pacific portfolio could grow to C$10-15bn over the next five years.
The Investa Office Fund, now privatised and renamed Oxford Investa Property Partners, provided the entry point to Asia-Pacific, the increasingly important third leg in Oxford's global expansion.
So what prompted the Canadian company to take such a big bet on Australia as a brand-new market? "At the time, we saw a couple of things in Australia," says Matheson. "With so much capital and competition in the general market, we saw scale and complexity as our competitive advantage. The opportunity to buy single, smaller assets wasn't just there at the sort of return we find compelling. But the level of competition able to do a deal of A$4.5bn, particularly in a public market, is more rarified. There is better value to be had.
"As a pension fund, clearly we have pressure to deploy our capital. We don't have the luxury of sitting on cash. We need to be fully invested in order to meet our pension liabilities." OMERS, which had net assets of approximately C$100bn at the end of 2019, manages the retirement savings of about 496,000 Canadian municipal workers.
Some might say that Oxford bought into Australia at almost the peak of the market, but Oxford saw it differently. It could see the demand for assets, and the weight of capital waiting to enter.
As it turned out, Oxford rode a wave of capital that washed ashore in Australia in 2019, enabling it to quickly sell down A$2.5bn in non-core assets in Brisbane and Perth, along with some assets that were stabilised, with little immediate upside. The early disposals freed resources for reinvestment in places like Melbourne.
"We are underweight to Melbourne," Matheson says. "It is a city we really like long term. Our goal is to invest in gateway cities, and in Australia these are Melbourne and Sydney. We plan to redeploy a reasonable amount of capital into Melbourne, subject to finding the right opportunities."
Importantly, he says, the slimmed-down Sydney-centric portfolio has redevelopment potential within its existing assets. Oxford is undertaking joint development of two office projects in the city – at 388 George Street and 347 Kent Street – with its local partner, the Investa Property Group.
Oxford has struck out on its own to develop a prime site above a new metro station in Pitt Street, in the heart of Sydney. The large billion-dollar-plus mixed-use project will have two towers, one of which will host build-to-rent (BTR) apartments to fulfil Oxford's strategy in the office and BTR sectors in Australia.
Matheson says Oxford develops in all markets in which it is active, and this has boosted returns over decades. "We have consistently seen double-digit returns," he says. "In fact, we would expect returns of 9-10% in new transactions we enter.
"Clearly, the way you enter the market initially is sometimes to go into partnership with a local player. We have a good local partner in Investa, which has a long track record and history in this market. But typically, we will then build our own team on the ground as opportunity allows."
In China and Japan, Oxford is letting its partner, the rapidly-growing pan-Asian logistics group ESR, take the lead. In October last year, OMERS became a cornerstone investor in ESR when the latter made an initial public offering to raise US$1.6bn (€1.5bn) and list on the Hong Kong stock exchange.
"Our long-term ambition is to grow that Asia-Pacific allocation to between 15% and 20% over the next five to 10 years"
"We see the investment in ESR as a very strategic way of gaining exposure to growth in e-commerce and online shopping in China, India, Japan, Singapore, Australia, and Korea," Matheson says. "ESR has established a large footprint across Asia, which is the key to meeting customer needs. You need to be able to service them in multiple markets.
"We are very hopeful that, through that partnership, ESR will give us the opportunity to build an industrial exposure in Australia and the region. Obviously, we also like China – and ESR has significant exposure to logistics and industrial there."
Matheson adds that, if Oxford were to also enter the market in its own right, it would partner with ESR, because the company develops on balance sheet, he says, and also funds projects with third-party capital through its funds management business. He has not ruled out becoming a co-investor with ESR in the future.
The manner of Oxford's foray into Australia mirrors its moves into the US and Europe. In 2007, on the cusp of the global financial crisis, Oxford struck its first European deal to acquire a 50% interest in the Watermark Place development in central London. By 2010, Oxford had bought the entire property to capitalise on weak pricing in the market. It was a confident believer in London's long-term prospects.
Then, in the depths of the financial crisis in 2010, Oxford teamed up with US real estate developer Related to create the huge Hudson Yards site in New York which at the time was 28 acres of gritty industrial wasteland on the west side of Manhattan.
Oxford is still invested in the precinct that now houses five office towers, a luxury condominium and a public school. Hudson Yards is described as an urban regeneration showpiece in New York, and carries a total completion value of US$25bn.
The project was one of the first major commitments undertaken by former Oxford president, Blake Hutcheson, soon after he took the helm at the company. It was under Hutcheson that Oxford Properties started its global push – to lessen its reliance on a small domestic market, where it is invested across the entire property spectrum, from city shopping malls, to city and ski-field hotels and resorts, to prime office blocks. Just a decade ago, more than 90% of Oxford assets were domestic.
Hutcheson, who is president of OMERS, will become its CEO in June. Michael Turner succeeded Hutcheson as Oxford president in 2018 and has since spearheaded the company's diversification push into 'beds and sheds' and entry into Asia-Pacific.
Today, Oxford has a staff of 2,200 operating in three regions – North America, Europe and Asia-Pacific – to run its global businesses. Some 45% of its assets are in Canada, with about 25% in the US. Europe accounts for 17% of its portfolio.
There was a hiatus in activity in Europe in the past two years as Oxford waited for political uncertainty surrounding Britain's exit from the European Union to play out. "We have had to be slightly cautious in the last year-and-a-half," Matheson says.
"We have had terrific success there, but we got to a point where we could see the potential risk, particularly the political risks, and felt that there could be better investment opportunities elsewhere in markets such as Australia and the US."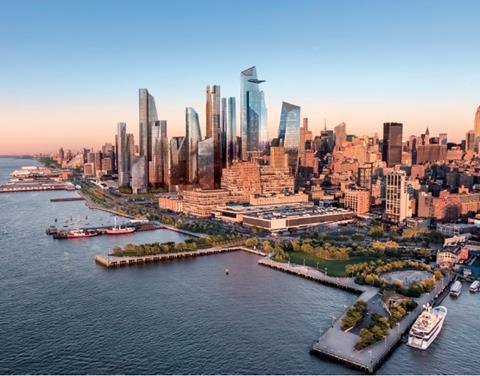 The cloud has now lifted. "We feel good about the long-term prospects for London," Matheson says. "Obviously, the lifting of the uncertainty around Brexit helps the London story. Removal of the potential for a change of government and the introduction of more left-wing policies also adds to certainty on the business side. Our highest-conviction strategy in Europe is on UK BTR."
Oxford Properties is joint manager alongside Delancey in the Get Living BTR vehicle in the UK, which includes investment from Dutch institution APG and Qatari Diar.
"We have a controlled pipeline of 7,500 apartments, about 3,000 of which are operational," says Matheson. "This makes us the largest BTR operator with purpose-built BTR in the UK."
Matheson speaks of "tremendous" opportunity to grow the BTR sector in Europe and, conceivably, Oxford would look to develop BTR in key European gateway cities such as Paris and Berlin. "We may do that ourselves or with local partners," he says. "We have Oxford people on the ground."
In the UK, Oxford partnered with the Crown Estate from 2013 to jointly develop the first phase of St James's Market in central London. The £400m (€473m) project is complete and the partners are awaiting approval to begin St James's Market phase two later this year. The second phase is set to build on the success of phase one, with a likely end-value of £200m.
Since 2007, Oxford has built up a sizeable portfolio in Europe, including Sony Centre in Berlin, acquired in 2017 from Korea's National Pension Scheme for €1.1bn. "We are repositioning Sony Centre, which was built in 2002, to revitalise the asset so it can cater to the demands of tech firms that are driving the market in Berlin," says Matheson. "We want to turn the building into an iconic asset.
"Berlin is a high-growth market, and the prevalent industry is high technology. Rents are growing, and demand for space is strong."
So far, Oxford has enjoyed a good run, partly through good judgement, savvy management and a happy dose of luck. However, as with all investors, it faces the challenge of continuing to deliver the level of returns to which it has become accustomed.
"There are three elements to how we are thinking about addressing that," Matheson says. "Number one is to grow our Asia-Pacific business. Clearly, the growth profile of that part of the world is higher than North America and Europe, and it therefore means the return is also higher.
"Number two is a big focus on scale and complexity. We do think with that we can generate higher returns. We have the in-house expertise to be able to take on that additional risk.
"We can be a little bit more creative in terms of deal types. That could mean taking on a very large ground-up development like Pitt Street in Sydney. Not every pension fund in the world can compete on a project like that.
"That competitive advantage also means we can underwrite large mergers and acquisitions. I don't think the majority of our pension fund peers globally could do what we did on Investa.
"Thirdly, we are spending a lot of time looking at opportunities across asset classes. We look for situations in which our real estate teams and our capital market teams could work in tandem to deploy capital for OMERS in high-conviction strategies. The ESR investment is one such example."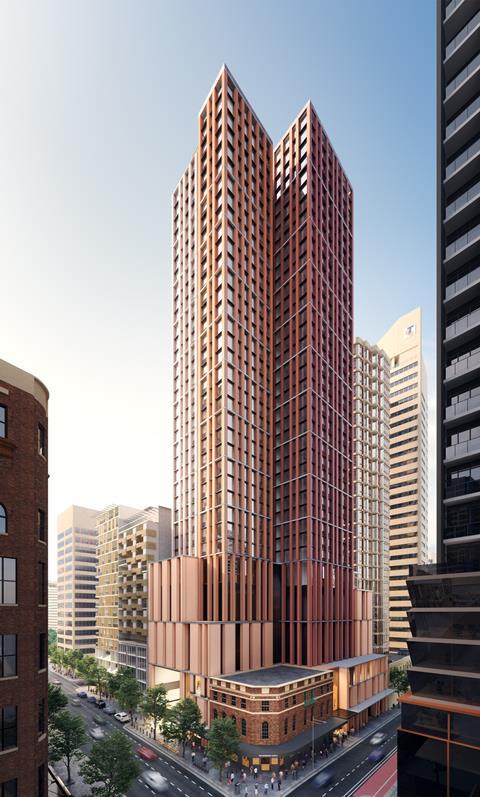 Oxford will also refine its weightings to different asset classes in sync with changing times. Matheson says that, globally, offices account for 44%% of the portfolio today. However, over time Oxford would like to trim this back to about 35%, in response to disruption in the office space globally. "Clearly, co-working is a very significant component of that," he says.
Oxford's current retail assets are top malls in Canadian cities and luxury retail in London's Bond Street and New York's Fifth Avenue, catering to the high-end shopper. Despite their locations "we are seeing all the same challenges that everybody is experiencing. There are too many headwinds confronting the retail space," Matheson says
"It is not a sector we are planning to go into in Asia, but we will continue to invest in our North American and European retail assets, which continue to perform exceptionally well. Today, retail is below 20%, and we would like to manage that down slightly. But we don't need to sell, we just need to grow the other asset classes."
Industrial and logistics make up "just north of 14%" of Oxford's current portfolio. Oxford's aim is to lift that to 25-30%, and to nearly double its residential exposure from the present 8% to 15%.
Matheson says the CIO of OMERS, Satish Rai, believes in private markets. "Our target is to have more than 50% of OMERS balance sheet in hard assets," he says, adding that infrastructure and real estate will have the same billings, together accounting for up to 40% of private markets allocation.