CEO of French REIT and chair of EPRA talks to Christopher Walker about making ESG central to her mission

Meka Brunel is crystal clear on the priorities for the European listed real estate sector: "Firstly, addressing environmental concerns because we simply have no choice. Secondly, making inclusiveness and gender equality central to how the industry operates."
These two issues have dominated Brunel's tenure at Gecina, the French real estate investment trust (SIIC) listed on Euronext Paris. The group owns, manages, and develops Europe's leading office portfolio, worth about €20bn and nearly exclusively (97%) located in the Paris Region.
"Empowering shared human experiences at the heart of our sustainable spaces" is Gecina's self-declared purpose. It is an ambition supported by its YouFirst brand, which focuses on the needs of users of its spaces, and the UtilesEnsemble programme, which sets "out our solidarity-based commitments to the environment, to people and to the quality of life in cities".
Brunel says: "COVID has accelerated people's understanding of the urgency of addressing climate change, and as an industry, we have historically been heavy polluters." The World Green Building Council states that building and construction are responsible for 39% of all carbon emissions in the world. "This is a difficult task for our industry," she says. "But the recent UN report on climate change shows us we must accelerate our progress over the next decade."
At Gecina, this realisation has led Brunel to commit the company to being net-zero carbon by 2030, a shift from the previous target of 2050, and ahead of most real estate players. Brunel has introduced what she refers to as "an internal carbon tax". She says: "An effective way to educate people is to talk about money, [and] by aligning employees' bonuses to carbon reductions in buildings, we are bringing about real change… the surprising thing about our internal carbon tax, is now that employees have bought in, they actually want us to go further."
As the biggest landlord in Paris, Brunel also supports encouraging "greater urban density" there. Further, she believes "we should follow the principles of the circular economy and renovate buildings using existing materials as much as possible". Gecina's recent redevelopment of the Pergolese building in Paris is a case in point, with more than 81 tonnes of materials reused, making it possible to avoid 394 tonnes of CO2 emissions.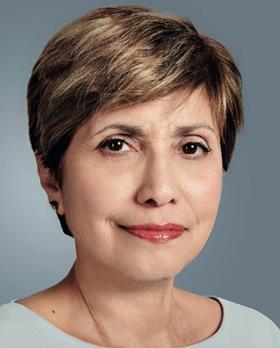 "In future, buildings have to be sustainable-compliant or they simply won't be allowed to exist," she says.
Gecina has also become a protagonist of the trend towards wooden buildings – albeit within its residential business. The company has signed a partnership agreement with Woodeum to develop 1,000 low-carbon, timber-frame housing units over the next four years in the Paris Region and major cities across France. This follows the introduction of the RE2020 environmental regulations in France.
"It is an important step to sharply reduce our carbon impact," Brunel says. "We have opened the door and shown the path for other people to follow."
Another part of what Brunel calls "the greening of Gecina" has been Brunel's move on green bonds. She tells us her finance department came up with the idea redefining the entire outstanding balance sheet, some €6.5bn of bonds. It was a major undertaking, completely changing documentation and requiring a vote by bondholders. "I am proud that 100% of our bond financing is now green."
Gecina is also a leader in the Gender Equality index of businesses, with a score of 94 out of 100. "We have made a lot of progress, and it is my hope we can persuade others in our industry, not always the most diverse, to follow," Brunel says. She strongly supports efforts to make at least 40% of boards female, and new initiatives to insist that at least 30% of the next level down, senior executives, should also be women.
"This is not about governance in the sense of box-ticking or bureaucracy, it is about being forward-thinking. And doing something that will lead to better decision-making. This is what diversity does."
Of course, a challenge for Paris's biggest office owner is how the recent trend towards working from home fits into this plan. Cushman & Wakefield predicts that nearly 215m sqft of office space will disappear globally and remote working will rise to about 10% of the total workforce. Other observers are more pessimistic, citing the greater flexibility remote working gives to those who want or need it.
Brunel is outspoken. "This is nonsense," she says. "People cannot multi-task – they need dedicated workspaces where they can concentrate without interruptions. Women can do many things, but we are not superheroes."
As part of inclusivity, Brunel also has been pioneering with the Café Joyeux concept launched in 2017, which "reflects a desire to change the way people view disabilities and foster inclusion at the heart of our cities". The franchise employs about 50 employees with cognitive disabilities across its five locations.
Brunel believes that "people will return to offices, provided companies make them attractive, flexible locations where people want to work". She says there is a trend to higher-quality central locations. "We should stop building offices in secondary locations; buildings will become redundant as more administrative functions are digitalised." On the other hand, "clients will pay more for buildings that provide the facilities and services they want, and it is through them that we shall see a return to the office," she says.
Gecina's recent client survey supports this conclusion. "The major revelation with the crisis has been the essential nature of human contact within companies," Brunel says. None of the business leaders surveyed believe that their organisations would be able to adopt a model that would establish working from home as the new normal. The future still looks bright for offices."