The hybrid model of The Student Hotel is proving resilient during the COVID crisis. Florence Chong speaks to founder Charlie MacGregor (pictured)
When, in 2012, Charlie MacGregor was looking to build his first student housing project – in Amsterdam – he found Dutch planning laws on residential development so complex that he opted to take out a hotel licence instead. MacGregor knew instinctively that he could offer a hybrid – combining student accommodation and a regular hotel.
Such were the beginnings of The Student Hotel (TSH), now backed by the Dutch pension fund ABP and private-equity group Aermont Capital. Today, TSH boasts a chain of 16 properties offering 11,000 rooms in 12 cities across eight countries in Europe. A further 11 student hotels are under development.
Little did this canny Scot know, in 2012, that his concept – born out of necessity rather than design – would become the potential model for purpose-built student accommodation (PBSA) providers post-COVID-19.
TSH offers tenants the option of shorter 10-month leases rather than the standard 12 months, and it was this flexibility in its business model that helped the company withstand the global pandemic.
Lessons learned from the coronavirus crisis include the need to offer students flexibility, including shorter leases, and space for meeting rooms and common areas, especially in the age of social distancing.
MacGregor incorporated co-living and co-working into his business mix, giving students the opportunity to meet and interact with young professionals and business start-ups.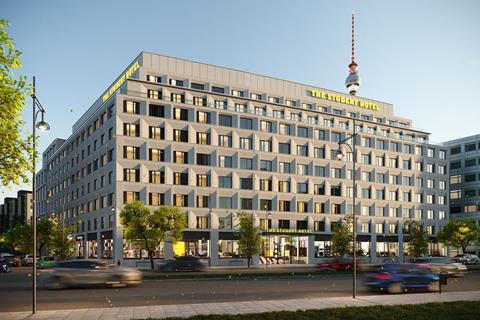 Normally, 60% of TSH rooms are allocated to students. Student rooms become hotel rooms during the summer holiday season. Students and parents, for example, can choose to stay at TSH hotels on their European tours.
"When COVID hit, it hit pretty hard because 40% of our beds are hotel rooms," MacGregor says. "But I am grateful that the pandemic gave us the opportunity to show how our hybrid model can work in a crisis. Our exposure to the hotel market is limited because we reallocate hotel rooms to student rooms… Of course, we don't have the high cash flow that we had before, but we are cash-flow positive."
MacGregor grew up in the student housing business. "My father is the godfather of PBSA in the UK," he says. "He built the first-ever student housing building in 1980 for the University of Edinburgh, when it was possible to get a 25-year lease."
MacGregor senior went on to build student accommodation in several cities, including Aberdeen and London. Then he saw the market changing, as universities opted for shorter leases, making it difficult to obtain bank finance. The PBSA market itself also became more competitive as property developers moved into the sector. His father sold the business.
The main impression that stuck in the younger MacGregor's mind was the dreary sameness of each student room, "with horrible colours and super-boring furniture", replicated in city after city.
"I felt very strongly that if we trusted and treated students like customers, and offered them a high level of design, they were going to enjoy being in that space," he says. "I took the essence of the model from the UK, but kept the features that worked for me and threw out the things that I didn't like."
From day one, recalls MacGregor, the hybrid model disrupted the PBSA industry in Europe "quite substantially". Today, in the wake of the pandemic, he sees emerging interest in the hybrid model from both hotels and student-accommodation operators. "It has shown to be a desirable investment product that can go through a recession very well. It is going to be very much in demand in coming years – the way of the future."
Market report: Student housing
1

2

3

4

5

6

Currently reading

Interview:​ Charlie MacGregor, The Student Hotel