The CIO of Hostplus has the task of investing A$10-12bn of annual inflows in a low-return world - INTERVIEW BY florence chong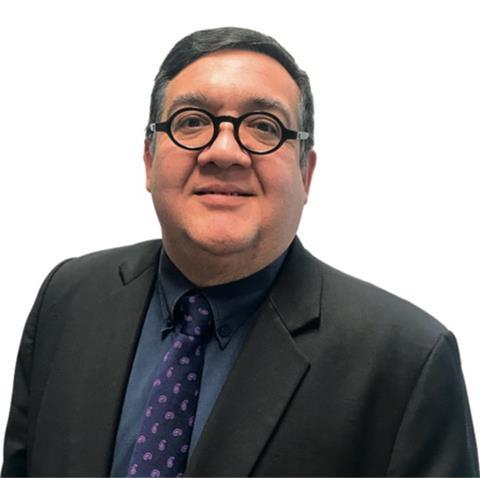 With A$1bn (€630m) in pension dollars flowing into his fund each month, Sam Sicilia has the task of determining how to put the capital to work in a low-return world.
Options for the CIO of the A$45bn, Hostplus – the superannuation fund for Australian workers in the hospitality, tourism, recreational and sports industries – are limited.
Across the board asset prices are high, yields are shrinking, and Sicilia has to compete with other Australian super funds, which in Q1 2019 collectively received A$26.87bn. And that is before the funds start thinking about redeploying returns from existing investments.
"It does not matter what we think of the market and asset prices, we still have a problem finding a home for A$10-12bn in incremental cash flow this year," Sicilia says.
"We need to transact in this market. We are looking at equities and unlisted assets – credit, private equity, hedge funds and other alternative investments – that are likely to be less correlated to the equities market during stress."
Sicilia says: "People are saying real estate or infrastructure assets are expensive, as if they could do something about it. Everything is relative.

"What if infrastructure never goes back to 12% returns? What if it brings a 7% return forever? What are you going to do? Here are your choices. Turn away from infrastructure or accept the 7% and maybe move up the risk curve – perhaps consider greenfield development instead of only buying brownfield assets. If returns from infrastructure have fallen, the chances are that returns from real estate and equities have also been reduced."
The thing to do, he says, is to prepare members for lower returns. But what is important is to remain diversified and to be fully invested in markets at all times. "If our members are getting 1% from a bank deposit, and they can only get 6% instead of 12% on super investment going forward, it is still better than putting their money in the bank."
Sicilia says inflation is a problem. "People are waiting for inflation to happen. I think inflation isn't going to come back for the next two or three decades. We have to get used to this new reality. Reducing interest rates, increasing wages, and other stimulatory measures, are not going to cut it any more. This won't result in inflation."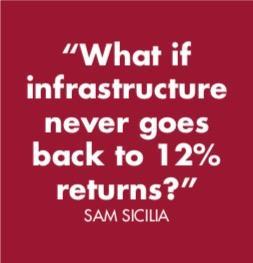 And Sicilia believes that technology is a major reason for the lack of inflation. "It is massively deflationary and the only way to reintroduce inflation is to get rid of the [impact of] technology. "
In the past 12 months, the bulk of Hostplus' money has gone into equities. Hostplus has 53% of its assets in equities – 23% in Australian shares, 22% in developed markets, and 8% in emerging markets.
"Today, the equity market in Australia has a PE multiple of 15 or 16 – and people are saying equity markets are 'slightly' more expensive. What they mean is that, compared to history, they are slightly expensive.
"If we expect earnings to go lower, we want to know whether a PE ratio of 16 times today is cheap or expensive relative to the future.
"If you believe we are in a low-return world where the most you are going to get is 4%, then PEs are going to be 25-30 times. So if you believe PEs are going to be 30, why aren't you buying at 16 or 18? At today's level, equities are cheap."
Sicilia says investors are nervous about the state of the market. And they are looking for lessons from history. "But history does not always serve us well."
While equities provide an avenue to deploy inflows, Hostplus likes real assets. Property accounted for 13% of assets and infrastructure for 12%.
"When we buy a real asset, such as an airport, we never sell it because we don't need to sell to make other investments. We have cash flow. We have Stansted and Manchester airports through IFM Investors [the global infrastructure manager]. If Gatwick or another airport was for sale, I am sure one of our infrastructure managers would look at it and we would participate.
"Airports are a monopoly asset. What we know about an airport – any airport – is that there is not another airport next to it. Monopoly assets have particular characteristics which are attractive to long-term asset owners. Concessions for airports operate in time frames of 50 years – and seaports for up to 99 years."
Through IFM Investors, Hostplus has equity stakes in Port of Brisbane in Queensland and Port Botany and Port Kembla. In addition to its share in the NSW Ports consortium, which paid A$5.2bn for Port Botany and Port Kembla, Hostplus co-invested a further A$300m in the two facilities.
Hostplus also has a stake in the Polish port of Gdansk, having acquired the equity as part of an IFM-led consortium, which bought the port for PLN5bn (€1.17bn). And Hostplus also owns Port of Melbourne with QIC, another infrastructure manager. Sicilia says: "When a ship wants to go to Sydney, Port Botany or Port Kembla, the ship's captain has a choice of going through Brisbane or Melbourne."
Sicilia warns of the need to operate monopoly assets responsibly. "You could, in theory, unreasonably increase movement price per container to increase profits.
He adds: "You need to interact with the local community, regulators and the government. You need to act responsibly and earn an ongoing licence to operate in the community."
Sicilia understands that people can get concerned about foreign ownership of critical infrastructure. "Take farmland. People are concerned when foreign investors buy Australian farmland. Do you think they want the dirt? That is not what they came to buy. They want the cabbage or potatoes. They want the produce. The land always remains in Australia.
"It is the same with any infrastructure asset. Take electricity cables. If one day, for whatever reason, the price of copper in the cables became hugely more valuable than the electricity carried, then it might make [financial] sense to melt down the cables and sell the copper. But the minute you try anything which can be seen as misbehaviour, no-one will ever sell you another asset in any country."
Sicilia sees the role of a pension fund as an allocator of capital to investment managers. "We don't do anything direct. We co-invest alongside our managers where the opportunity arises. Depending on asset class, we allocate additional capital at the company level and then leave it to our managers to manage it on our behalf."
In the past five years, Hostplus has started investing in venture capital, supporting local start-ups. "We have nearly A$1.4bn committed to venture capital, which is a large amount of money," Sicilia says. "We will continue to put more money into that space."
He describes venture capital as a long-term game. "You need to give it 10 or 15 years."
Asked how many ventures have paid off, he says: "Today, the answer is few, and that is okay because our venture programme is only five years old. We have 1.2m members of average age 34 years. They are not retiring anytime soon. They have at least a 30-year investment horizon, (so) what is a 10-year wait for venture capital to deliver?"
Sicilia says Hostplus is looking at real estate opportunities in the US. "We currently invest in real estate equity through a US manager, Invesco, and in real estate debt through Kane Anderson. Our US exposure is growing." Hostplus has about A$500m in US real estate debt investment and A$200m in US real estate equity.
In Australia, Hostplus invests in industrial real estate mainly through global property group Lendlease, and Charter Hall. Its core office and retail investments are mainly through ISPT, a real estate fund manager owned by a group of superannuation funds.
Unlike his peers, Sicilia shuns the idea of bringing investment in-house. Hostplus works with more than 60 different external fund managers.
As more super funds internalise funds management, Hostplus enjoys the benefit of lower fees because fund managers compete with each other to provide services to super funds like Hostplus that are outsourcing investment.
Hostplus' investments have performed well over the short term and the long term. The fund returned 12.5% over the year to 30 June 2018.
But Sam Sicilia remains cautious. "Of course, we could be wrong [with some of our views about markets]. We don't want to be arrogant. Some of our investment decisions could be wrong. That's why it is critically important to remain very diversified and fully invested in markets."