The government's new reforms aimed at improving Brazil's sanitation systems could provide investors with attractive and ESG-relevant returns. Rodrigo Amaral reports
Brazil has approved a new framework for investments in its water and sewage sector. The new rules underpin a push by Latin America's largest economy to upgrade its underdeveloped sanitation system – an effort that will require investments of more than 700bn reais until 2033. With the country in a dire fiscal situation, a problem worsened by COVID-19, private capital will be key to achieving Brazil's goal of improving its sanitation.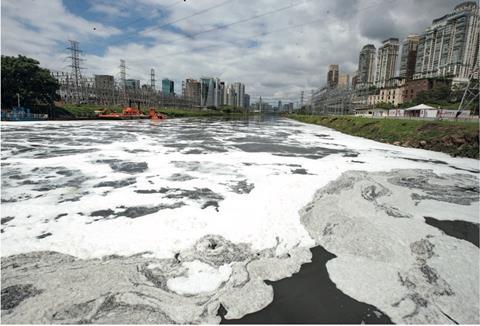 The reform thus puts one of the largest emerging markets on the radar of infrastructure investors. "Globally, the sanitation sector is expected to benefit from the huge amount of capital expenditure required to improve water assets, the desire of governments to do that, and the move of the markets towards sustainability," says Charles Hamieh, a senior portfolio manager at RARE Infrastructure.
But, as with most emerging-market infrastructure investments, investors drawn to this new opportunity should pay attention to political risks and legal security to ensure their money does not end up going down the drain. One of the new framework's main goals is to assuage such fears. Approved by Congress in June and sanctioned by president Jair Bolsonaro in July, it aims to attract large amounts of private investments by making it easier for local governments to grant concessions of water and sewage services.
In Brazil, concessions are the responsibility of municipal administrations and, until recently, were mostly granted to state-owned enterprises (SOEs) belonging to the country's 27 regional governments. Making the situation more complex, funding for sanitation investments is mostly drawn from the federal government, often tapping the resources of a special labour insurance fund called FAT, and distributed via official development banks such as BNDES.
It is a situation that Percy Soares Neto, the president of ABCON, an association of water and sewage companies, defines as a "federal salad", and which has enabled plenty of political interference in allocating investments in the course of the year.
Municipal governments are allowed to choose private companies to provide sanitation services via tenders, but it has always been politically expeditious to lean on regional SOEs. Furthermore, most Brazilian townships are small and poor, reducing the appeal to private operators. Only some of the wealthiest and best-managed cities have tendered their services to the private sector.
As a result, private companies have been kept out of the market by their SOE rivals. Soares Neto quotes estimates by ABCON, according to which only 5.2% of all services are today provided by private companies. At the same time, they were responsible for 21% of investments in water and sewage infrastructure in 2018, which illustrates the inability of SOEs to make the investments necessary to improve the sector.
Fraser Harle, an ESG investment analyst at Aberdeen Standard Investments, says: "Currently, at a consolidated level nationally, sewage treatment penetration sits at around 52%. In certain states, ANA, the regulatory agency, believes that sewage treatment penetration could be less than 10% of the population. Comparing this in an international context, this places Brazil in a lower position than Egypt which has national penetration of around 61%."
Now, however, conditions have been created to change this situation by imposing competition in the market, which should both open up opportunities for new players and force inefficient incumbents to improve their performance.
Hamieh says: "SOEs account for around 90% of Brazil's sanitation assets. The most important part of the sanitation bill is that it finally enables the privatisation of those assets. It also limits the growth of SOEs. Until now, they were able to crowd out private capital."
The new rules make some changes that have been particularly welcomed by market players. For instance, it has strengthened the regulatory role played by ANA, to the detriment of lower levels of government, which could reduce legal uncertainty linked to tenders. It also allows municipal governments to bundle their services with others in the same region, thus creating larger concessions that could be more attractive to investors. It has also established conditions for the privatisation of the dozens of SOEs that dominate the market. "SOEs in Brazil are terribly inefficient," Hamieh said. "They should be sold in the middle to long term."
It is not expected that many sanitation SOEs will be privatised in the short term. But, if the reforms indeed deliver the expected results, investors should find several other opportunities to gain exposure to Brazil's water and sewage sector. Hamieh estimates that over 100 new tenders will be launched in the sector during the next decade. BNDES, which is owned by the federal government, is working in the design of projects that could help investments to kick off.
Guilherme Albuquerque, the head of the Privatization and Project Structuring department at BNDES, says: "Our major bottleneck is a lack of projects in the pipeline. That is where BNDES is working to try and fill this gap. We are working on a 55bn reais pipeline of projects, and several of them should hit the market in the next 18 to 24 months."
The sector was already gearing up as the approval of the new law became imminent. According to ABCON, 23 tenders were launched in 2019, compared with an average of 10 in previous years. In 2020, 20 tenders were launched between January and September. The need to improve sanitation was made more urgent by COVID-19, as those who live in areas with poor sewage services have been worst affected by the pandemic.
Investors have found an enticing argument to be part of this process. BF Capital, a consultancy, estimates that current sanitation investments have RoE rates of double digits, and future ones could deliver returns of about 15% a year.
Leading by example
The conclusion of two competitive process after the approval of the bill helped to boost the perception that investors are keen on the sector.
In September, BRK Ambiental, which belongs to Canada's Brookfield group, successfully bid for a concession to provide water and sewage services to more than 1.2m people in the Alagoas state. The 2bn-reais bid gave the company the right to provide the inhabitants of state capital Maceió – of whom 42% have access to sewage treatment – with sanitation services for a period of 35 years.
In October, Aegea, which includes Singapore's sovereign fund and the IFC among its partners, offered a 38% discount on fees to earn the concession to provide sewage services at Cariacica, a 423,000 town in the Espírito Santo state, for 30 years.
The concession includes the universalisation of the service and will require investments of about 1.3bn reais, of which 580m reais will be in infrastructure building. BNDES estimates that only 48.3% of the town's population has access to sewage collection.
With a growing number of tenders such as Aegea reaching the market, analysts expect private-equity funds to be active in the sector. Investors might begin taking stakes at SPVs or acquiring shares of companies owned by private-equity groups. For instance, Iguá Investimentos, a leading water and sewage firm that belongs to IG4 Capital, a private-equity group, is expected to get listed in the near future.
Carlos Brandão, the CEO of Iguá Investimentos, says: "Several capital-market investors and financial companies have gotten in touch with us since the new framework was approved."
Harle points out that current investment opportunities exist through existing listed state-owned sanitation companies, while some other utilities, such as Equatorial Energia, a well-known electricity firm, are also keen to be involved. "A number of private players are mooting coming to the market, which again presents more potential investment opportunities in the future," Harle says.
José Guilherme Cruz de Souza, a partner at Vinci Partners, a private-equity firm which is considering getting involved, believes that water and sewage could bring opportunities that are similar to Brazil's energy-distribution sector, which has been a favoured sector for infrastructure investors since its privatisation in the early 2000s
"Opportunities in water and sewage will be available for years, well into the 2030s," he says. "Foreign investors tend to be more cautious and are likely to wait until the first experiences show whether the changes work or not. Brazilian investors want to add sanitation risk to their portfolios."
Opportunities are also likely to be found on the fixed-income side, as Brazil has just approved incentives for the issuance of green bonds linked to infrastructure projects. Iguá Investimentos, for instance, placed a 880m reais issue of sanitation-linked green bonds in July, and the deal was three times oversubscribed, according to Brandão.
In fact, Soares Neto and other market players believe that the ESG credentials, along with high rates of returns, are the main argument to be made for foreign investors. In his view, sanitations assets tick plenty of boxes in ESG models as they improve life quality for poor Brazilians, reduce pollution and create jobs at local communities. "In a moment where the financial markets are looking for ESG opportunities, we have a sector in Brazil whose very nature is ESG and requires 700bn reais in investments," he says.
But Harle warns that companies in the sector need to make more of an effort to convince investors that this is indeed the case.
"Currently disclosure by sanitation companies on ESG is sub-par when compared globally to other emerging-market utilities," he says. "At present, in Brazil we are finding more attractive opportunities within the renewable-energy sector."