'Nobody can build better', said Trump during the election. Investors will be hoping he can live up to his rhetoric, writes Christopher O'Dea
Fresh from bulldozing the Democratic Party's fabled 'blue wall' (a line of traditionally loyal blue-collar states), President Donald Trump is turning his talent for construction to another objective: the US's beleaguered network of infrastructure.
The programme proposed during Trump's election campaign aims to mobilise private capital as part of a 10-year, $1trn (€943bn) effort to repair and replace everything from airports and bridges to roads, water systems and public buildings. During the campaign, Trump referred to the current state of US infrastructure as "third world".
That description, though characteristically strident, sparked agreement across an otherwise divided US polity. Republicans and Democrats concurred that the nation's infrastructure was in dire straits and that a major investment programme – preferably one that created a substantial number of jobs – should be an urgent priority for the incoming administration.
Despite the inevitable naysaying among Trump opponents and Republican fiscal hawks, the infrastructure investment community is anticipating the advent of a major US public works programme to get under way in Trump's tenure. While the final scope of the programme will only emerge after bipartisan negotiations, the initiative will roll out against a global monetary and fiscal backdrop that is expected to make private investment in US infrastructure popular for years to come.
"The Trump transition team seems to be moving fast to put a team in place to address this," says Chris Beale, founder and CEO of Alinda Capital Partners, the largest infrastructure manager of US pension capital, with $10bn invested in transport, midstream energy and telecommunications assets. "The incoming administration is serious about job creation, and one of the ways to do that is infrastructure investment."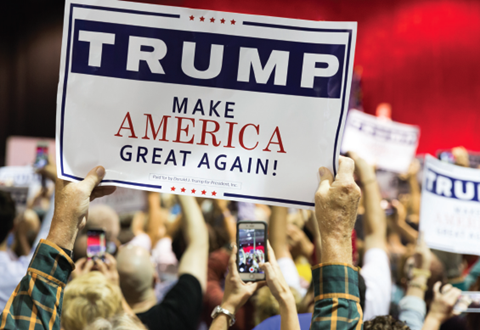 Plenty of capital will be required. In its latest assessment of the condition and performance of US infrastructure in 2013, the American Society of Civil Engineers (ASCE) gave the country a D-grade. This was based on the $3.6trn needed by 2020 to redress the poor physical condition of US assets. But based on likely capital spending levels, ASCE warned of a $1.6trn shortfall.
Beale sees the need for private capital. "US infrastructure is extensive, but it's ageing," he says. "Sections of it are in great need of repair and there's been a lot of underfunding." With many state and local government budgets under pressure, he expects that a "high proportion of the $1trn that has been talked about will be private-sector money". He says: "The administration is working on various ideas to incentivise and mobilise private capital to supplement the public money that will be injected."
But attracting private capital could be a tall order. US infrastructure is predominantly owned by governments and public agencies – as in the case of roads, bridges, airports, water systems and port facilities – or heavily regulated as in the case of waterways and railroads. Most capital is provided from government tax revenues and the proceeds of bonds on which the interest payments are exempt from taxation. Bond programmes such as the 2009 Build America have been used for limited periods, but those also rely on subsidies delivered through the tax system. This limits the scope for direct private investment.
Many of the companies that would benefit from spending on road and bridge repairs are listed companies in materials markets, industrial supplies, machinery and construction.
According to analysis by Cohen & Steers, an investment manager that specialises in listed real-asset markets, Trump's rhetoric has mostly referred to "direct government spending on infrastructure", but the President's programme should be "a long-term positive for the private sector". The report says private capital "will be essential as government balance sheets are stretched, which may lead to increased private-sector ownership and operation of critical infrastructure assets". Renewable energy and midstream energy assets, Cohen & Steers says, are the sub-sectors most likely to benefit.
The centrepiece of Trump's plan is an 82% tax credit for private equity capital invested in infrastructure. Critics such as Alan Blinder and Alan Krueger, economics professors at Princeton University, argue that the plan would do more to reward private-equity investors than to build infrastructure. They argue that in a $3bn public-private partnership, private-equity investors could end up controlling an asset having only provided $90m of funding – the vast majority would come from tax-exempt municipal bonds ($2.5bn) and federal tax credits ($410m). Blinder and Krueger favour Build America Bonds, in which municipalities issue taxable debt and receive a 35% subsidy from the federal government to defray debt costs.
Private capital, public conscious
By emphasising private capital, Trump has reframed the infrastructure policy debate in the US. The new direction comes at a time of fundamental changes in the fiscal and monetary backdrop. "A confluence of events makes this interesting," says Anton Pil, managing partner of JP Morgan Global Alternatives, which includes the bank's $15bn infrastructure investment management business. "In an environment where central-bank policy starts shifting away from easy money, and we start supporting economic growth more through fiscal policy, generally that's good news for infrastructure," he says. "Having an asset class with a fairly stable form of income or yield, which oftentimes is inflation protected, all of a sudden becomes very popular."
Pil expects the boundaries of the asset class to stretch. "Infrastructure is still, to some degree, in its infancy in the United States, from an asset-class perspective," he says. "People tend to pay for municipal essential service financing and that's what they call infrastructure. It is potentially much broader than that."
"It would make complete sense to privatise the airports. I think it would be very well understood from a social acceptance perspective"
Sam Pollock
Pension funds are keen to access what is a growing market. "We've been getting plenty of calls from clients outside of the US who are interested in investing in US infrastructure," Pil says. "They are looking for a stable source of dollar income, and if it's illiquid, that's fine as long as it is an infrastructure-like asset."
Since most US infrastructure is funded publicly, Americans often object to private ownership on the grounds that it means paying for the asset twice. It raises a question about bringing private capital to bear on the market: where do you start?
Some investors have suggestions. "It would make complete sense to privatise the airports," says Sam Pollock, who heads Brookfield Asset Management's infrastructure group. "I think it would be very well understood from a social acceptance perspective. Most of the economic costs would get paid by the airlines, and operators can generate significant revenue through the shopping centres inside the airports."
Within the US, Brookfield owns electricity transmission assets in Texas, container terminals at ports in California, one of the largest natural gas transmission pipelines in the country, and renewable hydro-electric power plants and wind farms. It is expanding its district energy business, which supplies refrigerated water or steam to office buildings and hospitals.
Water is also a focus for Brookfield. The firm acquired a builder of desalination plants and plans to construct a new plant in Huntington Beach, California. Pollock says: "In the water sector, we think there are opportunities to find solutions to create more sources of water – particularly in California and other parts of the States where – [due to] agriculture and other reasons such as droughts, weather or climate change – the amount of water available is less than it used to be."
It can be a long wait before getting the green light for projects, as it often involves state and local government. So even if Trump increases federal financial support, local approvals will be essential. Investors are focused on the issue. "The key, from an investment standpoint, is making sure you have access to shovel-ready projects," says Pil.
A federal initiative would help overcome fiscal constraints. "Municipal budgets are already strained," says Marietta Moshiashvili, managing director and group head of energy and infrastructure at TIAA Global Asset Management. Moshiashvili expects the new federal efforts will spur creation of more public-private partnerships to address the "dire need" for infrastructure finance in the US. "We're looking to add to our investment in PPPs, and the transportation sector is a focus," she says.
But Trump's team appears to be eager to accelerate the process, according to Moshiashvili, as well as to consider a variety of approaches to attract private capital. These include investment tax credits and an infrastructure bank. "Initiatives to facilitate the public-private partnership process at the state level will continue to progress," she says.
As infrastructure investors wait for more clarity, one campaign claim will continue to ring in their ears: "Nobody can build better than I can."
US Infrastructure: Can Trump make infrastructure great again?
1

Currently reading

US Infrastructure: Can Trump make infrastructure great again?

2

3

4