As air travel grows, airports are on the radar of investors. But Christoper O'Dea finds that keeping investments on track can be difficult
Anyone who has recently run the gauntlet of duty-free shops that line the halls of airports knows that making it to the gate without suffering a financial loss is no mean feat. Institutional investors looking for a way to participate in the growth of air passenger and cargo carriage face similar trials.
Growth in air travel has been relentless, fuelling development of retail, hospitality, and local transportation and logistics services. It presents a series of opportunities for investors, especially where aviation authorities need financial partners to offset public infrastructure budgets.
But institutional investors should recognise that aviation finance is a technically challenging business. While the recent history of airport finance shows a clear trend towards the employment of more private capital, the flight path has experienced turbulence. Airports are far-flung operations, and the headline revenues that look destined to grow in line with GDP can be dampened by local regulatory, political, social and environmental issues.
Reflecting the growing demand for long-term, income-producing infrastructure assets, airports in developed markets, where air travel continues to grow, command premium prices. Investing in airport infrastructure can be as risky as the early days of air travel, with recent issues in India about airport concession pricing, aviation fuel taxes and safety highlighting the added risks of investing in emerging markets.
About 500 commercial airports worldwide have some form of private-sector participation in their management or ownership today, and those that are in wholly private ownership constitute about 15% of the total, according to the 2015 report on global financing activity in the aviation sector from CAPA Center for Aviation, a market analysis and data service.
In general, bigger airports are presenting more opportunities for airport investment. "The bigger the airport, the higher the propensity towards privatisation," CAPA says. Of the top 100 airports as measured by revenue, 40 are either fully or partially owned or controlled by investors or are in the process of becoming so, according to the report.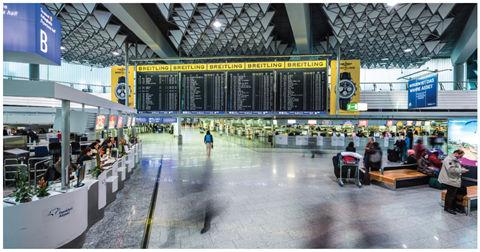 Scale also leads to better operating performance. According to the report, total 2014 revenues for these 40 airport companies was $40.9bn (€36.4bn), or 50.5% of the revenue of the entire top 100 airport groups. The large airports "have greater profitability, and about two dozen of these airport companies are listed on stock exchanges around the world".
While listed airport operators offer an immediate path to invest in the sector, there is ample room for private capital as public authorities seek financing for expansion and improvements. "The number of airports privatised around the world still remains on the low side, with around 70% still entirely in public ownership," the CAPA report says. But it won't be a smooth ride. "The number of privatisation deals has shown elements of cyclicality, peaking and troughing several times during the last couple of decades," the report says, "often influenced by world events outside the industry's control that restrict access to capital."
The trend towards larger airport companies is illustrated by Fraport AG Frankfurt Airport Services Worldwide. The listed German transport company operates Frankfurt Airport in Frankfurt am Main. Fraport operates four business segments, core aviation, which holds interests in the operation of several other airports around the world, a retail and real estate division, ground handling and external services. Fraport this year will undertake a new terminal 3 at its global hub in Frankfurt, which is estimated to require investment of €2.5bn to €3bn.
"Terminal 3 will be one of Germany's largest infrastructure projects," says Fraport CFO Matthias Zieschang, adding that the company has developed an innovative approach to terminal mega-projects. Instead of a single general contractor for the entire terminal construction, Fraport will award multiple contracts for specific tasks. The company pioneered the method on the new Pier A-Plus at Frankfurt's terminal 1, which was completed on time and to budget in 2012.
It is critical for airport companies to control construction costs. While expansion is necessary, the required capital outlays expose investors to cost overruns, negative impact on cash flow, and could end up reducing returns if the capital spending is to add facilities that fall under rate regulations. Goldman Sachs notes that Aeroports de Paris (ADP) will face those issues when a new capital spending programme starts in 2016, a time when airports stocks historically underperform.
At the same time, ADP has a stronger market position and more retail revenue than Fraport, justifying a better relative outlook for ADP, until its stock appreciates due to investor interest in its financial performance. A recent Goldman Sachs research note said ADP has become an overvalued bond proxy with regulatory risk stemming from ongoing negotiation of new airport tariffs in an environment where other major airports, including Schipol and Heathrow, had reduced tariff rates. "ADP has re-rated significantly over the past two years," the note said, "in line with other secure-yield proxies. As a result, the stock now trades at or above historical peak levels."
Last year, Goldman Sachs reduced Fraport's outlook from buy to neutral after it won a 40-year concession to run 14 regional airports in Greece. Goldman said the deal would dilute earnings per share and was done at a multiple of 27x 2016 estimated earnings, significantly above Fraport's 8.8x 2016 earnings valuation. The project may not be positive on a net present value basis depending on the risk premium applied to the deal, the note said. While expecting robust organic free cash-flow generation until terminal 3 capex ramps up in 2017, Goldman said the Greek transaction would reduce Fraport's equity upside by deploying capital to an asset with a premium valuation compared to the company's core Frankfurt asset.
Such core assets are attracting strong interest from major pension investors in infrastructure. Last year, Airports Group Europe, an indirect subsidiary of IFM Global Infrastructure Fund, took a 29.9% stake in Flughafen Wien through a tender offer for ordinary shares. The final price represented a premium of more than 30% over Flughafen Wien's closing price when the deal was announced – still, analysts said the price was just 8.3x 2016 EBITDA, in line with the sector average of 8.9x at the time.
Melbourne-based IFM Investors began investing in airports 17 years ago and has invested in 13 other airports, including five in Australia, as well as Manchester Airports Group, the UK's second-largest airport company, which bought London Stansted in 2013. The investor has said it is looking at other airport assets globally since the private-market companies can balance investments in regulated infrastructure sectors such as energy.
The search for airport assets could be slow outside Europe. Many Asian countries and India present an added layer of emerging-market risk – such as exposure to potentially sudden changes in regulatory and tax regimes. In April, Fraport, the foreign partner in Delhi International Airport (DIAL) challenged the 78% reduction in airport usage charges proposed by airport regulator Airports Economic Regulatory Authority of India (AERA) for the second five-year segment of a public-private partnership launched in 2006. Fraport, which holds 10% stake in DIAL, said India's country risk profile and airport sector-specific risk was high compared with other markets. "As a result, any proposed cost of equity needs to reflect these elevated risk profiles in order to attract investment," the company said. Unless the concession agreement is honoured, Fraport said, "investors in airport and other large-scale infrastructure projects may be deterred from putting their money into India".
"While expansion is necessary, the required capital outlays expose investors to cost over-runs, negative impact on cash flow, and could end up reducing returns if the capital spending is to add facilities that fall under rate regulations"

Airport opportunities are limited in the US and Canada, where most airports are publicly-controlled. "There's a real shortage of opportunities to invest in airports in North America," says Todd Bright, managing director and head of private infrastructure for the Americas at Partners Group. The firm recently invested in the passenger terminal of Billy Bishop Toronto City Airport alongside two local partners and other investors. Billy Bishop is not a typical regional airport, Bright says. "It's a uniquely positioned asset." Now the third-largest city in the US and Canada, Toronto is growing as an international financial centre, and 60% of Billy Bishop's passenger traffic is derived from business travellers who prefer the location near the central business district.
Partners Group invested as part of Nieuport Aviation, a consortium including InstarAGF Asset Management, Kilmer Van Nostrand, a vehicle of Canada's Tanenbaum property-investment family, and institutional investors advised by JP Morgan Asset Management. "We felt it was important to be linked up with strong local partners," Bright says
InstarAGF, an alternative asset management firm launched in 2014, contributed approximately $105m of capital to acquire the terminal, which will be a cornerstone investment in InstarAGF's Essential Infrastructure Fund. The fund is expected to achieve its first close in the first half of 2015. The total price was not disclosed, but aviation industry media estimated the value at more than $630m.
The group purchased the passenger terminal, a state-of-the-art facility completed in 2010 by a subsidiary of Porter Aviation, the main airline at the airport. The rest of the airport will be managed by PortsToronto.
Partners Group "focuses on assets that have some sort of value creation opportunity", Bright says. For Billy Bishop, the next development is easier access for passengers – an 800ft pedestrian tunnel under Lake Ontario that will provide a six-minute trip from downtown to the airport on wind and hydro-powered moving sidewalks. "It's the latest transformative change to the infrastructure," says Bright.