Ground freight, transportation, highways and roads represent 25% of the global listed infrastructure market. Fraser Hughes reports
The McKinsey Institute estimates that $60trn (€56trn) is required to fill global infrastructure investment needs in the next 15 years. Transportation is estimated to take up roughly one-third of this total. To get close to this figure will require a tremendous effort from governments and investors.
In the US, chronic under-investment over recent decades has left US infrastructure in poor shape. Federal investment in infrastructure has dropped by 50% over the past three decades. The American Society of Civil Engineers estimated in 2013 that more than $3trn was required through 2020, with 50% of that sum needed for roads, bridges and transit, and 25% for electricity and power grids. The funding gap is close to $1trn for roads, bridges and transit.
In the Global Listed Infrastructure Organisation's (GLIO) coverage, ground freight, ground transportation services and highways and roads fall under the broader transportation umbrella and represent just under 25% of the global listed infrastructure free float (table 1). These sub-sectors connect airports, seaports, manufacturers and cities and form the arteries of global economic activity.
Ted Brooks, portfolio manager at CenterSquare, states the importance of these assets: "Transportation, within the context of global infrastructure, is a key allocation due to its unique mix of defensive and cyclical attributes, its exposure to secular developing market themes – for example, urbanisation and the emergence of the middle class – and its proximity to opportunities arising from a growing awareness of infrastructure investment needs in the developed world."
Ground freight
The large North American railroad companies, are heavily represented in table 2. Combined, these companies own approximately 115,000 miles of railroad track stretching like a spider's web across North America. A railroad's competitive advantage is inseparable from its track location. At an operational level, they carry an immense range of industrial goods including automotive, coal, energy, ethanol, fertiliser, food products, forest products, grain, industrial products, intermodal containers, sulphur, truck trailers and energy components. It is estimated that railroads are 1.9 to 5.5 times more fuel-efficient than trucks, depending on the commodity and distance of the haul.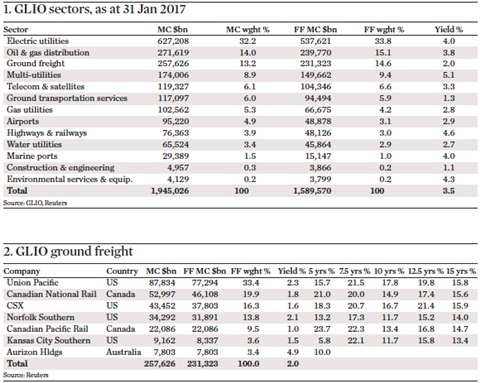 Because of the need to upgrade and maintain current assets, these companies must invest in maintaining, upgrading and expanding their portfolios. For example, Union Pacific invested $4.3bn in 2015 to harden infrastructure and improve the safety and resiliency of its network and service facilities. The sector, at an aggregate level, has recorded an impressive performance over the long term, returning 15-16% on an annualised basis. Ground freight companies are more susceptible to the economic environment and market conditions compared with the broader global infrastructure market. Research & Markets forecast that the rail freight transportation market in North America will grow at a compound annual rate of 5.57% during 2017-21.
Ground transportation services
As table 3 shows, the ground transportation sector is dominated by the large Japanese passenger train companies. The four of them represent approximately US$90bn of free-float market capitalisation. These companies serve over 250bn passenger kilometres in Japan, which is more than the UK (60bn), Germany (80bn), France (85bn) and the US (10bn) combined.
In addition to rail fare revenue, these companies will derive revenues (between 5-15% of total) from commercial real estate, retail activities and hotels. The total return performance of this sector has been steady over the long term, returning on average 6.5% on an annualised basis.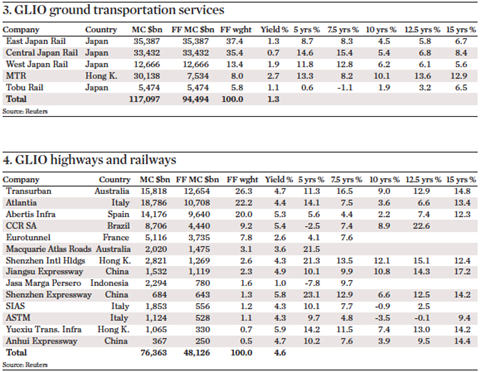 Highways and railways
These companies own and operate toll-roads, bridges, tunnels and railway tracks. Between them they operate over 27,500km of assets in 19 countries. Companies such as Atlantia, Abertis, Macquarie Atlas, SIAS, ASTM and CCR operate broad network concessions for toll-roads and tunnels in France, Spain, Italy and South America.
Thomas van der Meij of Kempen & Co says: "The European toll-road operators are focused on France, Italy and Spain. Although the operational performance varied per region, all were affected by the economic downturn and have recovered since 2012-13.
"We expect growth – driven by operational improvement and capex plans – to continue as most leading indicators continue to improve. For external growth, we believe the operators active in the whole value chain – including construction – hold an advantage in being able to redeploy capital in valued-added projects, thus avoiding the competition for brownfield assets, as prices in the private market have been pushed hard. The value of the concessions has been positively impacted by the bond yield compression."
In Asia, the listed companies own shorter stretches of the network, and are focused on the key roads in and around major cities in the region, like Shenzhen, the Guangdong province and Jakarta.
In table 4, Transurban is the largest company globally, and a proven leader in the field with over 20 years' experience. The company's mid-to-long-term annualised total returns are outstanding. It owns and operates a total of 250km of strategically significant roads, tunnels and bridges in Sydney, Melbourne and Brisbane, and has about $7bn of local projects in its pipeline. Transurban also runs two major express ways in the Greater Washington Area, which account for about 10% of its toll revenue.
With the $1.5bn required for US roads, bridges and transit in mind, Transurban could be poised to capitalise on its presence in the US, if President Donald Trump delivers on his promised $1trn infrastructure spending plan. But, of course, this will not happen overnight.
Scott Charlton, Transurban CEO, says: "The Trump administration could advance their infrastructure programme more rapidly through capital recycling, that has been successful in other jurisdictions, or by prioritising nationally significant projects."
Brad Frishberg, head of global listed infrastructure at Macquarie Investment Management, says: "The fundamentally attractive characteristics of these assets – notably, that they provide essential services to an economy – often have formulaic inflation-linked pricing constructs, and offer key barriers to entry. Together, these characteristics may lead to attractive returns on invested capital and cash flow. These assets should be considered as part of a globally diversified GLI portfolio."
Three words define the future of transportation: efficient, safe and sustainable. Future transport networks need to support the economic growth and well-being of our cities. Companies need to consider working with contractors to establish sustainability plans and set targets around resource management, energy use, and local purchasing and hiring. Governments need to think hard about offering innovation grants for projects that address transport and infrastructure challenges.
A number of companies such as CSX, Transurban, Abertis, and Atlantia are quoted in the major sustainability indices. In 2015, transportation and transportation infrastructure ranked second in terms of most improved industries in the Dow Jones World Sustainability ranking. Transurban has been listed on the Dow Jones Sustainability Index Asia Pacific index for the past six years and more recently was included in the Dow Jones World Sustainability index. The company is also included in the FTSE4Good Index, and the Australian Council of Superannuation Investors also rated their sustainability performance and governance as leading for the ninth consecutive year.
Henry Byrne, general manager, investor relations and corporate affairs at Transurban, said the company "understands the importance of our responsibility to the communities we operate in, and the increasing ESG requirements of our investors".
He adds: "Inclusion in the major global sustainability indices reflects our focus in this area."
Nascent technologies will ultimately enable higher fluidity of transportation networks and will require addition capital investment. Electric, connected and autonomous vehicles are among the many transport innovations poised to enter the mainstream in the coming decade, all of which will fundamentally change the way people and goods are transported. This new wave of transport technology promises opportunities for more efficient and safer mobility, significant reductions in greenhouse gas emissions, and large-scale transport service integration. Significantly, it will also raise questions about how we fund transport in the future.
Institutional investment will be essential to meet infrastructure investment needs, and listed and private markets will have a key role to play. According to the 2017 Preqin Global Infrastructure Report, 53% of institutional investors plan to increase their infrastructure allocation over the long term. The report also indicates that the top two challenges facing private capital fund managers are valuations and deal flow.
As at December 2016, total dry powder held by unlisted funds was US$137bn, indicating the challenges to deploy capital effectively. Total unlisted AUM, including dry powder, stood at US$373bn as at June 2016.
The US$2trn listed markets are ideally positioned in terms of size, liquidity, transparency, and ownership of quality core infrastructure assets, to offer investors the opportunity to blend both private and listed in a broader infrastructure allocation.
Fraser Hughes is CEO of Global Listed Infrastructure Organsiation
Transport infrastructure: Structure your journey
1

2

3

Currently reading

Transport infrastructure: Making the connection