Top 50 infrastructure investment managers
For the first time, IPE Real Estate provides a snapshot of the assets under management of the world's largest infrastructure investment managers, writes Richard Lowe
Infrastructure is a growing and maturing institutional asset class, and the fund management industry serving it is getting bigger. IPE Real Estate's debut top 50 infrastructure investment manager ranking shows the biggest players in the market.
The top two, Macquarie Infrastructure & Real Assets and Brookfield Asset Management are by far the largest, with Global Infrastructure Partners and IFM Investors not far behind. The top 10 managers each manage more than $10bn (€8.9bn) in infrastructure assets.
What is most striking is the diversity of the organisations that make up the top 10. The majority are headquartered in either Australia or North America, but their histories, organisational make-up and ownerships vary widely.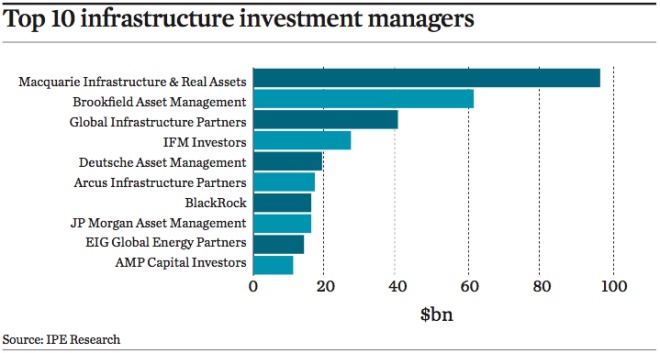 For instance, the list is topped by Australia's biggest investment bank, a company that can probably claim to have invented the asset class. Macquarie is followed by a listed Canadian company, Brookfield, whose history includes the management of Brazilian infrastructure in the 19th century.
In contrast, the third-largest, Global Infrastructure Partners, is an independent fund management business that was established in New York just over a decade ago.
The remainder of the top 10 include a fund manager owned by Australian  superannuation schemes (IFM Investors), Germany's biggest investment bank (Deutsche Bank), European specialist set up in 2009 (Arcus), and the world's biggest investment manager (BlackRock).
Next year, this list is likely to change, buoyed by a healthy capital-raising market and subject to new entrants. Blackstone has ambitions to move into the space in a big way. If it manages to create a $40bn infrastructure business in the near term, as it says it wants to (see page 30), it will soon come knocking on the top 10.