Top 50 infrastructure investment managers 2018
The infrastructure fund management industry is growing. Christopher O'Dea talks to the three largest players
The 50 largest infrastructure investment managers, as estimated by IPE Real Assets, shows a diverse universe of players. The rankings were based on IPE Research survey data and publicly available information, predominantly in the form of annual reports. Where accurate numbers were unavailable, estimates have been made.
The list is topped by Macquarie Infrastructure & Real Assets and Brookfield, the two largest equity infrastructure managers, and M&G, the largest manager of infrastructure debt.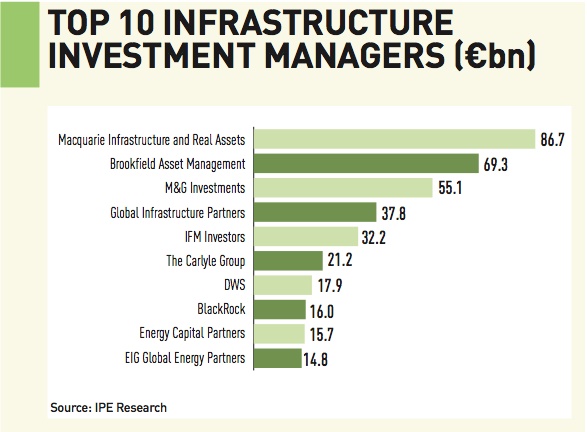 1. Macquarie Infrastructure and Real Assets
A happy coincidence
The business that evolved into Macquarie Infrastructure and Real Assets (MIRA) started as a happy coincidence, says Martin Stanley, global head of the business. The creation of superannuation funds, to which all Australians were required to contribute, created new pools of capital with a long-term horizon at just the time Australian governments began to privatise infrastructure assets.
"Macquarie recognised that if it could put itself between the capital being accumulated in superannuation pots and the privatisations, you could match the long-dated assets with the long-dated capital," says Stanley. "That was how the infrastructure funds management model began."
Building MIRA into the €92bn global business it is today involved more shoe leather than luck. Stanley joined Macquarie in London 15 years ago and began to tour the UK and European institutional capital circuit. "Having launched several infrastructure funds in other parts of the world, we decided it would be a good idea to try to raise an infrastructure fund in Europe," he says.
In the days before Brookfield Asset Management, Global Infrastructure Partners and other major fund managers entered the business, there was one key challenge. "It was really only us out on the road, trying to persuade people to invest in a niche asset class they'd never heard of," says Stanley.
Today, infrastructure has become a staple allocation for many institutions, which can access the long-dated income streams from critical assets through public or private vehicles pursuing strategies differentiated by geography, risk level, sector and other factors.
Reflecting its original approach in Australia, Macquarie's strategy is to offer funds that target specific regions, managed by local teams. The model is resource-intensive, with more than 500 people in 24 offices worldwide.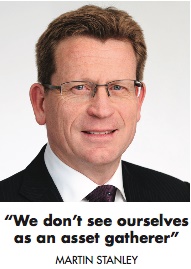 "We put expertise on the ground," says Stanley, who hails from the power generation and utility sector.
"The two key risks you're taking in infrastructure assets are sovereign risk and regulatory risk. So making sure you've got people that understand the countries in which they operate is very important – people who live there, have grown up there, and are part of the institutional framework."
The model has implications for the size of Macquarie's funds, as well as the risk profiles of its strategies. Although ranked as the largest infrastructure asset manager, "we don't see ourselves as an asset gatherer", Stanley says. "We try to size the fund to the strategy, in terms of the assets that we're targeting and where the deal flow is for those assets." 
Not that MIRA is letting the current demand for infrastructure pass it by. The firm has raised about AUD26bn (€16.7bn) in the past two years. "We've raised a significant amount of capital," says Stanley, "but we've raised it in regional strategies of several billion dollars. So we're coming back to the market more frequently than others."
Deploying smaller pools of capital in specific markets leads Macquarie's funds to invest mainly in core and core-plus assets. "We tend to have a lot of exposure to utilities, and a lot of exposure to lower-risk assets," Stanley says. "We tend to focus on the downside. Protecting capital. That's the first priority. Making sure you get your money back. The second priority is making sure you achieve the return, and then third is outperformance."
The approach stands out in a sector where managers are able to raise well over $10bn (€8.6bn) for a single fund with a global mandate. "Our client base is more focused on investing in some of the longer-dated assets, so you'll see us investing in regulated utilities such as Puget Sound Energy in North America, or Thames Water in the UK."
The range of infrastructure strategies available to institutional investors today reflects how far the sector has come, Stanley says. "If someone's got a mandate, they don't want to just see one player," he adds. "The market is so much bigger today as a result of the competition that we've seen," he explains. "When we turn up for a pitch, investors have a choice, and that makes us all focus on the customer."
Competition is set to continue, and Macquarie is moving to attract investors that prefer global mandates – the company has developed a global umbrella vehicle allowing investors to allocate to a single fund that invests as a limited partner in its regional funds.
"That's resonating with investors, and has allowed us to attract capital from people that otherwise wouldn't have come to us," Stanley says. "The market is growing. There's enough room for everyone."
 2. Brookfield Asset Management
Global search for value
The key to managing one of the world's largest infrastructure investment businesses is striking a balance – between selling assets to realise value and making new investments at prices that will earn an attractive return.
To strike that balance, Brookfield Infrastructure Group employs what it calls a "full-cycle investment strategy", acquiring high-quality core infrastructure assets at attractive valuations in proprietary transactions, de-risking acquired businesses to enhance cash flow, and opportunistically selling assets that achieve strong valuations.
With most economies around the world growing, inflation largely benign and interest-rate increases modest, most assets "are operating in a positive environment", says Sam Pollock, senior managing partner in charge of Brookfield Infrastructure Group. "That makes for a great environment to sell assets." 
He adds: "The other side of the coin is that it's a bit more challenging to make new investments. Some investors are less return-sensitive than ourselves. And for investors like ourselves who are value-oriented, that drives us to focus on our strengths: we're global; we invest across a diverse set of industries; we have deep operating expertise; and we tend to focus on larger transactions, which minimises competition."
Brookfield also takes a contrarian approach when seeking value. "A year ago we were fortunate enough to complete a number of transactions in Brazil, which was among the few value markets," Pollock says. Brookfield invested over $6bn to acquire several high-quality gas and electricity transmission assets in Brazil against little competition. "The macro environment has been improving in Brazil and some parts of South America, particularly with the rise of commodity prices, inflation being tamed and interest rates coming down. We believed it would turn positive."
There is a significant need for capital in the US energy sector as the country becomes a net exporter of energy. Although competition to deploy capital by both financial and strategic investors has often driven returns to levels "we viewed as unattractive", Brookfield sees opportunity in the recent decline in listed energy infrastructure companies with weaker financial records. "The macro environment for energy in North America is good," Pollock explains. "There's a lot of investment going on, and with rising volumes both on the liquids and the gas side more capital will be needed." Of interest are liquid terminals and pipelines serving major population centres.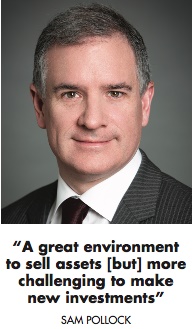 The US energy sector currently reflects increasing caution about publicly-listed assets. "We still see a fair amount of capital on the private side going into energy and midstream assets, so I wouldn't say that has dried up, but the public markets clearly have become more selective about which businesses they're prepared to support," Pollock says.
While each sector has its own risk-reward dynamics, two risks affect most infrastructure markets, Pollock says. Seeking to ensure that all customers can afford energy, water and other critical services, regulators in most jurisdictions carefully monitor tariffs. But technology also poses a big challenge to infrastructure investors.
"Changes in technology can have a big impact on residual values," Pollock says, "and the pace of change in technology in most sectors is astonishing." Brookfield's main objective is to ensure the cash flow assumptions for assets in the portfolio could be sustained as technology evolves. To support that effort, Brookfield established a group to monitor technology development in areas such as electric vehicles, artificial intelligence, and distributed generation. 
Where there is risk, there is often opportunity. Brookfield's technology risk-management effort has translated into new investments in digital infrastructure. Data is now the fastest-growing commodity, Pollock says, and most countries want critical data to reside within their own systems, fuelling demand for fibre-optic networks, data centres, and digital communication towers. "Initially this was about risk management, ensuring that nothing we owned was at risk of losing value in the long run as technology changed," Pollock says."But in areas like data infrastructure, we're learning about new technologies and potential demand for new systems so the research does trickle into new investments."
Brookfield has exposure to data infrastructure within a business it owns in France, and has been evaluating opportunities to invest in stand-alone data-centre businesses in several jurisdictions in North America, Australia, India and Brazil. "We believe there are significant opportunities in those markets," he says. "Whereas previously information might have been housed outside a country, governments are increasingly seeking to store data locally." 
This is likely to create significant greenfield opportunity in data infrastructure, on top of the need for capital for water systems and municipal infrastructure. That new supply will be a welcome development for infrastructure investors. "There is always some area of the business that's improving," Pollock says.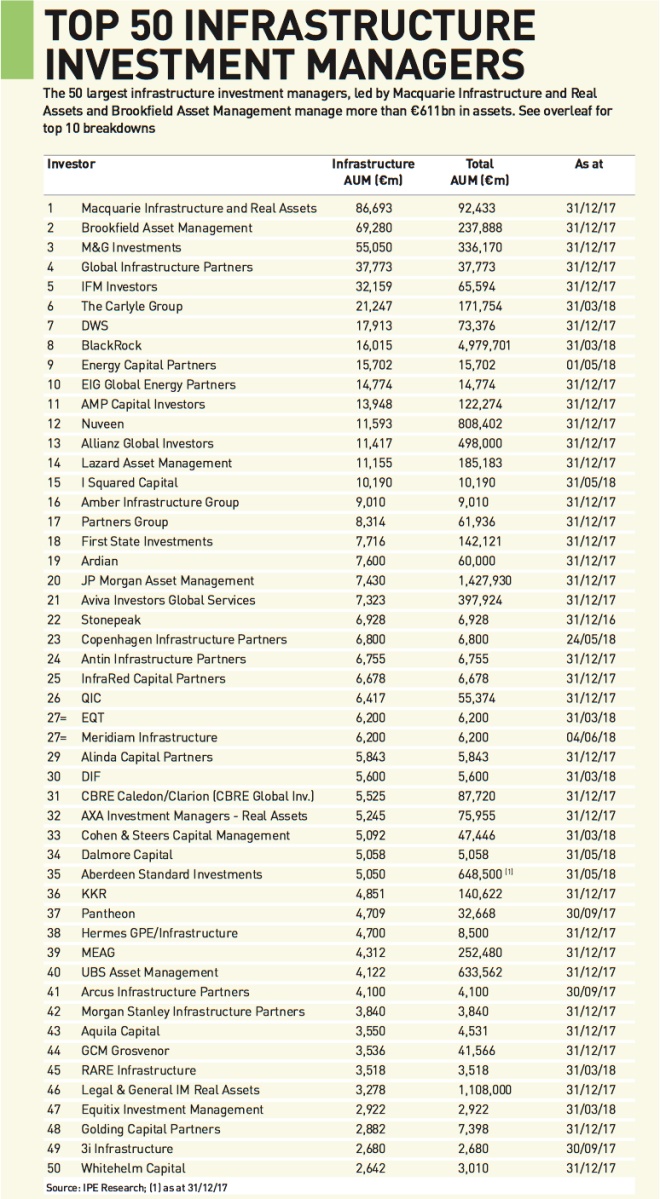 3. M&G Investments
The multi-asset financer 
A long-term perspective can be handy for infrastructure investors. Built to provide essential services for decades, infrastructure assets require long-term financing. In return, investors are typically willing to accept modest but predictable, inflation-linked cash flows.
So it helps to have a clear understanding of how the operating business will generate the anticipated cash flows, whether from a water system, a road or a power plant, as well as the context to evaluate potential investments in light of prevailing market conditions and the historical record for such assets.
The infrastructure finance teams at M&G bring just that sort of blend, combining in-depth analysis of individual assets with the asset-class and sector perspective that comes from decades in the business. 
M&G now stewards assets totalling €55.5bn, most of which is managed by the debt finance team (€50.8bn) – the balance (€4.2bn) is managed by its infrastructure equity arm of M&G Prudential, Infracapital.
Infracapital last month closed its latest and largest fund, Infracapital Partners III, with commitments equivalent to £1.85bn (€2.1bn), just over the £1.5bn target. The fund will invest in and manage assets across Europe, predominantly in the transport, utilities, renewable energy and telecoms sectors. 
Fund III followed the £1.25bn close in November of Infracapital's inaugural greenfield strategy, Infracapital Greenfield Partners I, which has a late development/construction-phase investment focus.
The roots of the M&G debt business are in classic civil infrastructure such as transportation, utility and social assets with very long lives. "At the outset, we invested primarily for our parent, Prudential Plc," says John Mayhew, head of infrastructure debt finance at M&G Investments. Prudential made its first investment in infrastructure in 1930. 
Today the team invests for the parent but also for a variety of third-party clients. The original debt investment approach was "very much focused on long-term assets to match long-term liabilities", Mayhew says. "Steady, stable, often inflation-linked, certainly investment-grade type assets, which could support classic, long-dated, fixed-rate transactions for pension funds and insurance companies."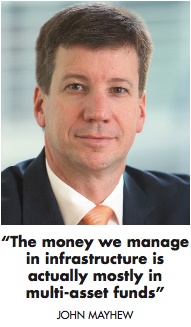 Today there are more opportunities. "We have the ability to look up and down the capital stack at different transactions, and we can also do things up and down the ratings scale and along the maturity schedule," Mayhew says. 
Last year the team committed capital to transactions with maturities ranging from two years to 45 years, with credit ratings ranging from double-A to single-B.
Infrastructure debt finance is ultimately about lending against cash flows, and M&G fields one of the largest credit analysis teams in Europe. 
"We often pull together teams from different backgrounds to get the right individuals on a transaction," says Mayhew. "That gives us an ability to do complex deals, and to do deals in size, which can be a differentiator."
Another differentiator is that most of the capital deployed to infrastructure debt is allocated from multi-asset funds rather than debt vehicles targeting only infrastructure assets. "Until the recent launch of a specific strategy focused on floating-rate debt given specific value there was not a fund dedicated to infra debt," he says. "The money we manage in infrastructure is mostly in multi-asset funds that can invest in other asset classes, as well."
That flexibility can be a benefit in today's market conditions. The large amounts of capital seeking infrastructure has pushed asset prices to lofty levels. The rationale of the multi-asset approach is simple, says Mayhew. When potential returns from infrastructure are challenged by rising prices of in-demand assets, "is it right to deploy investors into it?" He says: "Not if you can get higher spreads elsewhere. That's where we look at it from a broader perspective. The variety of things we can look at, given the platform, gives us scope to look for opportunities for different types of funds. We're not going to take all investors into all of those deals, but different investors have different types of risk-reward appetite."
As capital targeting infrastructure has increased, some investment managers have widened their nets. "Over the last six months, the definition of infrastructure has continued to expand," Mayhew says. 
The message to investors is: "It's important to maintain your discipline about what is really infrastructure, in order to benefit from the structures that we've put around the transactions and the pricing and leverage that comes with infrastructure versus other businesses that may be good cash-flow lending businesses, but don't have the essentiality or the underlying characteristics of infrastructure."
So while the infrastructure debt remains popular with investors, caution is warranted. 
Mayhew says: "Base leverage is moving higher and covenants are becoming looser. For much of last year people were maintaining discipline on leverage and price. This year leverage is turning higher and the structures are becoming a bit looser, so again, there's a need to maintain discipline."
But even as dedicated debt funds push up the price of the most stable assets, new types of infrastructure are emerging. Infracapital has been investing in fibre networks, which Infracapital co-founder Ed Clarke says are becoming a utility on par with water or power. 
In November it made the initial investment in a fibre network from the Digital Infrastructure Investment Fund, a platform launched by Infracapital and specialist digital banker Cameron Barney to invest in full-fibre broadband infrastructure in the UK, with supporting funds from the UK Treasury. 
"We effectively see fibre networks as infrastructure assets similar to water, gas, and electricity networks," says Clarke, "connecting the consumer to that basic service."