Renewable energy infrastructure is no longer a niche market. Christopher O'Dea finds the sun warming an increasingly energetic institutional sector
Like the sun burning through early-morning cloud cover, renewable energy has burst onto the investment scene. It has been transformed from a niche sector to a mainstream asset class, representing nearly half of infrastructure transactions in recent years.
Powering the surge is a perfect storm of supportive policies and favourable financial and technological developments. Government policy aimed at stimulating investment in non-carbon power sources is paying off, while citizen groups are raising political pressure on lawmakers to move faster. Major investors are responding, raising allocations to an asset class that offers attractive yields in a low-interest-rate world, inflation protection from revenue often linked to inflation, and project finance structures that have more protections and control than rival asset classes, such as unsecured corporate debt.
After a two-year dip, Standard & Poor's (S&P) Ratings Services says investments in renewable energy rebounded strongly in 2014, increasing by 17% to $270bn (€239bn), brushing aside the challenge from sharply lower crude oil prices.
BlackRock sees the rebound continuing. The EU has set a target for renewables to provide 20% of total energy consumption by 2020 and 27% by 2030. Renewable energy represented more than 20% of the dollar value of deals closed last year in Europe and the Americas and a much larger share of the number of deals, BlackRock says, while wind and solar accounted for 46% of new US power capacity in 2014.
To handle the demand from investors, investment management firms have built up teams of professionals with specialised knowledge of renewable energy economics, regulation and technology. With the UN Climate Change Conference in Paris in November sure to provide a boost, and renewable energy technology continuing to lower prices per megawatt hour, the main problem facing the sector is keeping the supply and demand in balance.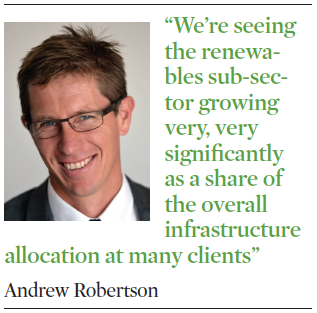 "We're seeing the renewables sub-sector growing very, very significantly as a share of the overall infrastructure allocation at many clients," says Andrew Robertson, senior managing director and co-head of Macquarie Infrastructure Debt Investment Solutions (MIDIS). Robertson estimates as much as 50% of infrastructure loans being made are to renewables.
Both demand for capital from developers and interest from institutions has increased significantly in the past five years, Robertson says. "We've been a bit surprised," he says. "But not surprised that there tends to be fairly significant shifts in the market as government policies change." Two forms of government policy are spurring expansion of renewables.
In the UK, many pension liabilities are inflation-linked, and subsidies to renewable projects are indexed to local inflation rates. Many renewable energy projects are thus able to issue long-dated debt, with maturities of 20 years, says Tim Humphrey, managing director of structuring and investor strategy at MIDIS. "They've been quite a big hit; it's a win-win," says Humphrey. "The pension funds have to hedge their liabilities against inflation," and developers can obtain funding at a 20-50bps yield advantage over floating rate bank debt combined with a swap to protect against inflation.
Macquarie has secured over £2.5bn in mandates since starting its infrastructure debt platform in 2011. The inflation protection offered by renewables has been so popular that the firm raised institutional funds for an inflation-linked strategy in the UK market, Robertson says. Macquarie attracted total commitments of over £739m to a pooled fund that closed in July, enabling small and mid-sized pension funds to invest in senior long-term infrastructure debt for the first time alongside separate accounts managed for larger institutions.
Managers have raised about $15bn in capital for unlisted investments in renewable energy in the past few years, according to Preqin – $16bn in 2013 and $14bn in 2014 (figure 1). By the end of August of this year, managers had raised an additional $12.6bn. Funds are getting larger, Preqin says, with the total capital supporting 33 funds in 2013, 17 in 2014 and just 10 in 2015.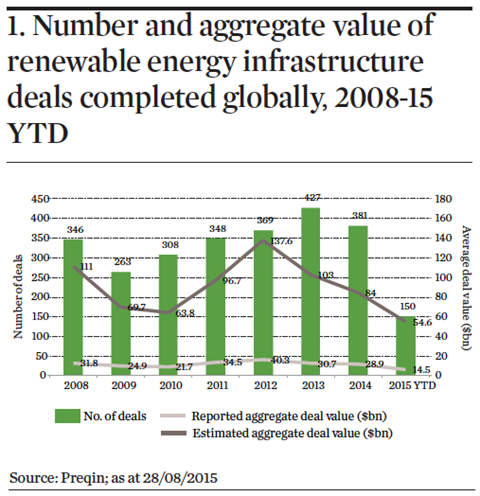 Humphrey says renewables developers now launch large projects in $50m blocks, which enables them to raise significant amounts of capital. Notable large transactions in the US, UK and Germany this year have raised between €720m and €1.9bn for wind, solar, and hydro projects, according to Preqin (figure 2).
Debt capacity for renewable energy has increased globally in recent months. Goldman Sachs launched the Japan Renewable Project Bond Trust in May, seeking to raise $1bn in investor capital over the next few years to provide institutions with access to long-dated investment-grade renewable energy bonds.
Goldman Sachs says the trust will provide renewable project developers with more efficient capital market financings as an alternative to traditional domestic bank debt, initially focused on solar energy. "We have been seeing an accelerating interest from investors in environmentally beneficial investments, particularly those that have long-dated, yield-oriented cash flows," says Kyung-Ah Park, head of environmental markets at Goldman Sachs.
While government policies and subsidies have catalysed the renewable energy revolution, advances in technology are sustaining the industry by lowering the cost of solar and wind power. The importance of underlying technology has become so great that S&P called attention to scientific and technical risks in a note on its renewable ratings process this year, focusing on factors such as degradation risk in solar projects, which encompasses how material quality, installation process and type of panel techno-logy affect the reduction in solar panel efficiency over time. Efficiency declines can vary even with commercially-proven technologies, S&P says, due to variation in the quality of photovoltaic (PV) solar panels between manufacturers or within production runs. Such considerations are critical for investors, because "the degradation rate of PV solar panels is a contentious subject in the industry", and key technical studies report "a wide range of actual long-term degradation rates experienced by PV technologies in the field."
One clear result from improved renewables technology is a lowering of energy costs. Investment bank Lazard says the average cost of onshore wind has fallen from $135 per megawatt-hour in 2009 to $59 in 2014 – a 56% drop. The cost of utility-scale photovoltaic technology plunged from $359 per megawatt-hour in 2009 to $79 in 2014, a 78% decline. In its eighth annual survey of renewable energy, Lazard attributes falling costs to "material declines in the pricing of system components such as panels, inverters, racking, turbines, etc, and dramatic improvements in efficiency."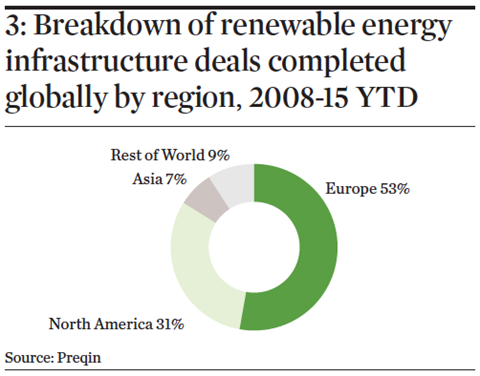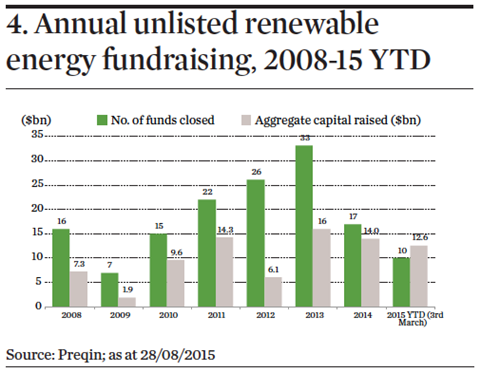 Falling costs will encourage adoption. The International Energy Agency projects that global renewable electricity generation will increase by almost 45% by 2020, roughly 5.4% per year.
"Much of the expansion is likely to be in solar generation," says S&P, "and we anticipate growing demand for ratings as capital market financing for solar projects increases."
At the same time, governments, especially in the EU, are stepping up their efforts to encourage the next phase of growth in renewables through more expansive decarbonisation policies and the use of auctions and competitive bidding for projects, says Rory O'Connor, head of European Renewables Investment at BlackRock.
"It's making sense from so many different perspectives," he says. "It's a trend that's definitely continuing."
SunEdison and the 'yieldco' model
The renewables sector is volatile – at least in the listed equity markets. Conflicting views about how some leading renewables companies are structuring their businesses came into focus when SunEdison shares lost more than half their value between mid-July and mid-August.
SunEdison is one of the leading solar energy companies, and the drop was in part related to the decline in all energy stocks this year. The bearish argument on the company is that its practice of placing operating assets into dividend-paying listed vehicles – dubbed 'yieldco' – is threatened by interest rate rises, and its use of debt has exposed the company to repayment risk at a time when oil prices are slumping and global growth is slowing.
Yet major investors seem unfazed by SunEdison's stock price drop. As its stock plunged, SunEdison arranged a $1bn (€ 0.9bn) loan from Goldman Sachs, shortly after issuing $650m in preferred stock through a group led by KKR.
And in late August JP Morgan and Macquarie initiated research coverage of SunEdison with 'overweight' and 'outperform' ratings, respectively.
Far from penalising the company for its structure, analysts at JP Morgan said SunEdison's "long-term business model points to a potentially huge pay-off". The
platform offers investors "sustainable competitive advantage" in capturing "massive long-term global growth opportunities" in renewable energy.
According to JP Morgan the company is "positioned to capture a meaningful share" of the billions of annual cash flow that "will be generated from the operation of wind, solar and hydro assets, globally".
Despite near-term negative sentiment about yieldco, JP Morgan says SunEdison's business rests on sound fundamentals in the wind and solar sectors. The company delivers shareholder value in two main ways: creating predictable cash flows from the sale of operational generating systems, and the aggregation of cash flows from renewable energy projects owned by its two yieldcos, TerraForm Power and TerraForm Global.
All in all, the JP Morgan analysts paint a compelling picture of the current and potential cash flows of the renewable sector. And despite scepticism about the strategy of moving operational assets into separate entities, the yieldco model has become a template for much of the industry.
The model facilitates the flow of institutional capital to the renewable sector by providing a technique to separate development risk from the operating risk of stabilised energy generation assets that produce the returns that institutional investors are seeking.