It is one of the most appealing parts of the market for institutional investors. But social infrastructure opportunities are limited, writes Maha Khan Phillips
It is easy to see the appeal of social infrastructure as an investment opportunity for institutional investors. Social projects, such as the construction of schools, hospitals, and courthouses, deliver public assets and services in exchange for a consistent revenue stream paid directly by the public sector. They are low risk, and have generated estimated returns of 8-10% in brownfield sites and 11-12% in greenfield sites over the past few years, according to consultants (although both classes have declined slightly in performance recently, to 6-8% and 10-11% respectively).
Duncan Hale, senior investment consultant at Towers Watson, says that clients like social infrastructure because the cash flow is based on availability, and because it makes a good diversifier for equity risk. As long as the asset is built, there is no economic linkage to payment. It doesn't matter how many students attend a school, for instance. Payment is based purely on operational capacity.
"The other aspect is its long-term cash-flow-generative nature, particularly in the UK where you have inflation linkages," he says. "It provides secure income that provides cash flow-matching properties, so it can be used as a substitute to a broader bond portfolio to give you additional cash flow-matching to meet your liabilities."
Frédéric Blanc-Brude, research director at EDHEC Risk Institute, points to the diversification benefits as well. "If you are a local investor, say a UK pension fund, that is not too big, you could invest across a wide selection of PFI projects, and that would give you better diversification than with other 'bulkier' types of infrastructure projects," he says. "Conversely, some large investors have spent in excess of $10bn only to be exposed to a few big projects. So while it is hard to diversify direct holdings of infrastructure investments, with social infrastructure it is a little easier."
High-profile deals in the past three years include the €575m Paris courthouse project, with backing from Aberdeen Asset Management, Bouygues Group, DIF, and European Public Infrastructure Managers, and the €540m Adana Integrated Healthcare Campus in Turkey, with investment from France-based Meridiam Infrastructure, among others.
The majority of these projects were agreed in 2012, however. Today, opportunities are few and far between. In 2012, 160 social infrastructure deals were put together in Europe, with an estimated aggregate value of $20.6bn, according to data provider Preqin. That is in sharp contrast to the figures up to September 2015. During thagt period there were only 35 deals with an estimated aggregate value of $3.6bn. O, deal size itself has declined from its 2011 peak of $185m to $102m in the year to September 2015.
"There are a limited number of new social infrastructure projects that are financed every year and they remain relatively small," says Blanc-Brude. "So, in the grand scheme of things, it is hard to talk about a social infrastructure 'asset class' that is going to move the dial in terms of the many billions of dollars that institutional investors would like to invest in private assets."
Blanc-Brude, who recently worked with EIOPA to compile data on investment risk in infrastructure, says there is a portfolio of five companies listed on the London Stock Exchange which predominately invest in social infrastructure which, through a small sample, provides a useful proxy to what is happening in the unlisted market. Those five companies have posted higher returns, with much lower drawdowns, volatilities and tail risks, with little correlation to the rest of the market.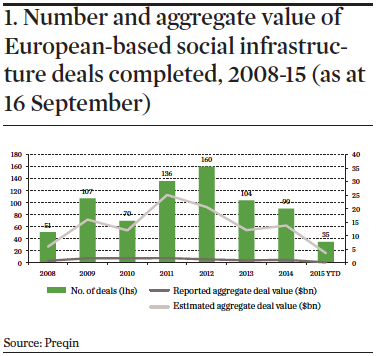 "If you look at this listed basket of PFI companies, its risk is much lower than that of the UK stock market in general; it has a beta correlation to the market close to zero. These companies seem to be doing exactly what infrastructure is expected to do – they collect a steady income and pay out very predictable dividends."
Nobody is disputing the appeal of the asset class, but access is another matter. Hamish Mackenzie, head of infrastructure in Europe for Deutsche Asset & Wealth Management, says the firm would potentially look at social infrastructure opportunities. "But the private equity funds we manage generally have a minimum investment size of €50m to €100m, and there are very few social infrastructure opportunities on the equity side of that scale," he says. "So it's more of an opportunity that we look at on the infrastructure debt side."
The firm has yet to find an opportunity to make an allocation to either, however.
"The pool of new build opportunities across Europe in social is fairly small," Mackenzie says. "A number of PFI-specific funds were raised over the last two or three years and they found it very difficult to invest capital, because there just aren't new investment opportunities coming up."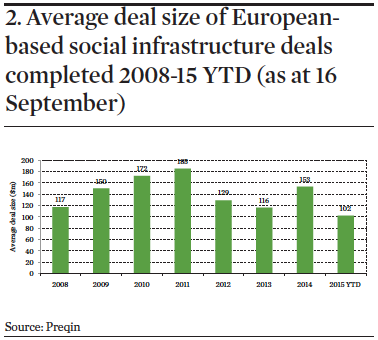 Lack of political will
Part of the problem is the political and reputational risk associated with the projects. The UK government led social infrastructure development with its private finance initiative (PFI), which created public-private partnerships (PPP) across the country. The initiatives have proven to be hugely controversial and that, in turn, has affected political will to continue.
"In the UK, since the origin of PFI in the mid-1990s it has been predominately used for social infrastructure, such as schools, hospitals, and prisons," says Darryl Murphy, partner at KPMG Corporate Finance. "Hence the UK has a long history in the use of private finance in social infrastructure. But that came to an end when the previous government came to power in 2010."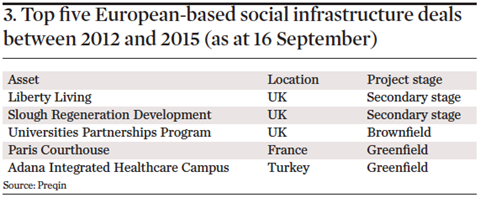 Murphy believes the initiatives have been treated unfairly. "The key to PPP is the whole-life asset management. The private sector takes the risk that the asset is available and the services provided meet the contractual obligations. [But] post the recession, government austerity means investment in social infrastructure has reduced and the priority has shifted to economic infrastructure like transport and energy. Hence PPP in the UK – and actually across Europe – has become a pretty thin market."
But there is also reticence on the part of investors to invest in government programmes that do not have clear investment propositions. Four years ago, UK chancellor George Osborne announced a flagship scheme to raise £20bn to invest in new projects. But the Pensions Infrastructure Platform (PIP), established by the Pensions and Lifetimes Savings Association (formerly the NAPF) and the Pension Protection Fund, has only raised around £1bn so far – and much of that is invested in old PFI schemes.
Pension funds are wary that the risks have not been mitigated, and the new National Infrastructure Commission proposals, which involve pooling 89 local government pension scheme funds, in part to drive larger infrastructure projects, has been met with some caution, with many industry participants saying that funding was never the issue, but that the lack of pipeline is putting investors off.
Murphy says investors should not get their hopes up that things will change. "We are very unlikely to go back to the old days of very deep markets for social infrastructure."
But he does point out that one part is, at least, doing well – the secondary market. "We have something like 700 PPP projects in the UK. There is currently a very hot secondary market for those assets, even if the future pipeline is thin. The existing contracts don't just fall away. The assets are held by contractors and infrastructure funds, because once these assets are built they tend to provide a long-term balance of risk and reward."
Hale says clients of Towers Watson are still keen to push forward. "Our clients are trying to find the best way to find those last remaining assets that are on the balance sheets. They are more open to the idea of doing greenfield investments in this area, but the construction risk needs to be managed. They are also thinking of other assets that are similar to social infrastructure that have similar risk profiles – for example, offshore transmission operators, that bit that links wind farms to the National Grid."
It means investors will have to be nimble and quick on their feet to take advantage of the few social infrastructure projects that are available. For many, it may not be worth the effort.
Real Assets - Social Infrastructure: Interest but no capacity
1

Currently reading

Real Assets - Social Infrastructure: Interest but no capacity

2