Competitive pricing in the direct market could push investors into listed infrastructure, writes Stephanie Schwartz-Driver
Investors in search of yield and uncorrelated investments are turning to infrastructure, and global listed infrastructure funds offer the kind of diversified portfolios many want.
The good news for listed infrastructure investment managers is that, according to Prequin's 2015 Global Infrastructure Report, 62% of investors are below their target allocations to infrastructure, and 67% plan to increase allocations. The bad news is that most are targeting direct infrastructure – 56% up from 29% in 2012.
But as direct infrastructure becomes more competitive, deals are harder to source and fetch a premium; in some situations the gap is so big that there has been mispricing. "There's been a ton of dry powder raised by private funds, which are being pushed to invest in a finite number of assets," says Ben Morton, senior vice-president and portfolio manager, Cohen & Steers. "We are very glad that, for the most part, the companies we invest in are being disciplined and are not paying the premiums paid by the direct sector."
Competition in direct infrastructure is pushing some direct investors into listed opportunities. "We have been seeing some private equity investors starting to invest in listed instead," says Giuseppe Corona, portfolio manager and analyst at AMP Capital. "Several sovereign funds have also started to look around." He mentions the Vienna airport and Mexican toll roads as listed opportunities that have attracted private interest. "Still, it is quite easy to deploy capital in listed infrastructure," Corona says. "We were able to invest $180m (€ 165m) in a day or two."
On the other hand, there are around 350 listed infrastructure stocks globally, with a market cap of over € 3trn. And it is a growing universe, noted Maneesh Chhabria, portfolio manager at CenterSquare Investment Management. "Over the last 10 years, that market cap has grown at double-digit rates, because the projects these companies have participated in have allowed organic growth."
In addition, assets across the globe are being privatised or put up for sale, says Morton. For example, the partial privatisation of Spanish airport operator AENA in February represented the largest IPO recorded in Europe since 2011. In the US many power transmission utilities are exploring the use of REITs to raise funding – InfraREIT, a powerline company, had its IPO in January.
Global funds also benefit from their geographic diversification. "The public markets have had a good run, and investors are more interested in infrastructure, especially considering that most institutional investors are relatively under-invested in the sector," says Markus Pimpl, head of liquid investment solutions at Partners Group. "But since we are investing on a global basis, we can go for relative-value adjustments."
Diverse strategies
Fund managers all define their investable universe in slightly different ways. CenterSquare, for example, looks for four characteristics: strong cash-flow visibility; low commodity exposure; long-duration contracts, and a long-term demand outlook. "We are quite focused on lowering commodity exposure and energy, because we want our portfolio to be very sustainable and extraordinarily durable," says CEO and CIO Todd Briddell. "Our investors will derive value through economic rents."
A global focus allows international diversification. For example, companies domiciled in emerging markets make up only 3.5% of CenterSquare's investable universe, but about 7% of underlying revenue of the companies in the portfolio is derived from emerging markets, explains portfolio manager Joshua Kohn.
AMP Capital divides its investable universe by sensitivity to economic cycles with a view to achieving returns uncorrelated to global equities. The goal is to find "core and pure" companies that are focused on infrastructure, Corona says. "For example, [with] a construction company that builds infrastructure, you are caught up in the ups and downs of the cycle, so it is not a pure play," he said.
AMP separates the universe into four rings, investing at least 90% in the first two. Ring one includes water utilities, oil and gas storage, transport, transmission and distribution, and social infrastructure; ring two includes toll roads, airports, ports and communications.
Partners Group looks for five characteristics to define core infrastructure: a monopolistic market position; stable underlying cash flow; high barriers to entry; a capital-intensive business; and mostly inflation-linked revenues.
"Not a lot of investment managers apply a clear and concise definition of infrastructure," Pimpl says. The focus then is on four sectors: transport, communications, social infrastructure, and utilities.
One of the newest entrants to the field, Franklin Real Asset Advisors launched its first global listed infrastructure fund in 2013. Investments in the fund typically have two key characteristics, says Wilson Magee, director of global real estate and infrastructure securities: long-term contracted cash flow, often with some kind of regular adjustment that may be inflation-linked; or the ownership of monopolistic assets, such as a major airport or a regulated utility company. The portfolio benchmark consists of 40% utilities investments, 40% in transportation, and 20% in mid-stream energy, but is broadly geographically diversified, with 31% in Europe, 22% in Asia Pacific, 44% in North America and 4% in Latin America.
Managing risk over a global infrastructure portfolio is complex. "Infrastructure investments on the surface seem pretty straightforward, but when you begin to address regulatory and political risks, it becomes pretty tricky," says Pimpl.
Partners Group invests globally but prefers to invest in listed infrastructure in sectors where it can actively draw on its private equity experience. "We can use that regulatory information if we do due diligence on a listed company," says Pimpl. "There is no conflict of interest. We do not have insider knowledge of listed companies, but we do have sector know-how."
Corona says: "From the outside, they all seem to be about the same thing, but regulators look at assets in completely different ways in different jurisdictions. We are looking at similar assets, but they are subject to different economics and different regulatory regimes. As a result, regulation is a risk, but also an opportunity. Regulation is extremely relevant for monopolistic types of infrastructure assets, which usually do not bear volume risk."
But Corona also points out that "regulators are willing to engage with investors and to understand best practice in other countries. They need a fair regulatory framework in place to attract capital."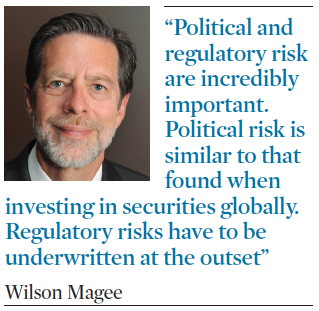 The US, however, has a patchwork of state-by-state regulatory regimes. "Some states have a good framework, while others less so," says Corona. "We prefer a regulatory framework in those states where regulators are appointed rather than voted in." This applies more to the utilities sector – the oil and gas midstream sector is less reliant on regulation and more on bilateral contracts. To keep track, AMP keeps a detailed state-by-state regulatory scorecard.
"Political and regulatory risk are incredibly important," says Magee. "Political risk is similar to that found when investing in securities globally. I don't want to minimise political risk, but it is the kind we see in other equity portfolios. Regulatory risks have to be underwritten at the outset, and we have to stay on top of potential regulatory changes. Regulatory risks are fundamental to both income and pricing outcomes."
Regulatory risk can be a decision factor, Magee says. "Our largest underweight thematically is to German utilities due to a regulatory environment that is challenging to these companies and has created industry overcapacity."
Depending on their specific strategies, firms see different opportunities. Cell towers is one of the top opportunities, according to Cohen & Steers, due to the dramatic increases in mobile traffic globally. Business is based on seven-to 10-year contracts, and they will continue to drive cash flow increases as they build capacity. "We are not playing the operators, but those who provide the infrastructure network," Morton says "and this is a theme that is not dependent on economic conditions."
Cohen & Steers has noticed that European infrastructure companies are benefiting from economic improvement, as well as low interest rates and quantitative easing. "We are thinking more about freight rail in North America," says Morton. "This is one of the few sub-sectors levered to economic conditions in North America, and it has underperformed as of late."
In telecoms, Partners Group is interested in satellite operators. "If you are a broadcaster and want to send your signal to a certain countries, there are not multiple providers, and you are required to agree to a long-term contract, so there is no demand risk," Pimpl says.
"The 'energy revolution' in North America is attractive, too, and a growth driver you want to have in your portfolio. But I do not want it to be 60% of my portfolio. We have also seen some aggressive valuations in the energy infrastructure space, as well as a couple of defaults."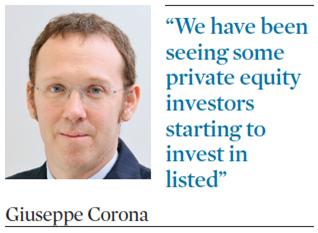 Pimpl identifies a danger in chasing growth. "I see some of our competitors have portfolios with more than 80% in the US, but I do not want 80% of my risk in the US. Similarly, emerging markets represent a maximum 30% of our portfolio." Long-term growth, he asserts, is not only happening in the US and in Europe.
AMP Capital likes Europe for communications and the US for oil and gas production. "Infrastructure is needed to move oil and gas from one point to another," says Corona. "The more investments that are needed, the better it is for the companies in which we invest."
Franklin Real Asset Advisors identifies a few broad themes that provide opportunities over the longer term. Magee likes European transportation companies, including those that invest in airports and toll roads. Renewable energy, he maintains, will become more important over time, and "water and wastewater treatment is a significant opportunity in many emerging markets", he says.
But although infrastructure focuses on long-duration assets, there are ways to innovate in the asset class. AMP Capital is about to launch a long-short infrastructure fund. "We will offer an absolute-return strategy to attract clients who want even more de-correlated returns," Corona says. "It will be a classic long-short equity strategy but investing in infrastructure."
Cohen & Steers is looking at YieldCos – vehicles designed to deliver income and growth from infrastructure assets, typically wind and solar assets. So far there are only a handful of companies, but there is a great deal of interest from renewable operators. Morton says: "These will continue to gain in popularity."
Briddell says over the next 10 years "investors will begin to define universes and the overall investment class similarly, and that will ultimately create yield compressions. But for now, we are benefiting from accessibility, liquidity and diversity."