The concept of blending listed and private real estate is well established. For infrastructure it is a newer, but important, area for debate, as Fraser Hughes and Simon Wilde show
Following years of research by the real estate industry, investors and consultants now generally agree that listed and private real estate can, in fact, complement each other. We believe the same will be true of listed and private infrastructure in years to come.
But there is a need for consensus. Depending on the benchmarks used in research, results can differ considerably, so investors must be aware of the differences to make informed decisions.
Looking at infrastructure investment globally, McKinsey estimates there is $9.5trn (€7.7bn) of new annual investment (about 14% of global GDP).
This breaks down as:
• $2.5trn in economic infrastructure (transport, power, water, telecoms);
• $1.3trn in social infrastructure (hospitals, schools);
• $0.9trn in oil, gas and mining resources infrastructure;
• $4.8trn in real estate.
Treating natural resources and real estate as separate to infrastructure implies annual investment of $3.8trn in economic and social infrastructure, according to McKinsey. The United Nations Environment Programme (UNEP) estimates the stock value of global infrastructure was $35trn in 2014. This represents 8% of the estimated $450trn value for all investable assets (listed and private). By comparison, commercial real estate is $20trn (4.5%) and an estimated $75trn (17%) for residential.
Current figures are probably closer to $40trn for infrastructure, accounting for annual investment and depreciation. For commercial real estate it would be over $25trn.
We use the UNEP (adjusted) $40trn estimate as a reasonable starting point. Many of the $40trn assets are held by governments and hence not accessible by investors. Investors have existing listed and private infrastructure equity valued at almost $5trn. Accounting for typical leverage ratios of at least 50%, this implies a further $5trn of infrastructure-related debt. Hence, private-sector infrastructure assets might be valued at $10trn – or one quarter of our $40trn value for all infrastructure assets.
Figure 1 shows that listed infrastructure represents 76% of all equity, three times the size of private/unlisted infrastructure. The largest market is North America, which combined with other developed markets, makes up 81% of equity, with emerging markets (mainly Latin America and Asia) representing 19%. Social infrastructure is typically not investable via listed vehicles, and private social infrastructure represents only 2% of all infrastructure equity.
This points to the potential issue of how well current investment mechanisms can meet the growing needs of emerging markets and social investment, as well as how to define exactly what is meant by 'infrastructure'.
With regards to listed infrastructure, one step in the right direction has been the GLIO Coverage. This is the result of establishing a commonality across the core global listed infrastructure index providers. Figure 2 shows the total market capitalisation covered by the core and broad-based global listed infrastructure providers, which equates to about $5trn in market capitalisation.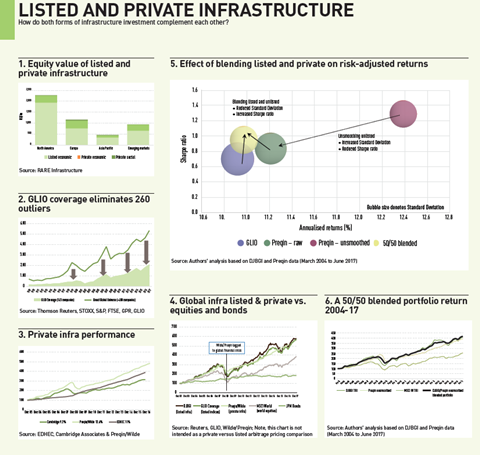 However, this total broad-based universe is misleading – the GLIO Coverage only includes companies covered by at least two or more index providers from S&P, Dow Jones Brookfield, STOXX, FTSE and GPR.
By using this simple methodology, a much more tightly defined 'traditional' or 'core' infrastructure universe evolves. Some 260 companies, representing over $3trn market capitalisation, drop out of the selection filter. Examples of the companies excluded are: Verizon, Vodafone, China Mobile, Telefonica, Deutsche Telekom, Deutsche Post, Royal Mail and Digital Realty. This methodology produces a much clearer picture of global listed core infrastructure, by cutting out large-cap outliers, particularly from the TMT sector, that have few infrastructure economic characteristics.
On the private side, valuation methodologies vary significantly across providers. This results in quite differing return characteristics across benchmarks.
Figure 3 shows that the different calculation methodologies, coverage sizes, geographic and sector differences result in a wide range of performances among the private infrastructure benchmarks over a longer period. For December 2003 to December 2016, annualised total returns range from 9.2% to 12.6%. A simple average of the three private benchmarks is 10.9%, compared with an average of the listed benchmarks of 11%.
The Preqin Infrastructure index captures the average returns earned by investors in their infrastructure portfolios based on the amount of money invested in infrastructure partnerships weighted by the size of each fund. They cover 275 funds with a value of $340bn. The regional breakdown is North America 45%, Europe 35% and the rest of world 20%. The series goes back to 2007. The average annual US dollar return over 2007-17 is 8.8%.
Simon Wilde at Imperial College has calculated an adjusted index based on detailed quarterly cash flow and NAV data on approximately 80 funds with $100bn capital. The series begins in 2003. The average annual total return for the 80-fund sample is close to that of the wider published Preqin data for the period 2008-15. The Wilde data can be used to extend the Preqin time series back to June 2003 to allow for longer comparisons with other indices.
Comparing listed with private is not straightforward because of the variety of valuation metrics used by index providers. Listed is simpler because of its real-time market pricing. Naturally, prices experience the short-term movements of a liquid market. Over the medium to long term, this 'washes out' and performance reverts to type – that is, it is directly linked to the quality of assets and cash flows plus, of course, the quality of the company's management team.
On the private side, a variety of 'pricing' metrics are used, from simple NAVs, IRRs and transactions pricing, to more complex theoretical model-based methodologies. These types of pricing metrics create issues such as dampening of 'real' volatility and auto-correlation of valuations.
It is important to acknowledge that listed index pricing is forward-looking, being based on future expectations of company performance; private metrics are inherently backward-looking. This creates a lag effect when comparing listed and private benchmarks.
A good example of this is when comparing the extended Preqin/Wilde series with the GLIO Coverage and Dow Jones Brookfield in figure 4. The private data hits its lowest point at the end of Q3 2009, while this happens in the listed core infrastructure market in February 2009 – a full seven months difference. To adjust for this, in figure 4 we lag the private index seven months to anchor it at the low point of the global financial crisis in February 2009.
From this simple comparison, it is reasonable to conclude that the global core listed companies follow a similar path to the private infrastructure market over the medium to long term (albeit compared with a far smaller sample size for private).
At an asset class level, figure 4 plots core listed infrastructure with private infrastructure versus world equities and bonds over 15 years. The long-term path of the listed infrastructure follows that of private infrastructure. Investors might intuitively expect this outcome, considering that the underlying assets and cash flows are derived from the same industries.
Figure 4 shows that the lagged Preqin/Wilde line moves its performance more closely in line with listed indices, such as DJBGI and GLIO Coverage. This can also be seen statistically, where the unlagged correlation between the returns of DJBGI and Preqin/Wilde is 0.1 for the period 2003-2017. This increases to 0.4 with a Preqin/Wilde lag of two quarters.
Likewise, when we look at the capital asset pricing model (CAPM) beta of the Preqin/Wilde returns. On an unadjusted basis, the Preqin/Wilde returns have limited co-movement with the MSCI World and hence have a beta of close to zero for 2003-17.
Using multivariate unsmoothing of the Preqin/Wilde returns, we are able to re-estimate CAPM beta taking into account the NAV smoothing effect. Beta now increases to 0.6, still less than 0.7-0.8 for listed infrastructure indices, but far closer.
The perfect blend
The well-publicised amount of $150bn 'dry powder' looking to invest in infrastructure might be well advised to take a close look at the listed market as a liquid avenue to achieve exposure to the underlying assets and cash flows.
Looking through the short-term differences in the valuation metrics of private (valuation-based) and listed (mark-to-market) infrastructure, listed can provide investors with attractive long-term total returns, directly linked to the professional management of those assets. It is worth not forgetting that the underlying infrastructure assets are subject to the same economic conditions and regulations, irrespective if they are held privately or by a listed company.
We have produced a simple mean-variance model using both private and listed infrastructure to build exposure to the infrastructure asset class. The results show that the risk-return profile of the portfolio is optimal when using both infrastructure vehicles.
An alternative approach is to see if combining listed and private infrastructure improves risk-adjusted returns. Figure 5 shows the effect of unsmoothing on private returns, which is to increase their volatility (standard deviation) and hence reduce the Sharpe ratio. It also shows a diversification benefit – measured by an increase in Sharpe ratio – from blending the unsmoothed private returns with the listed Dow Jones Brookfield return series.
It should also be noted that the Preqin/Wilde index was the best performing private benchmark in our analysis period. Figure 6 shows the performance of the 50/50 weighted blended portfolio (black line) over the analysis period.
It is clear that both listed and private vehicles can offer attractive features and benefits, and provide investors access to long-lived assets in what are often monopolistic industries.
These assets have historically generated relatively predictable and stable cash flows, which are often linked to inflation.