Yields and return expectations are being squeezed, but investors are still seeing value
In November, Oslo Pensjonsforsikring (OPF), Norway's largest independent municipal pension fund, reported that it had generated a 26.5% return on its infrastructure investments in the first nine months of the year.
One the most common observations in the infrastructure market today is how expensive the asset class has become, as ever-greater volumes of capital continue to flow in. But OPF's high double-digit return shows the other side of the coin: early-movers are reaping the rewards.
Chief executive Åmund Lunde told IPE Real Assets that "an important reason" for the high returns was "that some of the funds we have invested in are maturing, and selling their assets at higher prices than expected".
Perhaps even more significant than the outsized returns is the fact that OPF will continue to deploy the proceeds into infrastructure. This is despite the understanding that future returns will be lower. "Infrastructure investments have been very successful for OPF and we are investing in new and promising funds," Lunde said.
California Public Employees' Retirement System (CalPERS), the biggest public pension plan in the US, has also benefited from increasing its exposure to infrastructure in recent months. Its 9.9% return for the second half of 2016 and first half of 2017 might be much lower than OPF's 26.5%, but it is still nudging on double digits at a time of low yields elsewhere in investment markets.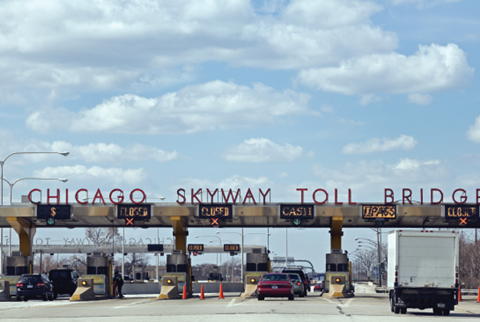 The infrastructure exposure of CalPERS is also more than 10 times the size of OPF's. Investment committee meeting documents for November showed that the $3.8bn (€3.2bn) portfolio outperformed its benchmark – 400bps above the consumer price index – by 3.4 percentage points. Infrastructure investments represent about 1% of CalPERS's total assets, which were valued at $323bn at the end of June.
Meketa Investment Group, which took over from Stepstone as infrastructure investment consultant for CalPERS earlier this year, attributed the outperformance to the core holdings, which represent 70% of the portfolio.
Meketa said it expects competition to increase for the type of infrastructure assets that fit CalPERS's investment criteria. But it also said CalPERS's size and "prestige as a partner" would give it a competitive advantage, and that the "cycling of investments through closed-end funds, new public-private partnerships, asset expansion needs, and build-to-core opportunities in the near term should feed deal flow attractive to CalPERS".
Karen Dolenec, partner at Ancala Partners, says recent performance in infrastructure has been above what should reasonably be expected from the asset class, driven largely by central-bank policies. "As with all assets, especially ones which provide yield, infrastructure assets have benefited from a period of decreasing interest rates," says Dolenec, who joined Ancala in October from Willis Towers Watson. Yield expectations for the foreseeable future are now lower, she says.
IPE Real Assets' most recent survey (see page 10) found that institutional investors continue to be attracted to infrastructure – and, somewhat counter-intuitively, the perception that the asset class is expensive appears to be fading.
This year, only 38.2% of investors said infrastructure was too expensive as an asset class, compared with 42.6% 2016. Two years ago, the survey found that most investors (53%) thought the asset class was expensive.

One possible explanation is that investors are moderating their return expectations and/or requirements, in a world where performance is moderating across global markets and asset classes.
The survey was launched at this year's IPE Real Assets & Infrastructure Investment Strategies conference in London in October. Speaking at the event, Sarah Owen, general counsel and general manager of corporate strategy at the New Zealand Superannuation Fund, remarked: "The survey has shown that some people don't think it's expensive. Our view is that it is still currently expensive."
She added: "We like infrastructure class generally", and we do have the risk budget for it, "but we have found it to be very expensive because of the amount of capital." There are, however, "pockets" that are interesting, and NZ Super is looking at solar and wind energy "proactively".
Serkan Bahçeci, head of infrastructure research at JP Morgan Asset Management, says prices today are at the level of the "pre-recession era and are rising steadily" but have not yet reached a peak.
Pricing can be affected by the cost of debt and interest rates, but it is also by other fundamental factors, Bahçeci says. "Successful investors come in for the long term."
One of the benefits of infrastructure is the long-term nature of the asset class, says Oldrik Verloop, head of international client advisory at Aquila Capital, which has been focusing on renewable energy. Hydropower assets can have concessions that span more than 40 years, he says. Prices can be elevated, but the returns are commensurate with the risk and cash-flow profiles.
"With the mitigation of development and power off-take risk in renewables, a focus on operational excellence is where asset managers can add yield for investors," Verloop says.
Infrastructure investment flows, which are putting pressure on asset prices, are increasing for both "cyclical and structural reasons", says Dolenec.
Given the concern that investors have about valuations in the public equity and fixed-income markets, there is increasing interest in private markets in general and in asset classes that are less correlated to those other markets, such as infrastructure in particular, she says.
"From a structural perspective, there are still reasonably few institutional investors who have invested in infrastructure and, for those who have, many are below their target allocation," Dolenec says.
"This can be seen if you compare the penetration of infrastructure investment to real estate, for instance – even though they are targeting similar investment characteristics and infrastructure is less correlated to other asset classes."
According to IPE Real Assets' top 100 ranking of the world's largest infrastructure investors – capturing $360bn (€306bn) of investments in aggregate – the average allocation to infrastructure is about 3%.
Dolenec says infrastructure's distinct characteristics include explicit inflation linkage in many of the cash flows, less dependency on economic growth – compared with real estate, for instance. Infrastructure also has the ability to "access a diverse range of value drivers and risk factors," she says.
One way to increase returns is to take on more development risk. And while it is often said that pension funds are invariably only interested in income-generating 'brownfield' assets, there are signs that appetite for 'greenfield' assets are increasing.
Infracapital, the infrastructure equity arm of M&G, announced in November that it had raised £1.25bn (€1.39bn) for its first greenfield infrastructure fund, above its £1bn target. While the fund is described as greenfield, it focuses on the later stages of development and expansion of assets.
At the time of the announcement, Martin Lennon, head of Infracapital, said: "It is natural to see pension funds and institutional investors increasing their allocations to infrastructure as it has long been seen as an asset class that can provide long-term, predictable and often inflation-linked income. This latest capital raising demonstrates that there is appetite from many investors to access projects at an earlier stage, providing the usual characteristics investors are attracted to but with a different return profile."
Is the perception that infrastructure is expensive fading?
Institutional investors continue to be attracted to infrastructure while the perception that the asset class is expensive appears to be fading, according to the latest survey by IPE Real Assets.
IPE's research revealed that investor confidence in infrastructure remains high. Nearly three-quarters (73%) of institutional investors allocated to the asset class – similar to last year's 76%.
From this group of investors, the survey also showed that 64.8% expect to increase their allocations over the next 18 months, with 29.6% indicating that their level of investment is expected to remain stable. The remaining 5.6% of investors anticipate to reduce their allocations.
According to IPE Real Assets' top 100 ranking of the world's largest infrastructure investors – capturing $360bn (€306bn) of investments in aggregate – the average allocation to infrastructure is about 3%.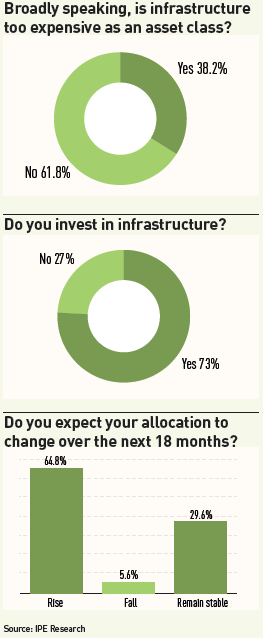 Also, half of those that do not invest in infrastructure say they might allocate to the asset class in the future – down from last year's 70.1%.
But only 38.2% of investors said infrastructure was too expensive as an asset class, compared with 42.6% 2016. Two years ago, the survey found that most investors (53%) thought the asset class was expensive.
Reasons for not investing in the asset class vary, but most investors attributed their decisions to the illiquidity of the asset class, and the risk-return and diversification characteristics.
For those invested in the asset class, more than 95% were willing to commit up to €20m over the coming 18 months, while 27.1% were prepared to invest over €200m.
Investment looks set to increase, unperturbed by current pricing levels or external developments such as rising interest rates and the UK's departure from the European Union. A rise in interest rates and Brexit will have no impact on infrastructure allocations and strategies for most investors – 72.7% and 72.5%, respectively.