European pension funds benefit from pathways previously laid by investors as they journey into the infrastructure market. Rachel Fixsen reports
Allocations to infrastructure have been edging higher for Europe's pension fundsas they chase yield and stable cash flows.
In Germany, a recent change in the law is expected to facilitate infrastructure debt investments for pension funds. As a result of an amendment to the Kapitalanlagegesetzbuch (KAGB) legislation, in which the Alternative Investment Fund Managers' Directive was implemented nationally, closed-end structures are now more accessible to institutional investors.
Germany's biggest pension fund, the Bayerische Versorgungskasse (BVK), has big ambitions for its infrastructure portfolio. It aims to add about €2bn in the next three years to the €1.8bn it already holds via various infrastructure vehicles.
While European pension funds have up to 10 years of experience in infrastructure investing, in the past five years German pension funds have become particularly active in the asset class, according to Verena Kempe, director at the investment management company FERI, who is responsible for energy and infrastructure investments.
"The infrastructure investment community continues to be alert to asset price inflation and a perceived shortage of investment opportunities," she says.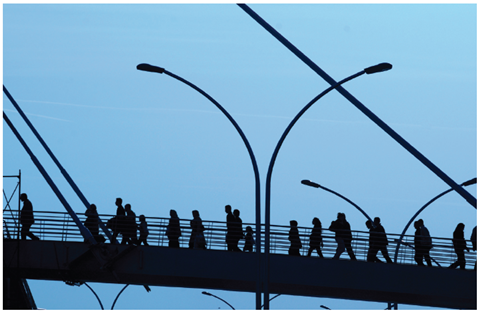 Nevertheless, she says there are several reasons why long-term institutional investors are considering expanding their allocation to infrastructure. She cites the stable cash flows with running cash yields from core investments; exposure to inflation-sensitive cash flows; infrastructure's historically low correlation to other asset classes; protection against monetary dilution and financial repression; and relatively low volatility of asset values.
Danish pension funds have been big investors in infrastructure, with renewable energy proving particularly interesting. PensionDanmark, the DKK171bn labour-market scheme, has put about €2bn into infrastructure, mainly in renewables.
Last November it invested DKK1.4bn (€22.9bn) in the Snetterton biomass power plant in England. This investment followed its involvement in a consortium to finance the NOP Agrowind, the Dutch onshore windpower project. The pension fund has said it plans to increase its investments in infrastructure to 10% of total assets.
In the UK, pension funds have been increasing their infrastructure investment, taking on opportunities arising from the government's continued efforts to bridge the funding gap for infrastructure projects.
Institutional investors are working together to build the kind of scale needed to take advantage of opportunities. For example, the London Pension Fund Authority (LPFA) and Greater Manchester Pension Fund have formed a new £500m (€700m) joint venture to invest mainly in UK infrastructure, focusing on their respective regions. So far, the £5bn LPFA has allocated 5% of its of its assets to infrastructure.

The Pensions Infrastructure Platform (PIP) was set up in 2012 by the National Association of Pension Funds (NAPF) and the Pension Protection Fund (PPF) to pool capital from UK pension funds to invest in the sector. However, some of the founding investors, such as the LPFA, the BT Pension Scheme and BAE Systems, have left because of dissatisfaction over investment costs and return expectations.
Pension funds in the Netherlands are leading their European peers in infrastructure investment. The big pension fund asset managers APG, PGGM, MN and Blue Sky Group have reported growing interest among their clients to increase allocation to the asset class.
APG has 16 people working on infrastructure in-house, having grown from just three in 2005. APG made its initial fund commitment in the asset class in 2004, which Ron Boots, head of infrastructure Europe at APG Asset Management, describes as a first step in trying to understand the behaviour of that type of asset.
After beginning with fund investments, APG broadened its exposure to include partnerships and it now invests directly in projects. "We have not ruled out funds completely and for certain segments and regions we still do commit to funds," Boots says.
APG focuses on core infrastructure, but does invest across the board within the asset class. "We look at the underlying contract, and we try to avoid price and volume risk, though there is some room for greenfield exposure," he says. "We are looking for low correlation to GDP, limited price risk, low demand risk and preferably no development risk."
APG prefers projects that have reached a certain stage, says Boots, and tries to limit exposure to regulatory and political risk. "For us it's important to work with strong counterparties, developers and our financial peers. If you look at the overall structure of a transaction, we are aiming for investment-grade profiles, and trying to mitigate high volatility," he says.
Translating those characteristics into segments, APG is aiming to invest in social infrastructure – where most projects take the form of public-private partnerships – utilities, transport including toll roads and airports, and energy.
Within energy, APG tries to avoid merchant risk. "If we are investing in a certain project that involves electricity, we would rather have it contracted out on a fixed-price basis," Boots explains.
He sees more control and efficiency in the direct route into infrastructure. "When investing in funds, you only know after four, five or six years where your capital will be invested, and a second aspect is controlling good governance," he says. "If you invest directly, you are doing that yourself rather than delegating it."
Investing directly is also more cost-efficient. "By ourselves, we feel we can achieve a better net return for our clients, instead of paying relatively high fees to other parties," Boots says.
APG is investing in hydropower with Aquila Capital. Oldrik Verloop, managing director and co-head renewable infrastructure at Aquila, says investors need to ask themselves what they want from an infrastructure investment before deciding on which route to take.
"Do you want to be active, have a board seat, be involved in the daily management of the operation?" Verloop asks. "There are different ways to go, and also different ways to cater to those needs."
As institutions in Europe develop a track record in infrastructure investment and an understanding of the dynamics of the sector, investment in the sector will increase, Verloop predicts. "The first stage is to build this up within Europe, where we see ample opportunities, and the next step is to look at other continents. As people get more comfortable with the risk and the asset class they will move further afield."
Lessons from Australia and Canada
Boe Pahari, global head of infrastructure at AMP Capital, says most pension funds in Europe are getting exposure to the asset class via funds. "Some of the larger ones are looking to go direct and are bringing teams in-house to do that," he says.
Pension funds are using listed as well as unlisted funds, he says. Where listed funds are used, this is sometimes seen as part of the investor's alternatives allocation and sometimes categorised as equities exposure, he says.
Pahari is sceptical about the real merits for pension funds in bringing their infrastructure investment in-house. "By and large, there's a reason why infrastructure managers are structured the way they are," he says. "There is a benefit to using a specialist manager whose culture, operating process and experience focus on deal sourcing, asset management, significant sector financing, markets expertise and cross-pollination of ideas. It may be hard to replicate within a small, dedicated, in-house pension team."
With the bond markets in their current state, Pahari says pension funds might look exclusively to core infrastructure to replace those sovereign investments. "The risk is that there will be overcrowding in that space, whereas if pension funds move more broadly into both core and value-added infrastructure, that may make for a more balanced portfolio," he says. This broader exposure could even include some well-managed construction risk.
REST Industry Super - a direct Australin investor
Retail Employees Superannuation Trust Industry Super (REST) was established in 1988. Open to all Australians, the REST superannuation fund has more than two million members and over AUD32bn (€22.7bn) in funds under management. Its infrastructure investments are managed by its wholly-owned manager and an external investment manager.
According to CEO Damian Hill, infrastructure has been a key asset class for the fund since 1995, representing approximately 4% of its assets under management. "Infrastructure is a distinct asset class and clearly differentiated from direct property investments," he says. "Our investments in infrastructure are direct holdings.
"These assets provide some hedge against inflation, as their revenue is directly or indirectly linked to inflation. On a risk-return spectrum, they sit between equities and fixed income.
"Generally they exhibit defensive characteristics – a moderate level of volatility in capital values, stable income, moderate capital growth over the long term and low correlation to equities," Hill explains.
REST is a growing fund with a long investment horizon since its membership is relatively young.
"We generally adopt a buy-and-hold strategy with infrastructure because it's a long-term investment. This assists us to achieve the appropriate level of return, while balancing risk for this asset class over the long term," he says.
REST's infrastructure allocation is split 75% Australia and New Zealand and 25% in the UK, Europe and North America. However, Hill says this has not been a target as such, but largely the result of opportunities.
"In terms of sectors, we have around 27% in regulated utilities, 15% in electricity generation, 20% in airports, 19% in gas pipelines and 19% in others. We continue to look for opportunities locally and overseas to increase our allocation to this asset class.
According to Hill, the main infrastructure investing risks include sovereign risk, regulatory risk, and market risk – the difference between actual and projected revenue, and currency risk, a risk it hedges.
Keith Power

Kempe says the decision on which route an investor will take is typically determined by the overall size of its asset allocation for infrastructure. In addition to this, it depends on whether the investor has the in-house expertise to originate and execute deals as well as asset management expertise, and whether it can get external fund terms that are attractive compared with in-house costs. There are also considerations to be made about how much and what type of control an investor wants to have over a holding.
One thing European investors can learn from those in Canada and Australia – where institutional investment in infrastructure has a longer history – is that there is the potential to increase the number of direct transactions they make. "Although there are more and more pension funds acting similarly in Europe," Kempe notes.
The fact that there is a well-trodden path made by Canadian and Australian investors is an advantage European investors have, says Derek Williams, managing director, private markets at consultancy bfinance. But, he says, the Europeans face other problems, which are largely a result of managers failing to adapt to the needs of the investors.
"Well-learned lessons from overseas investors would include sensitivity to fees and alignment. Some newer entrants do not offer the required value for money and, or, alignment considered the norm in Australia," cautions Williams.
Verloop says building platforms for infrastructure investment is something European investors can learn from their Australian and Canadian peers. "What the Canadian and Australian investors have done quite well is build up a platform, pooling their know-how, and that has helped propel farmland investments, for example," he says, citing the global farmland investing company set up by TIAA-CREF in conjunction with pension funds including AP2 and Caisse de dépôt et placement du Québec. Having a platform is helpful for the execution of individual deals, for pooling of investors, and it provides stability for the investors, he says.
He praises the PIP initiative in the UK. "If you are a UK pension fund looking to get exposure to UK wind, and you don't want to do that on your own, why not get interest from other pension funds?" he says.
Fees for infrastructure investment have developed differently in Australia and Canada. As Georg Inderst and Raffaele Della Croce noted in a 2013 paper comparing pension fund investment in infrastructure in the two countries, investors in other countries have been looking at the comparative experiences and trying to copy the attempts there to cut their own management costs.
They found that fees levied for open-ended funds in Australia had fallen to much lower levels, perhaps because of the long-running competition in that country, and the success of IFM Investors' open-ended infrastructure fund originally formed by Australian superannuation funds to invest in growing Australian private and public companies and infrastructure. In Canada, high fees were a reason that large pension funds either invested directly or sought co-investments.
One consequence of Australian investors having built their own in-house fund management teams to invest in infrastructure – and which also invest third-party capital – is that European pension funds can take advantage of their expertise by hiring them.
And European pension funds have been learning from Canadian and Australian investors by linking up with them in other ways. In March, Swedish buffer fund AP3 announced it was investing in Fortum Corporation's electricity distribution networks in Sweden, as part of a consortium with Borealis Infrastructure as 50% participant. Borealis has been finding, structuring and managing infrastructure investments for the Ontario Municipal Employees Retirement System for 16 years.
European investors can learn from the scale of the allocations Canadian and Australian investors have made to infrastructure. "They have increased their allocations over a period of time," Pahari says. Australian institutional investors now have around 10% of assets allocated to infrastructure, whereas in Europe the figures are in the low single digits.
"They could consider how infrastructure can play a role in their asset composition, with the better and stable cash flows, long-term nature of the assets, relatively low GDP correlation supporting their overall portfolio construction," he says.
Investor Forum: Making progress
1

2

3

Currently reading

Investor Universe: On a well-trodden path

4