Set up to manage a growing base of Ontario pension capital, IMCO has ambitions to become a major player in direct real estate and infrastructure
Earlier this year, a car park on Toronto's Front Street West started to turn into a building site, as preparations began for the construction of an 840,000sqft, 46-storey office tower. In April, Canada's TD Bank signed a long-term lease to occupy 33 floors of the building that is scheduled to open in a little over three years' time.
About 300 metres away, at 200 King Street West, preparations of a different kind have been taking place – although the ambitions at the recently established Investment Management Corporation of Ontario (IMCO) are similarly lofty.
IMCO is one of the two major investors in 160 Front Street West, alongside developer Cadillac Fairview. It has also recently emerged as a new major investor on the block, with C$60bn (€40bn) in assets under management and plans to grow significantly bigger.
IMCO was created by the government of Ontario to consolidate the state's 90 or so public-sector pension funds, offering them the chance to invest with greater scale and cost-efficiency. The C$60bn of assets overseen today come from the two founding clients – Ontario Pension Board (OPB) and Worksafe Safety and Insurance board (WSIB) – and the amount is expected to rise once IMCO opens to other Ontario institutions, which will be able to volunteer to join.
IMCO is representing its largest client, OPB, in the investment in 160 Front Street West. In an earlier joint venture with Cadillac Fairview – in which IMCO took a 50% stake in a portfolio of Vancouver real estate assets – it represented both OPB and WSIB.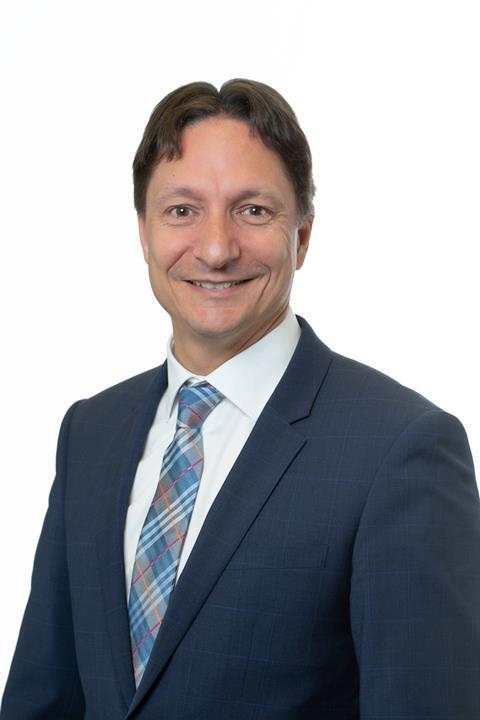 The private-markets capabilities of IMCO will be an important element in its business model, since greater scale and resources can add advantage in asset classes like real estate and infrastructure.
Jean Michel, who joined IMCO as CIO last year, anticipates that private markets will come to make up, on average, about 40% of clients' portfolios in the future, up from about 30% today.
"We need to be relevant for our clients," he says. "And so that means that we need to do things that [both of] our potential and current clients could not have done by themselves."
OPB and WSIB are expected to be the two largest investors to join IMCO, averaging C$30bn of assets between them. The third and fourth entrants are more likely to be around the C$1bn mark, which is where IMCO's potential to aggregate and create benefits of scale will be very attractive.
The plan is to officially open to new clients by the end of the year. "We're still on track," says Michel. "There are already clients knocking on the door. So the first two or three clients, they should happen relatively quickly."
IMCO's potential client base is limited to the province of Ontario, but there are about 90 institutions with some C$90bn of assets in total. "That's the market we're after," Michel says. "We believe that over the next three, four, five years, we can get maybe 20% of that. And over time, if we get to one third of those becoming our clients, that's going to be a very real success."
Taking on board a third of the targeted market would theoretically increase IMCO's assets under management by 50%.
"Nobody will be forced to join us. So we need to sell our product as [would] anybody else. We need to be relevant enough so that they're going to join us."
The ability to provide private markets, particularly real estate and infrastructure, will be key. IMCO's strategy is to build its in-house capabilities to become more of a direct investor in both asset classes.
OPB is already an established direct investor in the Canadian real estate market, and IMCO is looking to use this position as a launch pad to become a more international direct investor.
"And when we say direct, it is like true direct – not co-investments, where you originate and do your own transactions," Michel says.
Meanwhile, IMCO's plans for infrastructure are less about global diversification – its existing portfolio is already well diversified – but about becoming more direct and moving away from a reliance on funds.
"This portfolio will also will evolve over time, but not necessarily in terms of sector," he says. "It's already a well-diversified portfolio, but for now relies a bit more on funds."
Although IMCO has ambitions to follow the so-called Canadian model (as characterised by large investors like Canada Pension Plan Investment Board and Ontario Teachers Pension Plan), Michel stresses that becoming a more direct investor does not mean it plans to invest on its own.
"It doesn't mean you do that without partners," he says. "A partnership for us is very important."
For example, IMCO is close to finalising its first partnership to invest in the US office market, partnering with a company that is capable of developing assets there.
"It's not a fund; it's a true partnership," Michel says. "On each transaction, we're going to be involved very early stage in everything they're going to be doing with us. And we have a governance right to say no on everything they are going to propose."
This is likely to be followed by a similar arrangement targeting the multifamily market in the US.
Michel says the US office partnership epitomises IMCO's strategy and approach. "We're going to be a hybrid [of] having direct-investment capabilities but still using partnerships," he says. "And for that to work, we need to have partners that are willing to be slightly different, to work with us slightly differently."
He adds: "So for me it's very important: if you have a better team, you can be a better partner. If you can be a better partner, you will have better partners. It's as simple as that. So it's really part of the strategy to create a lot of partnerships within each asset class and treat them well." Michel looks at partners as "an extension of my team".
IMCO is likely to make announcements this year, including a new head of infrastructure and the new real estate partnerships in the US. European real estate "is clearly in the pipeline also", Michel says.
But it is worth considering that IMCO's ambitions to drive further into private markets and real assets comes at a time when asset prices and market competition are at record highs. It is a common observation that has not escaped the attention of IMCO.
Michel says the direct partnership model has been devised with an understanding that over the next five to 10 years "it's going to be more difficult to create value and create good investments" in real estate and infrastructure. "The current pricing is already really high, so there's no obvious liquidity premium out there," he says. "So you really need to go there and create your own value. With the amount of competition that we have there, just to go and be in the asset class won't be enough."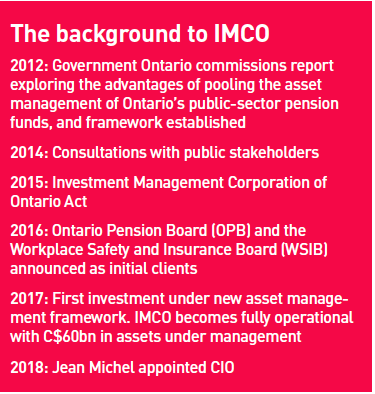 He adds: "In real estate, something that does work well – and we continue to do – is the build-to-core type of strategy where you enter more in the development phase… you still have a significant amount of core in your portfolio, but you never buy core – you always buy in the development phase, and you keep those assets for the long run after that. So at least you participate in the value creation in the development basis.
"It's something we want to bring in the infrastructure portfolio also," he says. Here IMCO will look to obtain "more value" from transactions rather than "just buying core assets when they are already fully valued".
For real estate, the challenge will also be to reweight the portfolio away from Canada, where some 80% of the portfolio currently resides.
"The ability to do direct transaction is there, but most of that has happened in Canada, and so we need to export that and be more international," Michel says.
"The US and Europe are the two markets that we're going to look at first to greater diversify the portfolio. And there's a sector transformation also that we need to happen. We're too heavily invested in the retail market. We want to significantly decrease that."
Multifamily and industrial property in the US will be top targets for redeploying sale proceeds. "We want to reduce our Canadian exposure and reduce our retail exposure," Michel says. "But it's a challenge, obviously, for us. When you want to sell assets, it's always a challenge. It's easier to buy than sell."