The US needs to improve its infrastructure, and it should start with its drinking water. Christopher O'Dea reports
Enjoy the sights. But don't drink the water. Too often, that is a message visitors to US cities might hear.
The network of pipes, valves and reservoirs that supply Americans with clean water is in need of intensive care and urgent rehabilitation.
The financial need is enormous. Water supply and treatment is a capital-intensive endeavour, and recent high-profile incidents of lead being found in municipal water systems have highlighted the risks of a long-term shortfall in investment in water assets – risks that are amplified by a recent slowdown in even maintenance-level spending.
Some see the need to address the problems as a catalyst in rendering water infrastructure and related technologies a distinct, new investment sector – with several sub-themes based on the basic industrial systems and controls used in providing water, and increasingly, technologies for reducing leakage and more efficiently managing the flow and metering of an ever more valuable natural resource.
With lead appearing in the water in more and more US cities, there is no avoiding the need to find capital to repair or replace the pipes and related systems. While there are federal programmes to stimulate investment in water systems that could give institutional investors an opportunity to participate in the rebuilding of US water infrastructure, the overlapping governmental jurisdictions in the US can make it hard to commit capital on a timely basis. Municipalities, which own the vast majority of US water system assets, can raise capital cheaply because the bonds they issue have low interest rates, since those interest payments are not subject to federal and sometimes state or local taxes.
The lack of investment in water infrastructure became a national issue in the US during 2015 when the lead and toxin contamination of the water in Flint, Michigan attracted media attention. It all happened in the wake of a Flint resident contacting the US Environmental Protection Agency (EPA) about concerns that dark sediments in her tap that may have been making her four children sick.
Health effects of lead exposure in children include impaired cognition, behavioural disorders, hearing problems and delayed puberty. In pregnant women, lead is associated with reduced fetal growth. In everyone, lead consumption can affect the heart, kidneys and nerves. Although there are already some medications that may reduce the amount of lead in the blood, treatments for the adverse health effects of lead have yet to be developed.
During 2013 and 2014, Flint had switched water sources to try to close a deficit in the city's water supply fund. Instead of taking water from the City of Detroit Water and Sewerage Department, which came from Lake Huron, as it had been doing since 1967, Flint tapped the Flint River for water. The river and its water had been downgraded during the 1970s and in 2001 the State of Michigan ordered monitoring and pollution cleanups at 134 polluted sites within the Flint River watershed, including industrial complexes, landfills and farms laden with pesticides and fertilizer.
In early 2015, the river water was found to be 19 times more corrosive than the water Detroit sourced from Lake Huron, according to a study by Virginia Tech, which found the lead level in water at several homes was as high as 13,200 parts per billion (ppb). The US EPA classifies water contaminated with 5,000ppb of lead as hazardous waste. The study was referenced in an EPA memo in June 2015, warning that Flint was not providing corrosion control treatment to mitigate the presence of lead in drinking water. In September 2015, Virginia Tech issued a preliminary report indicating 40% of Flint homes had elevated lead levels.
In short, since the water from the Flint River was not properly treated, lead from the ageing supply lines that connect to homes began leaching into Flint's water. In a 2014 briefing paper about possible causes of contamination at that time, the Michigan Department of Environmental Quality indicated that among the problems were leaking valves and ageing cast iron pipes susceptible to buildups of bacteria.
Flint's problems opened the floodgates. In July 2015, drinking water in Pittsburgh, Pennsylvania, once the capital of America's steel industry, exceed federal lead limits for the first time. Pittsburg is one of seven US water systems serving more than 100,000 people that had lead concentrations above the federal limit of 15ppb that requires action, according to EPA data. Others include Portland, Oregon, and Providence, Rhode Island.
The Pittsburgh Water and Sewer Authority, which began testing for lead in the late 1990s, is struggling with nearly $1bn in debt and has been racked by allegations of over-billing and water-main breaks. The authority serves two-thirds of the city, about 250,000 people, and treats water from the Allegheny River and distributes it through 1,000 miles of pipes to 81,000 homes. The lead levels in Pittsburgh's drinking water, based on limited sampling, reached 22ppb last July, and dipped to 18ppb in December. New results are expected this summer. Exceeding the 15ppb level triggers increased regulatory oversight, and cities are typically required to begin replacing lead pipes and launch a public awareness campaign about the hazards of lead in water.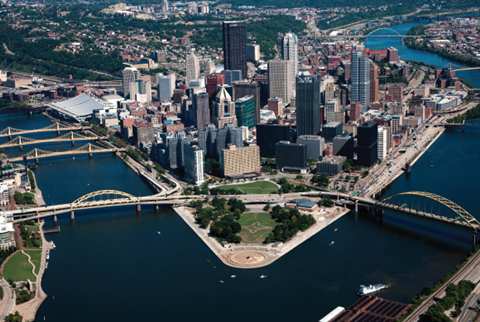 The situation highlights the scope of the water infrastructure problem in the US. Municipalities own nearly 90% of water system assets, according to the EPA. Multiple layers of regulation complicate major overhauls, and the federal system of local, state, and federal funding sometimes restricts the ability of municipalities to efficiently raise substantial capital.
But as Flint and Pittsburgh illustrate, it is time for solutions. According to the American Water Works Association, the average US water system in the East and Midwest is roughly 60 years old, with 40% of systems in the South and West having reached a similar age. The useful lives of the pipe distribution systems, pumping stations and treatment plants range from 50 to 95 years, which indicates that an increasing portion of all US systems will soon be eligible for replacement. Yet the EPA estimates that in 2007 only 4,000 miles of US pipe were replaced, just 0.4% of the installed water pipe base, which suggests such pipes would need to last more than 200 years, compared with the engineering ratings of 50 to 100 years.
Pittsburgh is planning to restructure the water authority so it can borrow $1.5bn to upgrade the water system, and spend an estimated $411m to replace the city's lead pipes over the next 10 years. In April, the mayor unveiled a $1m programme to provide free water filters to residents. In March, the EPA awarded $100m to Flint for drinking water infrastructure upgrades, and a federal judge approved a $97m settlement in which the state of Michigan agreed to replace lead or galvanised steel water lines in Flint, the pipes that connect household plumbing to the main distribution pipes beneath the street, for at least 18,000 Flint households by 2020.
Those sums are literally drops in the bucket. The US water industry spends more than $100bn annually on maintenance and capital expenditure, ranking water among the country's most capital-intensive industries, according the Congressional Budget Office. Estimates vary, but projected needs for capital investment in US water infrastructure run as high as $60bn annually over the next several decades, and continue to move higher, according to estimates from the EPA and Congressional Budget Office. That pace of spending is significantly higher than the $30-40bn that has been spent on water systems in the US annually over the past decade.
State and local funding makes up 95% or more of spending on water systems, according to Goldman Sachs. Cities and states raise most capital in the bond market; US water and sewer municipal bond issuance hit a record $44bn in 2016, up 25% year-over-year to a new annual record, and Goldman expects that to increase into 2018.
At the federal level, the Trump administration has suggested tripling the current $2bn of funding for the Clean Water State Revolving Funds, federal funds that states lend to fund clean water projects at below-market interest rates. The Water Infrastructure Finance and Innovation Act of 2014 (WIFIA) will make loans available on terms more advantageous than the financial market by providing a backstop against credit losses. "Along with WIFIA's subordination in the repayment waterfall, the ability to sculpt amortisation, capitalise interest during construction and defer principal repayment provides considerable flexibility for a borrower's capital structure," according to a recent Fitch Ratings analysis of WIFIA.
Congress appropriated $20m for WIFIA for fiscal 2017 and President Trump's fiscal 2018 budget retains that for fiscal 2018. The funding supports estimated credit losses on WIFIA loans, as opposed to the full loan amount, with each dollar of subsidy supporting $50-100 of loan amount. The EPA estimates the programme may provide more than $1bn in credit assistance, and could finance over $2bn in water infrastructure investment. The Act, says Fitch, "may play an important role in accelerating investment, fostering capital access for small municipalities and encouraging the best solutions, public, private or both to the country's water infrastructure challenges".
Infrastructure Telecoms: A strong signal
1

2

3

Currently reading

Infrastructure Water: Investors could clean up