Only Australia and the UK are home to so-called landlord ports. Sharon Hayes reports on the race for these coveted, income-producing assets
Following the controversial sale of the Port of Darwin to Chinese company Landbridge, Australia has chalked up almost AUD9bn (€5.86bn) in port privatisations since 2013.
Darwin was the most significant port sale in Australia last year. Landbridge, said to have links to the Chinese military, bought the Northern Territory port in November for AUD506m – and set off alarm bells in Washington over security concerns.
Investors scan the globe for opportunities, but they see few chances to acquire what are known as 'landlord ports', which are found in Australia and to a lesser degree in the UK. A 30% stake in Associated British Ports, the UK's biggest port operator, was sold to Hermes and Canada Pension Plan Investment Board (CPPIB) last year for £1.6bn (€2.1bn).
Unsurprisingly, Australia has become the focal point for global institutional infrastructure investors chasing port investments. Industry sources say another half dozen major ports in Australia could be privatised in coming years, with a collective price tag of about AUD15bn.
The most immediate opportunity will come from the sale of the Port of Melbourne, in Victoria, which has been described as the jewel in the crown. Next up will be Fremantle Ports, in western Australia. Port of Melbourne and Fremantle Port could sell for AUD5bn and AUD1.5bn, respectively.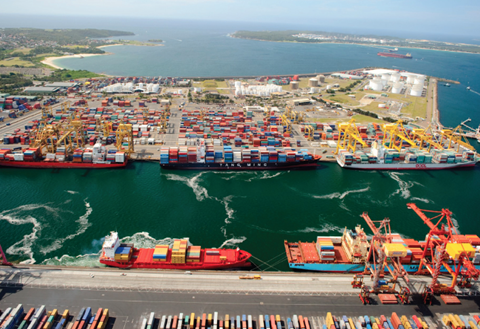 However, the rules of the game have changed since the sale of major Australian ports in New South Wales and Queensland. Under political pressure, state governments plan to legislate to cap future price increases on port users. Other conditions are also likely to be imposed on new owners.
In the case of Port of Melbourne, a 15-year price cap, linked to CPI, is under discussion. Similarly, a price cap has been suggested in western Australia in relation to Fremantle.
If governments bring in price capping, says Ross Israel, head of global infrastructure with QIC, one of Australia's largest wholesale fund managers, it is unlikely they will get as much money, since buyers would have to factor the price cap into the revenue line forecast for any privatised business.
Israel says buyers will typically factor the impact of any cap into the price they are prepared to offer. He questions the need to introduce price capping. "If there is an issue of anti-competitive behaviour in Australia, there is well-worn precedent and regulation that protects potential customers of a port," he says.
Michael Hanna, head of infrastructure for Australia at IFM Investors, says significant issues are yet to be resolved before Port of Melbourne comes to the market. Hanna says the market still does not know what will actually be offered, such as the length of the lease, and whether compensation would be available to the new owners if the Victorian government goes ahead with the construction of a second port in Melbourne.
The most immediate concern may be the slowing down of Australia's economy and the collapse in global demand for commodities. Australian ports have been hit by the collapse in global demand, principally from China. The outlook remains bleak as the Chinese economy continues to soften.
"Recently privatised ports in Australia have also benefited from contracted lease revenues and strong market positions, contributing to certainty of cash flow over the long term. Port landlords are able to sub-lease to stevedoring companies on long leases going out two or three decades"
Hanna cites the example of the Port of Darwin. "It was exporting iron ore and that trade has now stopped," he says. "I understand the other main mineral trade – manganese – will also cease in the short term."
Darwin also services the exploration and extraction of oil and gas. With the collapse of oil and gas prices, the desire to undertake exploration has diminished, says Hanna. "Port of Darwin will no longer be exporting primary mineral volumes for trade. We've seen other ports experience a reduction in primary trade volume as well."
But Hanna says all investors make allowance for short-term volatility. "Typically, these ports are bought by long-term investors and they expect some volatilities in trade volumes," he says.
Australian ports have been sold on more than a 20-times multiple to forecast earnings. Landbridge paid a multiple of 25 on the Port of Darwin's 2016 estimated earnings before interest, taxation, depreciation and amortisation.
These are the same types of multiples as Hastings Funds Management and China Merchants paid for the Port of Newcastle in New South Wales in 2014, and IFM Investors, AustralianSuper and the Abu Dhabi Investment Authority paid for the Port of Botany in 2013.
Against this backdrop, have investors been optimistic?
"Notwithstanding some of the turbulence we are seeing in emerging markets and the resources sector broadly, we are very happy with our investment in the NSW ports," says Jason Peasley, head of infrastructure with AustralianSuper. "We don't feel we have overpaid. We have been very happy with Botany's performance and we continue to be comfortable in the trajectory and prospects."
AustralianSuper was part of an IFM Investors-led consortium which bought Port Botany and Port Kembla, both in New South Wales, for a jaw-dropping AUD5.07bn, acquired as a package.
"We have more appetite for exposure to Australian capital city landlord ports," says Peasley.
Of Australia's superannuation funds, AustralianSuper has the highest exposure – 19% of its infrastructure weighting is to ports. The AUD92bn super-fund allocates 10.5% of its funds to infrastructure investment.
Andrew Faber, Australian head of global investment at Hastings, says landlord ports- have intrinsic value for long-term investors. He says in Australia such ports have had very long leases.
The recently-leased Port of Darwin, for instance, has a 99-year lease. Hastings and its partner, China Merchants, acquired the 98-year lease of the Port of Newcastle in New South Wales for AUD1.75bn.
Landlord ports have their own distinctive catchment areas – the regions they serve. And they ride on the economic well-being of the regions themselves, Faber says.
Faber says recently privatised ports in Australia have also benefited from contracted lease revenues and strong market positions, contributing to the certainty of long-term cash flow.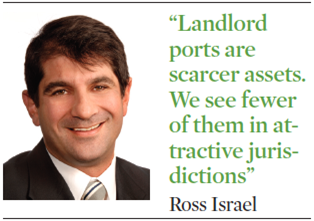 Port landlords are able to sub-lease to stevedoring companies on long leases extending two or three decades, says Faber, and this could represent up to 30% of the stable cash flow to the business. Generally, he says, port landlords have a lower Capex spend than terminal operators. Terminal operators need to keep up the Capex to ensure their terminals remain competitive against other ports.
Isreal says: "Landlord ports are scarcer assets. We see fewer of them in attractive jurisdictions."
There are potentially more terminal concession opportunities, but they present very different risk-return investments for institutional investors. "We have looked at concessions," says Israel. "These are more volatile assets and typically you will need to have assets in an array of different jurisdictions for diversification and strategic locations. There is a typically higher risks with concessions which challenge the more predictable cash flow that we are after."
But where landlord ports cannot be found, terminals become an acceptable alternative.
Looking to the near future, investors say they see few ports prospects on the horizon. "We think some of the UK landlord ports, where the owners have held them in close-end fund structures, may be coming to market," Isreal says.
And this, says Peasley, will include stakes in a Peel Ports, which operates assets in six British ports, including Manchester and Liverpool, jointly owned by Tokenhouse, controlled by John Whitaker and Deutsche Bank.
But it is an open question when these stakes will come to market – if ever.