Global infrastructure funds have had to adapt to changing demands – from both investors and the wider world. Christopher O'Dea reports
The infrastructure funds market has been evolving in recent years. A fair amount of innovation has taken place behind the scenes, prompted by growing competition and the changing requirements of investors.
The fundamental appeal of infrastructure is its predictable, long-term cash flow, stemming from assets that deliver essential services. Wrapping those cash flows into tidy packages for pension funds used to be the main activity of diversified infrastructure funds. But today investors are demanding value creation.
Several key themes are defining the next generation of infrastructure investment. Billion-dollar funds are looking at small-cap and mid-cap projects, resulting in a more traditional portfolio management approach being grafted onto the traditional project finance model.
Developers and utilities are going 'green', making renewable energy perhaps the most popular sub-sector of infrastructure. And with smartphone technology becoming more widespread, it is imperative that infrastructure providers improve the scope of services and the efficiency of delivery users demand, which in turn quickens the pace of innovation and investment in the sector.
The new vigour comes at a critical time. Institutional investors are allocating more capital to infrastructure, swelling the size of funds and steadily raising bidding prices. Preqin says the average target allocation to infrastructure reached 5.7% of portfolio assets in 2014, up from 4.9% in 2011 – and with actual allocations at just 4.3%, there is room for additional commitments to reach targets.
Investors are working with larger fund managers with established track records. Managers raised $37bn (€33.8bn) in 2014, up from $44bn in 2013 – but last year's fundraising was concentrated in just 43 funds compared with 69 in 2013. That has not put off the wider fund management industry – early in 2015, 144 unlisted infrastructure funds were fundraising, targeting $93bn in capital. The winners, says Preqin, "will be those who can offer a distinctive and compelling investment case that matches the needs of their target investors".
Oldrik Verloop, co-head of hydro investments at Aquila Capital, says: "To cover their [pension funds'] liabilities, it's become a very clear objective that returns will have to come from alternative alpha and beta sources. Given the current valuation of the equity markets and persistent low bond yields, infrastructure, in a broad sense, is a solution. It's going to increase in importance and the allocations are going up."
While infrastructure investing has always involved a wide range of engineering, technology and specialist skills, today it includes much more intensive due diligence, sharper focus on industry dynamics and technological change, and monitoring of manufacturing quality and project construction. "It's not a desktop exercise," says Verloop.


Aquila, founded in 2001, has established itself as a leader in renewable energy investing, along with agricultural and timberland. It has carved out a niche in hydroelectric generation since 2009, and operates 60 hydro plants that produce nearly a billion gigawatts of power across Northern Europe. A big part of Aquila's appeal is its hands-on expertise in operating power plants for investors, rather than taking a passive role. Dutch pensions fund APG is investing €250m in European hydropower infrastructure, managed by Aquila. Patrick Kanters, managing director of global real estate and infrastructure at APG, said hydropower "ticks the right boxes" in terms of risk-return profile and high cash-flow visibility.
Verloop says Aquila is seeing investor demand for agricultural and farmland in Australia and New Zealand, a bet that increasing food consumption in China and other emerging markets will drive demand for crops and livestock. Those businesses are increasingly being consolidated and run like power and other classic infrastructure assets to achieve the long-term stable cash flows that are the hallmark of the asset class. Verloop says there is also "a shift to renewables" in Japan and Europe. "We're talking to investors about new solar, wind and hydro projects in those markets."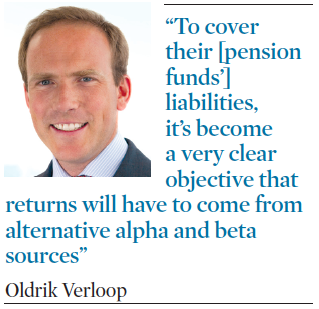 Most funds focus on developed markets and OECD countries where much of the world's infrastructure is, and a great deal of it is being replaced and refurbished. But supply alone does not make for an investable market. "If you're walking down the road and you trip over a power plant, you've found an infrastructure asset," says Jim Barry, managing director and global head of BlackRock Infrastructure Investment Group. "But it may not be an infrastructure investment."
That distinction illustrates the big challenge in infrastructure, says Barry. "There's no common language of risk," he says. In public debt markets, credit ratings serve as a risk language, but on the equity side, "you can quickly head into private equity levels of risk."
BlackRock employs a disciplined portfolio approach that seeks to identify sectors where there is a steady flow of opportunities. It then aggregates assets into large portfolios with very specific mandates. In an industry where large, broadly diversified funds still dominate, Barry concedes he is sometimes leaning into the wind. "We're trying to buck a trend here," he says.
The mission brief is to focus on assets with market caps of between $25m and $200m. BlackRock favours renewables such as wind power in European and North American. It has invested or committed $800m to the sub-sector in the past two and a half years through its Global Renewable Power I fund, and expects to continue the strategy with Global Renewable Power II next year.
The renewables sub-sector has a reliable supply of opportunities stemming from strategic changes in the industry, Barry says. Until late 2008, most energy project developers held assets in broad development portfolios that included some form of project financing, and utilities kept new projects in renewable technology on their balance sheets. By 2010, both began to seek financial partnerships with institutions.
Today, says Barry, developers look to institutional capital to supply all the equity in a project and utilities typically look for 50% financial partners on renewable energy projects. The industry's strategy has changed for good, he adds – renewables make up 20% of the addressable market in most countries, and renewable technologies account for 30% to 50% of the new investment outlays in the utility sector.
Preqin says more than 70% of infrastructure deals in the past three years have been for less than $500m, and a preference for OECD small and middle-market assets is also evident at AMP Capital. The firm's second equity fund, AMP Capital Global Infrastructure Fund, earlier this year reached a first close with $540bn in new commitments from investors in countries including Japan, the US, Canada, Ireland and Belgium. AMP is targeting $2bn and has seeded the fund with $750m in existing assets, says Manish Aggarwal, an investment director in AMP's Direct Infrastructure team in London.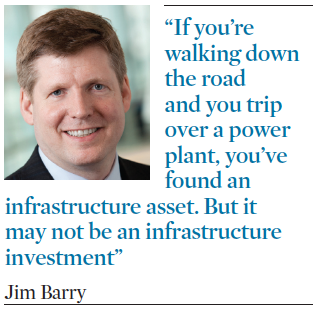 The seed capital represents all the assets that were held by a previous AMP-managed fund launched in 2006. The seed arrangement gives the new fund a base of cash-yielding brownfield assets in various sectors in the Europe and UK, including rail, water, airports, electricity transmission and refined product storage/transportation. It also reduces blind-pool risk, enabling investors to conduct due diligence on a large existing pool of assets, and to have a greater portion of their capital drawn immediately upon committing to the fund. "Neither of these attributes can usually be achieved in a closed-end fund structure," according to AMP.
AMP will target companies with an equity value of $100m to $750m. "We think in these types of mid-size or small-size assets there is a lot of growth potential," says Aggarwal. "There's a lot of value addition which active fund managers like us can do," he says. "In the trophy assets, there's a lot of regulatory risk, a lot of political entities are involved, which is a different risk, versus small and mid-cap assets, which can be managed and provide growth. In the smaller company, you can take controlling positions and then you can put your strategies to use."
Control is critical in optimising returns. "If you can control the company, decision making will be much faster," Aggarwal says. "And when you sell these companies, you also have a premium because the buyer understands that they can control and manage the company."
Aggarwal says AMP's analysis of more than 100 investments shows that the IRR for funds that had a controlling stake or significant influence was almost 200bps higher than in other situations. For its new fund, AMP is targeting a 12% to 15% gross IRR with a 10-12 year investment horizon. According to the firm, it has generated a 15.6% gross IRR on $4.7bn invested in 26 assets similar to those in the new strategy.
Now that infrastructure has become a staple investment, it is vital that investors examine each transaction in more detail than ever before, says Marietta Moshiashvili, head of the infrastructure group at TIAA-CREF.
There are multiple layers of risk even for assets where revenue appears to be solidly contracted. The infrastructure team includes a geologist and engineer, and due diligence now includes thorough reviews of technical consultants conducting key studies like traffic forecasts, and the credit risk of utilities taking power from generation plants. The reviews help to validate the contractual strength of each asset and determines its value should it need to be sold. "We always take comfort if that asset is valuable in some else's portfolio," she says.
The search for yield is broadening the interpretation of infrastructure. Swedish private equity firm EQT, owned in part by Wallenberg family office Investor AB, has pioneered the concept of 'route-based infrastructure service businesses', which offer a stable earnings base, defensive market position and multiple growth avenues – not necessarily linked to any governmental concession or funding.
In April, EQT Infrastructure II, a €1.9bn fund investing in medium-sized infrastructure businesses in the Nordic region, continental Europe, and North America, said it would acquire WASH Multifamily Laundry Systems, the largest Canadian provider and second largest US provider of route-based laundry services to multifamily apartments and universities. Founded in 1947, WASH today displays infrastructure characteristics – its customers have an average tenure of more than 20 years and a 98% renewal rate, generating strong recurring revenue.
To manage its 70,000 locations, WASH employs sophisticated routing technology with a fleet of 600 satellite-enabled vehicles. Technological innovation points the way forward for infrastructure investing, says Arggawal.
"As our lifestyles keep changing, you will need different things in a different way," he says. "The definition of infrastructure is changing faster because now the expectations of people have also changed. "Ten or 15 years ago, people were more patient – this is my personal view – but people have become more impatient about efficiency and technology, and that will drive the growth for every infrastructure company.