Infrastructure debt funds have more dry powder than at any time in the past decade. Christopher O'Dea reports
Some of the biggest infrastructure investment managers launched large debt funds in 2018. Data from Preqin illustrate the popularity of infrastructure debt (see figure). Although the overall pace of new fundraising was likely to lag 2016 and 2017 when 31 funds raised $13.2bn (€11.5bn), by March 2018 managers already had $20.4bn of dry powder.
The popularity of the asset class stems from its reliable cash flow from long-life assets that generate revenue under secure service contracts, which for debt investors is appealing.
The collateral for infrastructure debt are assets that provide essential services, Cambridge Associates says, creating the potential to diversify a portfolio's returns away from assets that are sensitive to the business cycle, to assets that offer a return premium in exchange for their complexity and illiquidity.
While noting the limited performance history of infrastructure debt funds, Cambridge Associates says Deutsche Bank estimates that private investment-grade infrastructure debt in 2017 offered a spread premium of between 60bps and 100bps in Europe, and 60bps and 130bps in the US, relative to public equivalents.
Cambridge Associates suggests investors assess fund strategies based on the credit quality of the assets they target, with investment-grade credits, crossover credits, or credits with equity features being common groupings. Within each grouping, strategies will differ based on sector and regional exposures, as well as how the manager seeks to add value.
Capital preservation strategies invest in senior-secured, investment-grade debt, targeting gross internal rates of return (IRR) in the range of 3-5% from assets with maturities ranging from seven to 30 years. Managers seeking to enhance returns with exposure to crossover credits that straddle investment-grade and non-investment-grade debt typically target gross IRR in the 6-10% range by investing in debt that may be senior and junior in the capital structure. Opportunistic strategies are likely to be more exposed to junior debt instruments, and may have equity features. Target gross IRR on such strategies tend to be 10% or higher, rivalling return targets for core infrastructure equity funds.
For strategy, an influx of capital is increasing competition. While there is some concern that demand for infrastructure assets might be pushing prices to levels that could make it challenging to meet return goals while staying within risk limits, 43% of institutional investors Preqin surveyed in mid-2018 expected to commit more capital to the asset class in the next 12 months, the highest proportion of any asset class.
There is good reason to invest more. McKinsey Global Institute estimates that there will be a $5.5trn global infrastructure funding gap by 2035.
Andrew Jones, AMP Capital's global infrastructure debt head, says 2018 could be characterised as "one of continued momentum and strength in the infrastructure debt space… From our perspective, it's been a record year in terms of transactions completed, capital invested, and opportunities reviewed."
Jones says: "The strong increase in infrastructure equity raised has led to corresponding large volumes in transactions being completed. We've seen new participants joining the market. We have seen increased involvement, by banks in particular, in packaging and selling pools of infrastructure loans to institutional investors."
In response to concerns that higher prices are making it harder to deploy capital, Jones says "we haven't found that to be the case". Many of AMP Capital's transactions come from existing relationships with infrastructure equity providers," he says. But the larger theme is that there is more activity in the market generally.
As 2018 ended, AMP Capital had deployed about equal amounts of capital to North America and Western Europe. Jones says: "Heading into the year I would have said it's likely we would deploy more capital in North America. We were seeing more opportunities and more momentum in the market there."
But 2018 brought a shift. "There have been more opportunities in continental Europe than we've seen historically," Jones says, "and we're seeing opportunities from the Nordics to southern Europe.
"The biggest [sectoral] shift in our business over the last 12 months has been the demand for capital from the telecommunications sector," he says. AMP Capital completed several investments across assets including fibre businesses, data centres, telecommunications towers, and networks. "There's a significant amount of capital pouring into the sectors, and it's been a major area of growth for us," he says.
There are also new participants in the infrastructure debt market from the investor side, says David Cooper, head of IFM Investors' debt business in Europe, the Middle East and Africa. "There is appetite for infrastructure debt coming from Asian countries, particularly Japan, Korea and China, through the bank market," he says Cooper.
While Asian investors have been active in the US infrastructure debt market for several years, "this year was really the first time we've seen significant amounts of non-bank, Korean and Japanese, money coming into the infrastructure debt markets in Europe," he adds.
The new demand, says Cooper, "is driven in part by foreign-exchange swap-back economics, I believe." At the moment a yen investor buying euro assets could swap them back and achieve a significant yield pickup.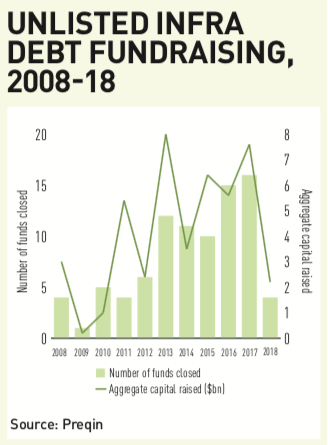 But more fundamental factors are at work. "There is a significant amount of savings in various forms, sitting in institutions in Japan and Korea," Cooper says. "Local market returns, especially in Japan, are very, very low in local currency terms.
"The theme is one of looking for alternative assets to generate return because returns are so thin in their own markets. These investors are quite conservative in their outlook, seeking opportunities in high-quality credit at a return premium to their local market, which is one of the reasons infrastructure assets appeal to them."
Assets structured as public-private partnerships are particularly appealing. "Anything that looks quasi-governmental, but where they're getting a significant pickup over what they would get for the returns they get on their own government bond can be quite attractive," he says.
Demand for infrastructure debt has matured: last year IFM launched its first open-ended global fund, raising an initial $500m for a vehicle expected to source the lion's share of opportunities in senior secured floating-rate notes to US borrowers. It is an area of the sub-investment-grade market where IFM sees a lack of supply, as insurers and institutional investors typically target long-duration, fixed-rate debt and private-equity funds target mezzanine and preferred equity.
Institutional appetite for infrastructure debt in late 2018. Archmore Infrastructure Debt Platform II (IDP II) – the second European infrastructure debt fund from UBS Asset Management's Real Estate & Private Markets group – exceeded its target of €700m, raising €850m to invest in senior secured loans to mid-sized projects in Western Europe.
Allocations to infrastructure debt might be perfect for institutional investors facing increasingly volatile credit markets.
Moody's Investors Service's annual infrastructure default study found that infrastructure securities demonstrate better long-term credit quality than non-financial corporate (NFC) issuers.
At 92%, the majority of Moody's infrastructure ratings are investment grade, compared to 40% of NFC ratings, and over a 10-year horizon, a total infrastructure debt security lost 0.5% of its face value, on average, compared to 8.9% for a typical NFC issuer.