The old market adage that the trend is your friend is playing out in the infrastructure debt sector. Christopher O'Dea reports
While infrastructure debt is becoming an important part of institutional allocations, it is a comparatively small bucket for many investors. Bank financing makes up 80-90% of total financing in the infrastructure market, according to the 2020 infrastructure finance outlook from Declan O'Brien and Alex Leung of the Infrastructure Research & Strategy Team at UBS Asset Management Real Estate & Private Markets (REPM).
Although small compared with the €118bn European private infrastructure debt market, the infrastructure debt fund market is growing in Europe. Over the two years to November 2019, 19 senior debt strategies have been launched, raising €5.4bn.
Part of the attraction of infrastructure debt is relative yield, and investors need to monitor the impact of central bank policy on interest rates. Fixed income yields have compressed significantly over the past 12 months, with the 10-year swap rate declining from 0.8% at the start of 2019 to about 0.1% at the end of the year. At the same time, investment-grade spreads fell by about 50bps, in part driven by the slowing European economy and expectations of further rate cuts and quantitative easing (QE).
The UBS REPM team expects rates to continue coming under pressure in 2020 with the European Central Bank (ECB) committed to ongoing QE. Rates on bonds not eligible for purchase by the ECB are indirectly affected by the decline in investment-grade bond yields as investors move up the risk curve to seek yield. That has contributed to the decline in yields in the infra-structure market over the past 12 months, although the decline is less pronounced than in the market for publicly traded bonds because banks are still the main source of infrastructure debt capital.
Infrastructure debt managers have been exceeding fundraising targets over the past year or so. Strong investor interest helped UBS REPM close its second European infrastructure debt fund within nine months of its launch – Archmore Infrastructure Debt Platform II raised €1bn, exceeding its €700m target. The fund will look to take advantage of the continued imbalance between supply and demand for debt capital in mid-size European infrastructure assets, focusing on private, senior secured opportunities, primarily through direct lending where it sees the most attractive risk-adjusted yield potential.
Montreal-based Cordiant Capital, for example, ended 2019 by announcing the largest first close for one of its funds since the firm began managing private capital in 2001. Cordiant VII Infrastructure & Real Assets Debt fund reached a first close that exceeded $500m as both new and returning investors, including large European insurers and a respected Canadian family office, backed the firm's latest offering. A final close for the new vehicle is expected in the first half of 2020 at a hard cap of about $1bn.
Such rapid fundraising shows that infrastructure debt is the asset class of the moment. "After years in the background, infrastructure debt has found itself in the spotlight," says Andrew Jones, global head of infrastructure debt at AMP Capital. The Australian firm posted its own record infrastructure debt fundraise in 2019, attracting US$6.2bn from 86 institutions in under a year.
Infrastructure debt is just what the doctor ordered for portfolios ailing from the low interest-rate policies well into their second decade. Jones notes, infrastructure debt offers investors a combination of yield and security that is difficult to find – long-term, contractually-secured cash flows, regulated operating and capital expense environments, and a low correlation with the return profile of traditional asset classes.
Investors might also wish to consider the relative attractiveness of lending to infrastructure project assets compared with loans to corporate entities engaged in infrastructure businesses.
An EDHECinfra study compared the yield spread over short-term risk-free rates for each type of infrastructure debt, using its universe of about 2,300 debt instruments over a 20-year period (see figure). Project debt has recently reached a plateau at about 200bps over the risk-free rate, while debt of corporate infrastructure entities such as utilities yields less.
Corporate debt is also largely investment-grade, while project finance debt can be well below investment-grade, says EDHECinfra director Frédéric Blanc-Brude. In the EDHECinfra sub-indices, he says, 98% of corporate infrastructure debt is investment-grade compared with only 89% of project debt, while project debt has a duration – the sensitivity of the debt value to interest rate changes – and value-at-risk that is a bit higher than corporate infra debt.
The AMP fund focuses on secured mezzanine or subordinated infrastructure debt. Based on AMP's investments in the asset class since 2001, Jones notes that subordinated infrastructure debt has produced attractive returns throughout the market cycle.
At various points in the economic cycle, "the opportunities for our strategy are particularly strong", Jones says. "We are at one of those points now because the amount of capital that infrastructure equity investors are looking to invest has pushed asset prices up; debt is required for these transactions, and there are few managers in the market with the scale to provide significant cheques in subordinated infrastructure debt to a single asset."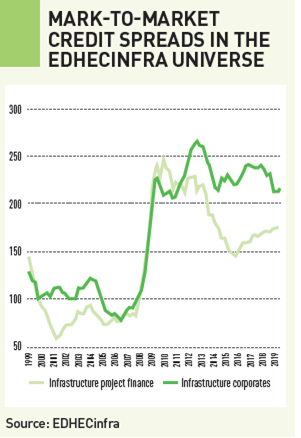 Infrastructure investors also need to keep an eye on technology trends and the prospects for various essential-service sectors. The four key sectors AMP focuses on are energy, digital infrastructure, transportation, and utilities, across North America, Europe and Australasia. "We aim to build a diversified portfolio across these four infrastructure verticals," Jones says, with each fund in its series making about 15 investments with typical maturities of seven or eight years, varying in size from US$75m to US$500m.
Within energy, Jones says, the renewables segment offers attractive opportunities, including thermal generation, as well as mid-stream energy assets. Communications infrastructure is another attractive sector. "Spurred on by the rollout of mobile-phone towers for 5G networks across the US, and [investment in] digital infrastructure, such as fibre [optic] networks and data centres, [telecommunications] is a significant theme within infrastructure."
Digital technologies evolve rapidly, and "the potential for disruption due to technological changes and innovation is one of the risks that the investment team considers and factors into their due diligence process when analysing an asset," Jones says. For example, data centres "may be at risk of facing disruptive technologies that would lead to their customers or tenants changing their requirements and demand for the data centre," he says. This risk inherently lies with the customer of the data centre, Jones notes. "In the case of our investments, they agree to long-term leases, which need to be paid irrespective of changing space needs due to technological innovation."