The One Belt, One Road initiative will create important opportunities and is being closely monitored by leading investors. Florence Chong reports
In scanning the globe for new trends, Australian fund manager QIC says it is impossible to ignore China's One Belt, One Road (OBOR) initiative. QIC describes OBOR as one of five megatrends that will impact almost every area of human life, with particular focus on those touching infrastructure.
It believes China is seeking to deploy capital to build and control the infrastructure it needs along its trade routes, which are based on the ancient Silk Roads from Asia to Europe. China's investments will most likely be ports, pipelines, freight railways and energy infrastructure, notes the fund manager.
As an infrastructure investor, QIC pursues investment opportunities in this sector globally, and OBOR remains close to the top of its watching brief.
Major international players like Blackrock, Blackstone, Canada Pension Plan Investment Board (CPPIB), Ontario Teachers' Pension Plan (OTPP), TPG Capital and Macquarie Group, already have a ringside seat. They have become partners in the Infrastructure Financing Facilitation Office (IFFO) for OBOR projects. This was set up by the Hong Kong Monetary Authority (HKMA), Hong Kong's central bank. Together with 41 other global and Chinese investors, they are positioned to capture investable opportunities in the decades ahead.
CLSA, an independent brokerage based in Hong Kong, notes that the OBOR countries' infrastructure needs dwarf the $300bn (€268bn) in capital that China's new infrastructure banks are trying to raise.
There is a massive gap in infrastructure funding in Asia, even with China's help, says CLSA's head of China and Hong Kong strategist, Francis Cheung. He estimates that the OBOR countries require investment of around $730bn each year until 2020. The Asian Development Bank says the region requires $8trn over the next decade.
A strong proponent of OBOR, Douglas Flint, group chairman of HSBC – the largest foreign bank in China – says the initiative presents an opportunity to make infrastructure an asset class in its own right. At the inaugural Belt and Road Summit in Hong Kong, Flint spoke of a desire for long-dated assets in the global pension system.
Flint says OBOR projects will be too large for a single institution and will require "extraordinary" collaboration between multilateral and state agencies, and private financiers and investors. He believes public private partnerships (PPPs) provide a funding model.
HKMA set up the IFFO to identify issues facing investors clearing the hurdles for private capital to participate in OBOR.
Enoch Fung, general manager of IFFO, says key considerations for investors will be market entry and attendant issues – like risk mitigation, insurance, and local currency risks.
"From a financing perspective, banks are faced with a lot of challenges on the regulatory side in the provision of financing," Fung says. "These problems are not easy to crack, [but] at least we can try to figure out the parameters to see where the issues are."
Fung believes IFFO has the advantage of having networks of stakeholders within the infrastructure financing industry from which to draw expertise. He points out that 60 of the top 100 global money managers and 70 of the top 100 global banks have their Asian headquarters in Hong Kong. So Hong Kong is positioned to provide a bridge between financiers, project initiators and investors.
"We have banks, asset managers and investors, like CPPIB, OTPP, APG and the Church Pension Group in Hong Kong," he says. Virtually every Chinese state-owned organisation and private corporation have a presence in Hong Kong. "We have them together. The question is: How do you harness that network? That is really the main motivation behind setting up IFFO."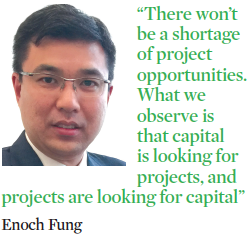 Fung says IFFO will work to establish the institutional capacity for OBOR. This is what Flint calls "a template of documentation, financial analytics, arbitration and rule of law".
IFFO hopes to provide a platform to deal with these challenges. It will also draw on the insurance sector to consider risks ranging from currency fluctuations to operational and construction issues.
Fung says: "If we can demonstrate that risk can be insured against, it helps tap into the capital markets more directly." Hong Kong and IIFO are not intended to supplant Beijing's role in the OBOR initiative, he says. He notes that Chinese banks and state-owned companies are IFFO members.
Some of the mainland investors, such as China Investment Corporation (CIC), are IFFO partners, along with development funding agencies such as the Silk Road Fund, the China-Africa Development Fund, CITIC Capital and CNIC. "As partners themselves, they are motivated to contribute to our platform," says Fung.
In the initial stages, Flint believes project-finance bonds could provide the first step towards encouraging global capital into OBOR projects.
"The bond market is in its infancy in Asia," says Fung. "For a [project] bond market to function efficiently, there needs to be a good understanding of the regulatory and foreign exchange regimes in the region." He says banks are moving in that direction.
Hong Kong, has the wherewithal to develop appropriate bond products. As for investor appetite, Fung says investors and capital providers are engaged in seeking out alternatives, particularly in real assets.
Aside from real estate and private equity, they are venturing into longer-term assets like infrastructure, he says. "Many of them are still focused on brownfield projects but, over time, you will start to see this space becoming overcrowded."
Given the zero-yield environment and market volatility, Fung says: "our observation is that investors are starting to explore the real asset space". He adds: "There won't be a shortage of project opportunities. What we observe is that capital is looking for projects, and projects are looking for capital. The mismatch comes from risk allocation and how you price that risk, how you see sovereign political risk, regulatory risk, operational and construction risk."
In the private sector, Fung says, players will follow their commercial instincts to find viable projects. He highlights that IFFO is not a deal-matching platform. Its role is to provide capacity building and knowledge sharing. Besides, he points out, IFFO has partners who are directly involved in projects.
"We have companies like GE as a partner, and GE would have its own pipeline." (GE's vice chairman John Rice is one of two advisors to IFFO. The other is Hong Kong businessman, and US citizen, Victor Fung.)
"So the question is not so much that IFFO needs to build a single consolidated project pipeline, our partners will have their own list of projects. We are an information exchange and a platform for sharing experiences. Our partners have expertise in different areas and they can come together and address some of the risks and impediments."
The end game is to play a role in facilitating the channelling of private capital into emerging markets where capital is needed most.