Institutional investors would love to invest in US airports but, so far, it has proved close to impossible. Christopher O'Dea reports
Private infrastructure investors are eager for a chance to bid on airport assets in the US. After all, airports are in many ways the Holy Grail of infrastructure investing, promising decades of stable cash flows – the more so for the largest airports serving global destination cities – and a buffer against the vicissitudes of business cycles.
Julio Garcia, head of infrastructure for North America at IFM Investors, says: "The challenge with having private investment into infrastructure, whether it's from public pension funds or other investors, is that there needs to be a revenue stream associated with it in order for investors to get their money back.
"The good thing about an airport is that there are plenty of revenue streams already attached to it. So it's different than taking a road or a bridge that isn't tolled today and putting a toll on the use of that asset. With an airport, you already have a lot of ways to pay back the investors."
But for now, institutional investors are in a similar situation to many air travellers – they are stuck in a holding pattern.
The delay stems from a force more powerful than weather – regulations of the US Federal government. Federal Aviation Administration rules governing US airport finance prevent airport owners from applying revenue from airport operations to any purpose other than airport projects. That means the very revenue stream that makes an airport an attractive asset cannot be used to pay private investors a return on their capital, a deal-structuring wrinkle that effectively prevents significant private investment in entire airports. Compounding the problem, the passenger facility charge that state and local airport authorities levy on air carriers has not been raised since 2000, squeezing budgets as operating costs and capital investment needs have increased.
Complicating the picture is the unique system of airport ownership under the US federal system. While air travel, air traffic control and the fees that generate most airport revenue are under the purview of Federal laws and regulations, airports themselves are primarily owned by local municipalities, states or local transport authorities.
This arrangement sets up a conflict between national policies governing air travel and the financing of critical assets that are essential to US commerce on the one hand, and the policy objectives of municipalities for their airports on the other. Municipal policies typically revolve around local and regional economic development needs – and those needs often include competing with each other for tourism, corporate office and industrial space and the host of related businesses that all generate tax revenue at the state and local level.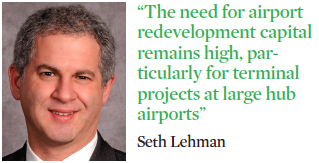 "Private investors would love to invest in US airports," says Susan Gray, global head of S&P Global Ratings' global infrastructure practice. "But the regulatory construct significantly limits their capacity to do that in a way that works for private investors because it's very hard to take revenue out of the airport. So it's very hard to proceed to pay any equity returns."
There is one recognised path to bringing private capital to US airports: the FAA Airport Privatization Pilot Program. Created by Congress in 1996, the programme allows exemptions from onerous provisions of airport grant agreements for up to 10 US airports. Cities whose airports are accepted for the programme do not have to repay previous federal grants, and they are allowed to keep the proceeds from the sale or lease of an airport.
According to the Cato Institute, the programme was a reaction to the privatisation of UK airports in the 1980s, but it has been little-used. The only airport privatised under the programme is Luis Munoz Marin International in San Juan, Puerto Rico, where an Aerostar consortium in 2013 paid $615m up front and agreed to invest $1.2bn in the airport over the 40-year lease, which includes a revenue-sharing agreement with the local government.
Other hurdles remain in the pilot programme, Cato notes. Airlines lobbied to include a provision specifying that to keep sale or lease proceeds from a privatisation, a city must obtain the approval of 65% of the airlines serving an airport, creating the potential for airlines to block privatisation if, for example, they believe it would increase competition.
The US situation presents a stark contrast to the situation in most other developed countries, where private operation of airports is common. Underlying ownership patterns can facilitate private investment.
In Australia, for example, the federal government owns the country's major airports. The government's decision about 20 years ago to privatise airport development, maintenance and operation therefore applied to the entire airport network, creating a large-scale investment opportunity in which private capital enabled the Australian government to use the proceeds from the sale of airport operating concessions to pay for other infrastructure needs.
Garcia say: "One of the challenges with the US in terms of this becoming a more significant investable asset class is that there isn't a single government entity responsible for the airports." In Australia, he adds, "when the federal government makes a decision, they can make a decision on behalf of a whole group of airports."
The Australian policy was driven largely by economic need, and it is likely that a similar economic and budgetary impetus will be needed from municipalities to open the door to private investment in entire airports in the US. Making progress on that front is a matter of education, says Garcia. "Firms like ours have certainly participated in and are looking to educate governing bodies about what options they have in terms of how they can finance their infrastructure."
Moving to a private-market orientation may take some time. While utilities and energy sectors are now comprised mainly of listed companies, "transportation is an area that hasn't made that move", Garcia says. But as governments looking for ways to revitalise the infrastructure and to find funding to pay for infrastructure needs, "there's a very clear path to the airports as a potential opportunity".
The optimal approach, Garcia says, is to consider how all aspects of an airport can be managed by a single operator. "The idea is to have an operator step into the role of what is currently being provided by government," he says. A comprehensive approach facilitates planning for growth. Stimulating and accommodating growth is typically the primary aim of local airport authorities, and it is hard to achieve that goal otherwise. "If you're only managing a single terminal, it's hard to think about the growth of the city or how the entire airport needs to grow, both the land-side and the air-side aspects," Garcia says.
There are signs that private investment is finding more landing slots at US airports. The "need for airport redevelopment capital remains high, particularly for terminal projects at large hub airports", according to a recent airport sector briefing by a Fitch Ratings team led by senior director Seth Lehman. The North American arm of the Airports Council International estimates need for capital at US commercial airports to be $100bn (€918m) between 2017 and 2021.
Fitch says this is prompting airports to increase leverage. "Lack of increases to federal funding and the [unchanged] passenger facility charge rate is putting more emphasis on debt borrowings for capital funding." In the tightening financing environment, Fitch says, "the public-private partnership option is gaining traction in the sector, with projects under way and in pre-approval stages".
Financial metrics appear to favour public-private partnerships (PPPs). A McKinsey & Company report on infrastructure noted that cost overruns were about seven times more likely on traditional government projects than PPP projects. And an Australian study that compared 21 PPP infrastructure projects with 33 traditional projects found that "PPPs demonstrate clearly superior cost efficiency over traditional procurement", while providing "superior performance in both the cost and time dimensions".
But hurdles remain. Only one significant PPP has resulted from the FAA pilot programme, Gray notes, in large part because the approval process for airport projects is long. "There's such a number of steps that you have to go through and it takes quite a long time," she says. Obtaining approval for airport projects "requires a significant amount of political goodwill, and because it is a reasonably significant transaction there needs to be a quite a lot of stakeholder involvement and management of people's expectations to address concerns".
In the end, municipalities have a strong incentive to forge a new path for airport finance, Gray says. "There's certainly a lot of potential capital from a city and county perspective tied up in the airports," she says. "If you're able to expand the airports, you can create more jobs in these cities, and that's all quite positive. It's really just a question of getting the regulatory change, which is something that the new administration should think about."
Investors are certainly thinking about coming in for a landing. "Airports are our largest investment class," says Garcia. "Like a number of other investors, we would be quite interested in many of the US airports."
Infrastructure Airports: Not cleared for landing
1

Currently reading

Infrastructure Airports: Not cleared for landing

2