The broad set of public companies owning global infrastructure assets is an opportunity for investors to increase exposure, writes Fraser Hughes
Airports represent stable infrastructure assets, even if they are part of the sometimes turbulent aviation industry. While there is a natural link between airports and airlines, relying on one another to operate efficiently, they have different business models. Airlines need to be able to be flexible and move quickly to respond to changes in traffic flows, by leasing or reducing capacity.
Airports must plan long term to safeguard capacity. Mid-term planning equates to 12 months for airlines and five years for airports. Long-term planning is typically between three and five years for airlines, and 20-25 years for airports, according to Airports Council International (ACI).
In recent decades many airports have transformed from their functional role as government infrastructure asset providers into more sophisticated, customer-focused, business-oriented service providers, covering a range of activities. This change has originated from customers and stakeholders alike, as they demand more from airports. Moreover, airports have played a critical role in keeping air traffic affordable by stabilising operating costs for airlines. The ACI estimates that airports have held user charges at a stable 4% of airline operating costs for over the past two decades.
A large number international airports are government-owned, particularly in the US. Of the top 15 by passenger numbers, approximately half are government-owned (figure 1). The group of listed airports punch well above their weight in terms of passenger numbers. Listed airports own, or participate in, 20 of the top 100 airports at a global level. In terms of passenger market share, that means 24% of passenger numbers in the top 100 pass through a 'listed' airport. More impressively, when looking at the top 50, 29% of passengers pass through airports owned by listed companies.
In terms of passenger growth, two listed airports topped the 2015 list: Bangkok and Kansai-Osaka. Aena which listed in Madrid in February 2015, is the world's number one operator in terms of passenger volume, which in 2015 reached a total of 207m passengers. It owns two of the top 10 airports in the EU in terms of passengers: Madrid (5th) and Barcelona (9th).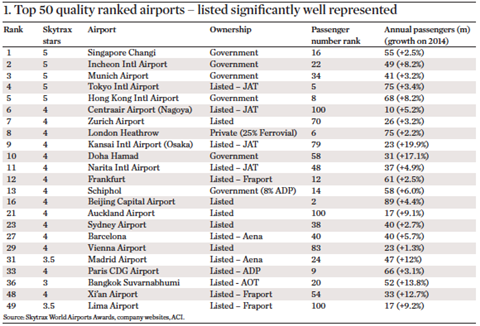 Maria Jose Leal, Aena deputy CFO, says: "Aena's extensive airport network, coupled with their diversity in terms of type and size, has enabled the company to develop a broad experience in the management of airports. In addition, Aena, together with other concessionaire companies, manages 15 airports outside of Spain, building further international experience."
Equally impressive is that 16 of the airports owned by the listed companies rank in the top 50 airports global for quality (figure 1).
US airports accounted for 27% in the top 100 in terms of passenger numbers. However, only 12 US airports make the top 100 in terms of quality. In fact, only two US airports achieve a four-star Skytrax airport ranking. In quality terms, the first US airport quality ranked is Denver at 28. Denver is followed by Cincinnati (32), San Francisco (37), Atlanta (43), Seattle (54), Dallas (58), JFK (59), Houston (71), Minneapolis (75), Detroit (89), Los Angeles (91) and Boston (97).
President Donald Trump's recent comments on the state of New York City's airports is a stark reflection on how chronic underinvestment over decades has seen US airports slip down the rankings. Perhaps Trump should consider stimulating a privatisation programme during his term in office.
Maybe his first step would be to ask the advice of his Mexican neighbours after their successful listings of ASUR, GAP and OMA. Pedro Balcao Reis, managing director at Santander Corporate Banking in Mexico, says: "The privatisation of Mexican airports in the 1990s has been a major success. Cancun airport, operated by ASUR, privatised in 1998 and listed in 2000 is a great example. Cancun is the second biggest airport in the country and its quality of service has improved considerably since listing and is a great example of the potential of privately operated infrastructure."
Airports usually move from state-owned to privatised when large expansions are needed to cope with passenger growth. As part of the concession granted to the privatised company, airports have to invest substantially in infrastructure to increase the capacity and expand and upgrade the available retail area. At the same time, the core aviation business gets structured more efficiently and revenue streams become more diversified. Larger airport operations include passenger- and aircraft-related operational charges and commercial income such as retail, food and beverages, parking as well as real estate income. Also, some established airport operators further extend their business model into international airport development, which diversifies the business model and secures long-term growth.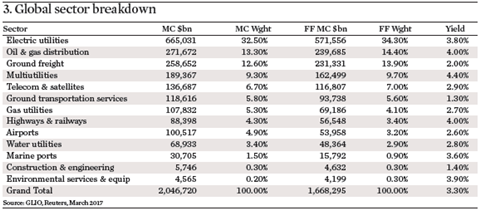 In many ways, modern airports do not only serve as transportation hubs. They have strong retail offerings, manage a huge variety of different infrastructure and transform more and more into service centres.
Lukas Brosi, CFO at Zurich Airport says: "The Circle marks a further major step in the development of Zurich airport. Just steps away from the terminal buildings, the new, architecturally-striking complex will buzz with life and services. With the atmosphere of an international business district, it will be a location for business and lifestyle. Zurich airport will transform into the second centre of Zurich."
Airports display a different risk-return profile compared with infrastructure sectors. The volatility of airports has been higher, however – the overall total return of the airports sector outpaces significantly broader global infrastructure (figure 2 and figure 4) and equities.
The compounded annual growth rate for global airports is forecast at 4.9% during the period 2016-40. As you might expect, the developing markets have larger forecasted growth rates. The Middle East tops the list at +7.7%, followed by Asia Pacific +6.2%, Latin America +4.6%, Africa +4.2%, Europe 3.7% and North American +2.8%. By 2029, domestic and international passenger traffic could double from current levels to 14bn, with emerging markets taking a larger share of the overall total. By 2040, emerging markets are forecast to show a 60% market share, up from 44% in 2015. Airport cargo is expected to grow at more moderate rates globally (+2.3%).
The global universe of listed infrastructure securities covered by the Global Listed Infrastructure Organization includes a diverse set of industry sectors that are affected by the economic conditions, regulatory trends, and supply/demand dynamics that are unique to the local markets and sectors in which they operate.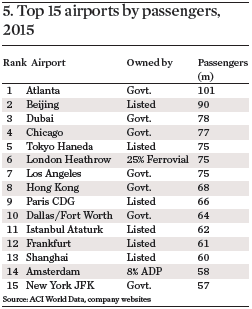 Looking at the $1.9trn (€2,2trn) global listed infrastructure sector, Airports constitute about 5% at a full market capitalisation level, or 3.1% using free float. Airport dividend yields at 2.7% fall under the 3.5% average of listed infrastructure. Average yields are similar to global equities.
Thomas van der Meij, head of infrastructure research at Kempen, says: "Listed European airport multiples are in line with those of the other infrastructure subsectors, but recent transactions show that the private market is trading at a premium to the listed market. Given the sector's more cyclical business, we expect earnings to grow with the improved sentiment and modest inflation. As such, we believe that the airport sector currently offers a decent risk/return proposition."
Ben Morton at Cohen & Steers agrees.
"We see exposure to assets owned by the listed airports, as an essential part of a broader diverse allocation to global listed infrastructure," he says. "These companies tend to own top-quality, globally recognised assets, and they tend to maximise the potential of these assets with professional management experience."
Fraser Hughes is CEO of GLIO
Infrastructure Airports: Not cleared for landing
1

2

Currently reading

Infrastructure Airports: A public flight to quality