Transport and power have been favoured infrastructure sectors since 2008. Peter Hobbs looks at their track records
During 2014 MSCI introduced the first-ever global index for unlisted infrastructure through the IPD Global Infrastructure Asset index. As the coverage of the index grows, it provides increased scope to provide insights into the performance and risks of unlisted infrastructure by geography, investment style and infrastructure sector. This article draws from the increasing depth of coverage to explore the performance for the two most significant elements of the index: transport and power.
Unlisted infrastructure has performed extremely well over recent years, and this strong performance seemed to accelerate through 2014. Two of the three best quarters of performance for MSCI's global index occurred in the latter half of 2014. In the index's limited history, only Q4 2011 had a better total return (15.9%), and this occurred during the peak rebound from the global financial crisis.
The index remained positive through the worst quarters of the downturn (Q2 and Q3 2009), with an income return that offset modest declines in capital value. By Q2 2010 the index returned to double-digit total returns where it has held ever since, with only moderate volatility. Annualised total returns over the five years ending in Q4 2014 were 14% with less than one third of this performance (4.1%) generated from the income return (figure 1).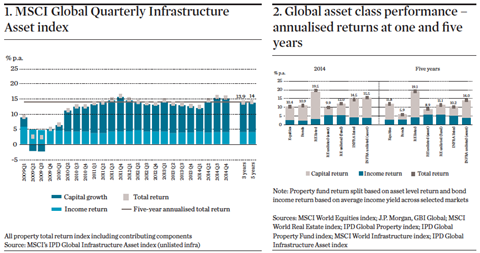 In 2014, as well as over the past five years, total returns for unlisted infrastructure have exceeded equities and bonds. During these one-year and five-year periods, listed real estate has been one of the few investment options that has performed better. Unlisted infrastructure (as represented by MSCI's global index) also outperformed listed infrastructure (as represented by the MSCI World Infrastructure index, local). The outperformance was modest in 2014 (15.5% versus 14.5%), but more substantial over the past five years (14% versus 10.2%) (figure 2).
Business executives and policymakers, when asked about infrastructure choices, consistently cite transport and power-related activities among their preferred sectors for private-sector investment. Indeed, patterns of capital inflows to infrastructure assets over the past decade tend to bear out these choices of transport and power as the types of transactions most commonly represented among closed deals. From 2004 through 2014, MSCI identified 20 sub-sectors of infrastructure investment in Preqin's database of completed deals that exceeded a cumulative value of $25bn (€23bn). Of these 20 sub-sectors, 10 could be grouped in a broad category of upstream and downstream energy and power-related activities. Another six fell under the category of air and surface modes of transportation. The remaining four sub-sectors attracting significant capital inflows were spread across various other activities that were less interrelated (figure 3).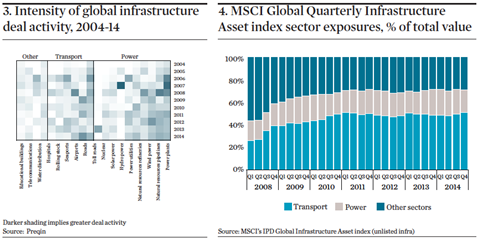 Preqin's accounting of infrastructure transactions by sub-sector correspond roughly with the sector composition of MSCI's global index. As of Q4 2014, the transport and power 'streams' accounted for more than two thirds of the index's exposure. This represents a rise from just over 40% of the total these two streams represented in Q1 2008.
The shift in composition occurred largely in the 2008-11 period during and immediately following the global financial crisis. During this period, exposure tilted strongly toward transport assets. Power-related assets also gained, although the increase in exposure was more modest (figure 4).
Transport
The discrepancies are subtle, but unlisted transport, defined to include surface modes (road, rail, sea) as well as airports, experienced a somewhat different cycle than unlisted infrastructure overall. For starters, there were no capital value losses during the darkest quarters of 2009. And the post-crisis rebound was also much faster. Annual total returns for global transport peaked high and early, hitting 21% in Q3 2010. The overall index for unlisted infrastructure peaked five quarters later at 15.9% in Q4 2011. While annual total returns for unlisted transport have not dipped below double-digit levels since Q3 2009, performance has been moderately more volatile than unlisted infrastructure overall. Still, this additional volatility has produced returns for transport in the past five years that are more than 200 basis points above the unlisted infrastructure average (figure 5).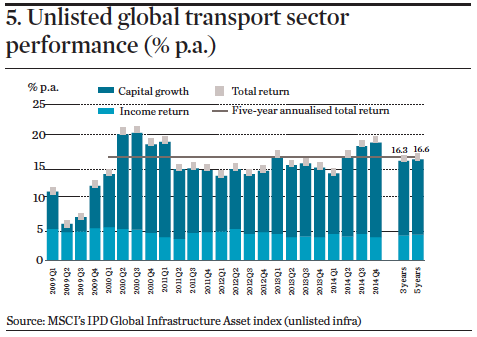 Power
As a component of the consultative index for unlisted infrastructure, the time series for the power stream is shorter, so it is not possible to assess the full performance of the sector from the trough of the global recession.
Within the index, power includes traditional generation, transmission, distribution, as well as renewables. We know that performance in Q4 2010 and Q1 2011 had not yet risen above double digits as it had at this point for the transport sector and the broader index, so this at least implies that the performance downturn for power was likely more prolonged.
There is not yet enough information in the consultative index to speculate about the depth of the downturn for this sector. The peak of the rebound (Q4 2011) did fall in line with the broader unlisted index.
Power's peak total return of 22.6% in that quarter was much higher than the peak 15.9% return of the broader index, suggesting that power's outperformance played an important role in influencing the peak of the overall index, even though power represented only about one fifth of the weighting.
Unlike the transport stream, power has been inconsistently in double-digit performance across the recovery quarters. Moreover, despite its short time series, power has exhibited much more performance volatility than transport, and it has produced a return of 300-400 basis points below transport annualised over the past three to five years (figure 6).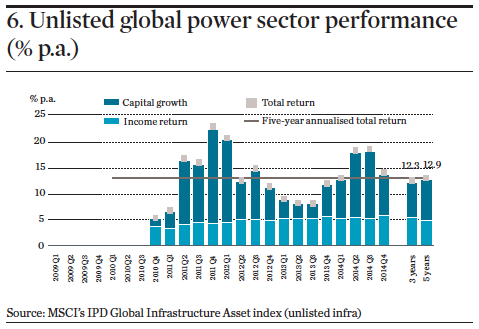 Although the two largest sectors in MSCI's global index, transport and power have generated markedly different performance and volatility over recent years, these differences illustrate the significant variations in the asset class. Clearly, sector variations matter, but so too does geography and, likely more important still, the risk profile of individual assets.
Lower levels of risk and return tend to be associated with a solid income yield in a regulated environment with long-term stability. These lower risks are more likely to be found among fully operational investment-grade assets in developed markets.
An established power, water or wastewater system in a stable OECD country would probably fall into this category.
In contrast, an emphasis on capital growth potential and shorter investment horizons in an uncertain environment represent higher risk. Lower-grade assets, greenfield developments, new technologies, and markets with less maturity or stability are all factors that push the risk profile toward higher levels.
As the index continues to grow broader and deeper, it will provide even greater insights into these variations, by sector, geography and risk style.

Peter Hobbs is managing director of research at MSCI