An influx of investors into infrastructure has raised the age-old liquidity conundrum, write Shaun Stevens and Fraser Hughes
Interest in infrastructure has been growing, drawing in non-traditional investors attracted by steady cashflows consistently higher and less volatile than global equities. Real estate investors looking for long-term income have joined the move into infrastructure. And as interest has increased, particularly from the real assets sector, investors have begun looking beyond traditional infrastructure.
This changing investor base raises questions about what we mean by infrastructure. Some investors have been looking at sectors that can be defined as social infrastructure, increasing interest in investing in schools, hospitals, social care and community facilities. Although social infrastructure is included in the EDHECinfra TIICS (The Infrastructure Company Classification Standard) definition, it is not covered by the Global Listed Infrastructure Organisation (GLIO) index or the GLIO members – a sector more attractive to real estate investors, perhaps?
Investors are also looking to infrastructure for cyclical reasons. The risks of recession in North America and especially Europe are high, but infrastructure offers stable returns over long periods and across cycles.
Listed infrastructure markets may have fallen back since the start of 2022, but they have significantly outpaced global equities in relative terms. While sensitive to rate changes, infrastructure provides more stable returns across cycles.
Many investors are choosing a non-listed route into infrastructure. This was the preferred way into real estate in the early stages of its development. The level of dry powder earmarked for unlisted infrastructure investment is more than US$333bn (€305bn), according to Preqin. This is about 30% of the total assets under management covered by their database.
We would argue that the liquidity problems and lack of price transparency now faced by US open-ended real estate vehicles are important lessons for infrastructure investors. In simple terms, in markets where investors are increasing allocations to infrastructure, gathering the capital is the easy part. Conversely, when the tide turns, returning big chunks of capital that are pinned to large illiquid assets is extremely difficult.
There are various ways to define infrastructure. This dictionary definition gives the traditional view that it consists of "basic facilities such as transport, communications, power supplies, and buildings".
Historically, infrastructure has focused on systems supporting communications, transportation, power, and water resources to provide a physical and economic foundation for a functioning society – the hard assets essential to run the economy and maintain quality of life. But for some investors that is changing to include soft services such as health, social care and education. This is particularly true for investors from sectors such as real estate investment trusts (REITs) and non-listed real estate (figure 1).
EDHECinfra TICCS was developed to give investors a frame of reference for the infrastructure asset class. It offers an alternative to investment categories inherited from private equity and real estate (for example, core and core-plus), which may not be helpful when trying to group infrastructure investments and design strategies, or simply document the structure of the sector.
Unlike other listed infrastructure indices derived from general equity classification systems, such as GICS or ICB, the GLIO index uses TICCS, which enables a specialist infrastructure-focused comparison between listed and non-listed infrastructure.
Developing a standard classification system for infrastructure is important as more investors direct allocations to the asset class. TICCS is steered by a review committee, which examines consultations on the system.
The 2022 review gives an indication of how some investors under the consultation are suggesting stretching the current definitions.
The following suggestions were rejected: carbon management and storage assets; industrial gases; land registries; inland freight water transport; inland passenger water transport; sea and coastal freight water transport; coastal passenger water transport; aircraft leasing; cold storage and logistics; warehouse; intermodal and transport hub/depot; motorway service stations; and, composting of bio-waste.
Stable cashflows
Interest in the sector is growing due to the stable long-term cashflows and access to assets that are mission-critical for economies and societies. This investment appetite is supported by academic and market research.
Such research has historically supported increased allocations in real estate. Researchers from Maastricht University found, however, that increasing infrastructure allocations improves risk-return performance. They found infrastructure delivered superior returns to all other asset classes except private equity, with lower risk than all but bonds between 2007 and 2018.
The Maastricht study focused on non-listed vehicles while acknowledging their illiquidity and lumpy investment profile. They are thus shielded from the volatility in short-term pricing driven by a mark-to-market rather than a mark-to-model valuation. Clearly, private-market investors must be comfortable enough with the risk-return profile to commit their capital for many years.
"We would argue that the liquidity problems and lack of price transparency now faced by US open-ended real estate vehicles are important lessons for infrastructure investors"
Investors are currently looking into infrastructure because of the global economic slowdown.
CBRE Investment Management has shown that listed and unlisted infrastructure offers more stable returns during rising and falling interest rates. Infrastructure is also less volatile than equities in different interest-rate regimes. Historically, the impact was offset by strong economic growth and/or high inflation. The authors concluded that investors will be attracted to sectors that can pass on the costs of inflation through higher consumer prices.
The demand for infrastructure has grown substantially since the 2008 financial crisis and there has been a massive increase in transactions across different categories of infrastructure. Since 2015, asset deals and listed companies' traded values have increased significantly. The GLIO index companies traded approximately 100% of their market capital annually from 2015 to 2022.
Although private transaction volumes have increased over recent years, challenges remain in getting capital deployed into 'traditional' or 'pure' infrastructure sectors as defined by TICCS:
Increasing numbers of investors are trying to access the asset class for the first time or moving up their target allocations. Preqin estimates that current allocations are 4.6%, with target allocations at 6.6%.
According to Preqin, the amount of 'dry powder' continues to grow year on year. This is up from $105bn in 2015. As of June 2022, it was estimated that $333bn was 'sitting on the sidelines';
Competition for deals is fierce and transaction multiples are historically high. GLIO estimates multiples are up to 40% higher compared with listed infrastructure.
The appetite for investing in infrastructure has expanded significantly in recent years. The concept of infrastructure has widened as more non-traditional investors have sought opportunities in the sector. Real estate investors, particularly in the non-listed sector, have started to look for opportunities in what they perceive as alternative real estate assets.
THE INFRASTRUCTURE INVESTMENT UNIVERSE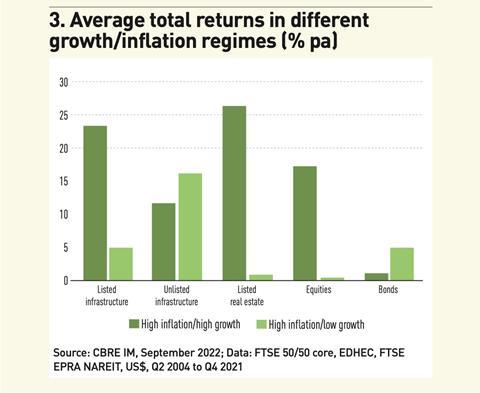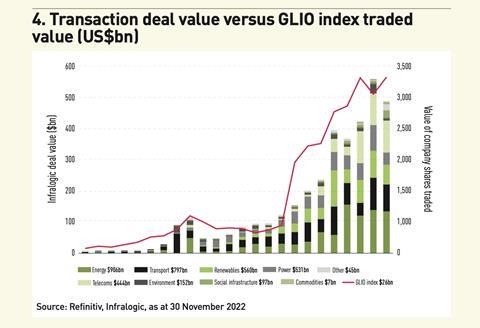 Furthermore, the slowing global economy has increased the appeal of infrastructure's stable returns.
The interest in infrastructure is understandable, given its attractive returns in the years following the financial crisis. Moreover, academic and market research supports increased allocation in the sector. It has provided higher income and capital appreciation than the broader global equity market. It has a positive sensitivity to inflation. And it has outperformed global equities historically – with significantly lower levels of volatility – during periods of elevated inflation.
Nonetheless, the liquidity problems currently affecting the non-traded REIT sector in the US and open-ended funds in the UK are a warning to infrastructure investors choosing private assets. Infrastructure is an even more lumpy and illiquid part of the real assets spectrum.
Investors need to be comfortable without the transparency and efficient price discovery that are available in public securities markets.
If investors choose private infrastructure vehicles, they will need to balance their risk-return tolerance with the ability to manage liquidity.
Shaun Stevens is a real estate strategist and Fraser Hughes is CEO of GLIO