Investors face a once-in-a-generation convergence of technologies that will change the infrastructure landscape, writes Vincent Gerritsen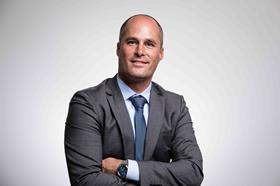 Global connectivity is changing the world as we know it. The way we access services has been transformed and previously disparate industries rooted in the physical world are increasingly moving online. Digitisation has permeated nearly every aspect of our daily lives, blurred lines between sectors and is revolutionising the infrastructure that underpins society.
There is presently a once-in-a-generation convergence of technologies that will dramatically change the infrastructure landscape globally. Rapid technological advances are adding convenience to our daily lives and bringing a greener future a step closer. Greater connectivity moving in step with the energy transition has the potential to revolutionise how we build, travel and work while greatly reducing emissions.
This positive trajectory to a greener, more digital future presents both a challenge and an unparalleled opportunity for infrastructure asset managers. Selecting and managing the right assets against a backdrop of rapid change has the potential to generate significant long-term returns while delivering positive outcomes for future generations.
Digitisation has blurred the lines between existing infrastructure sectors. Thirty years ago, infrastructure assets were broadly defined by their primary function. Yet, over the past few decades, this has started to change as we have harnessed the benefits of greater connectivity in physical assets – whether through smart buildings or intelligent transport infrastructure. Digital and traditional functions have combined to create more efficient and multifunctional infrastructure.
This digital enhancement of traditional assets has opened possibilities for new solutions that can tackle large-scale societal issues such as ageing populations, accelerating urbanisation or growing inequality. Whether by enhancing health and social care through greater automation or more advanced diagnostics, improving travel in our cities or transforming industries power supply and communications – we are learning the power of diversified but fundamentally connected portfolios.
As well as the digitisation of traditional assets, we are seeing symbiotic relationships developing between others – particularly between energy and digital infrastructure. From 2020 to 2030, energy use of digital infrastructure such as data centres and communications networks are projected to surge by 42% to a colossal 2,383 terawatt hours. While smart infrastructure has proven to be more energy efficient, it is becoming increasingly clear that its growth must be matched by a parallel surge in renewables in order to maintain increased supply within our climate goals.
Growing interdependencies between infrastructure assets and multi-faceted societal issues require a thematic approach to investment. Investors with the knowledge and understanding required to curate interconnected and collegial portfolios that can facilitate positive future outcomes. This growing interconnectedness across infrastructure asset categories is forming a virtuous circle with managers sitting in the middle – facilitating the growth, development and maintenance of a tightening ecosystem.
Ideas over assets
Recent developments and tentative adoption of artificial intelligence (AI) is a prime example of a technological evolution that could signal a long-term, multi-generational theme that will likely present a growing investment opportunity in the digital space. Greater adoption will require enormous power generation and the processing of unimaginable volumes of data, as well as the long-term convergence of digital and energy infrastructure to sustainably maintain its rapid rate of growth.
Few could have predicted the speed of AI's recent rise, but those who identified trends in the increasing use of data and its energy demands are reaping the rewards. The opportunity is enormous, as adoption is in its relatively early stages. Digital infrastructure and the energy assets, supporting increasing demand are projected to grow exponentially and benefit the broader infrastructure ecosystem.
In the face of such significant change and opportunity, investor expertise needs to extend beyond the single asset categories of the past. In a digital world, managers must move to a thematic, cross-asset mindset and act at a global scale with a vision of how to bring asset classes together to solve society's big questions. Modern specialist infrastructure asset managers' responsibility is greater than ever, not only delivering strong returns but providing the foundations of a prosperous future for generations to come.