Could results-based finance play a role in funding sustainable infrastructure and real assets? Elena Johansson reports
A new report by the Climate Policy Initiative (CPI) has assessed the potential for results-based finance (RBF) to boost post-pandemic recovery funds while improving sustainability. In the main, the report found that the instrument was well suited to finance sectors most affected by COVID-19, such as energy, transportation, water and sanitation, and waste management.
The risk-sharing structure has long been applied as a tool to overcome investment barriers. What is novel today, the report says, "is combining financing models, indicators linked to climate performance, and partnerships to create new investment alternatives that improve public spending and attract the private sector towards low-carbon transitioning efforts".
Beth Bafford, vice-president of syndications and strategy of Calvert Impact Capital, says the tool has proven successful in getting innovative projects off the ground.
"It is extremely hard to get the government actors, the private investors and everybody [else] to the table in a structure that is economically feasible unless the revenue sources are clear," she says. "To make that kind of incremental push, to try something new or to focus more on prevention, [RBF] can be really effective."
RBF structures can have different forms, depending on what parties are involved. The common feature is that payments are made if certain project outcomes are achieved, which are verified by an independent third party.
'Pay-for-success' contracts go back to 2010, when the first social impact bond was implemented in the UK. The first such environmental security was the DC Water Environmental Impact Bond (EIB) worth US$25m (€21m) and sold to Goldman Sachs Urban Investment Group and Calvert Impact Capital in a private placement in 2016 (see DC water environmental bond).
The 30-year tax-exempt municipal bond paid an initial 3.43% interest coupon for the first five years until a mandatory tender date, slated for 1 April 2021. The District of Columbia Water and Sewer Authority (DC Water) used the proceeds of the bond to finance untested green infrastructure and reduce stormwater runoff.
Bafford explains that DC Water was originally not comfortable taking that investment risk itself. "So how do we incentivise them to take that risk? We set it up so that the financing mechanism was that [the investors] would take that risk if it did not work. If it was wildly successful, we would have gotten a premium excess payment that basically compensated us for taking that downside risk."
DC Water agreed to share performance risks with investors via the pay-for-success model. The contract said that if the green infrastructure produces stormwater runoff reductions greater than 41.3% of the measured baseline, DC Water would make a payment of $3.3m to investors. If runoff is reduced to less than 18.6%, investors would pay DC Water $3.3m.
The result was that the green infrastructure reduced stormwater runoff by nearly 20% from previous levels, and fell within an expected outcome range, so that no additional payments were due.
"We now have a very sophisticated water utility who understands how to implement green infrastructure at scale, who understands the challenges," Bafford says.
RBF reduces risks for public funders when there is uncertainty about the results of a project, in case of climate mitigation or when project outcomes manifest over a period of time.
A spokesperson at the World Bank explains: "RBF provides more risk-return benefits for projects that have higher mitigation impact per dollar of investment. This is why the financial impact of RBF is, in general, higher for methane-avoidance projects and forestry projects compared to renewable energy or transport-sector projects, although in many cases those can also be highly suitable for RBF."
While forests deliver a multitude of benefits, raising sufficient funds for their conservation and restoration has been difficult. RBF approaches for reforestation can involve carbon-offset markets. For instance, the recently launched LEAF Coalition works with governments and companies to protect tropical forests by using carbon credits, as part of a results-based approach. Payments to governments will be made after actual emission reductions have been achieved and verified.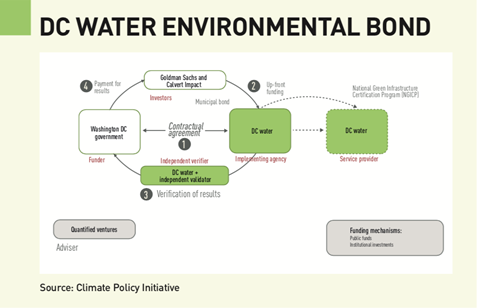 Quantified Ventures, a US outcomes-based capital firm that develops public-private projects, is working in Southwest Colorado to build an outcomes-based revolving loan fund, the Southwest Wildfire Impact Fund, to finance a forest health treatment programme and reduce the risk of wildfire.
Benjamin Cohen, director at Quantified Ventures, says: "Wildfire risk cuts across all sectors in the region. And while any individual public or private actor alone may lack the resources to single-handedly fund the work needed at scale, the collaborative financing approach of the fund incentivises the participation of multiple beneficiaries to commit and multiply their funding efforts, based on an assessment of the value of risk reduction after the treatments are completed."
For Latin America, the pay-for-success Cloud Forest Blue Energy Mechanism was developed to restore and conserve degraded cloud forests. The mechanism was proposed to the Global Innovation Lab for Climate Finance by Conservation International and The Nature Conservancy. It sees hydropower operators paying for measurable ecosystem services provided by cloud forests, such as reduced sedimentation, as this increases the profitability of their operations.
Donovan Escalante, manager at the CPI and one of the authors of the CPI report, explains that RBF shifts the focus on the outcomes of projects and their impact, thereby redefining value. "In a lot of situations with RBF, you are creating value for something that might not have value. In the carbon credits example – and some people might argue that is also RBF – you are creating a market. You are creating market demand for an outcome instead of a project."
He cites the Forest Resilience Bond as another example, which was originally planned with a payment-for-performance mechanism that was later dropped from the project. CSAA Insurance Group invested in the bond to hedge the risk of wildfires and saw "a potential to reduce the premiums", Escalante explains.
The main disincentive for investors is the complete capital loss in the case of an invested project failing. Among other challenges of RBF is the definition of feasible and efficient indicators, alongside a credible and reliable measurement system, according to the CPI report.
As incentives are realigned with pay-for-success contracts, the report also points to the potential for 'perverse' incentives, such as promoting undesired behaviours or incentivising short-term rather than long-term results. Additionally, RBF requires upfront funding, but payments might not be received for a considerable amount of time until the results are achieved.
But new and transformative applications of RBF could emerge. The spokesperson of the World Bank points to the possibility of implementing RBF in climate policies, such as for carbon taxation, fossil-fuel-subsidy reform or energy-efficiency standards.
"Policies have higher reversal risks than investment projects, making RBF solutions attractive for donors," the spokesperson says. "In other words, if host countries contemplate reversing a climate-friendly policy, such as a carbon tax, they would be reluctant to do so if the RBF payments would only continue to flow while the policy stays in place."
RBF also seemingly fits into the growing impact-investing trend. Cohen says institutional investors are "increasingly looking beyond basic green bonds and other deals, which are labelled simply for anticipated use of proceeds, to investments that incorporate projections, measurements, reporting and disclosure of the actual impact and outcomes produced".
Yet, Bafford stresses, investors need to undergo a more fundamental shift in their mindset beyond dollars and understand the systematic impact they have. "You are evaluating risk, you are evaluating return and you are evaluating impact. And those have all to be treated in concert to see what risks are worth taking," she says.
"But [it's really about] understanding what is the potential outcome that is being driven by the risk that [investors] are taking? And does that add an additional component that makes it well worth taking that risk? That's how people need to start thinking differently, if they are really serious about investing with impact."